For many women, finding the right
swimming costume
seems like an impossible and insurmountable task. Different cuts and styles fit different body types, but the large variety of one-piece styles can make this task easier. A woman may need to experiment with a handful of styles before finding the one that works for her, but once she does, she can fill up her summer wardrobe with several of these must-have styles. Shoppers can find the top must-have one-piece swimming costume styles in local shops as well as on eBay. Finding the right one is easy once shoppers have researched the top styles.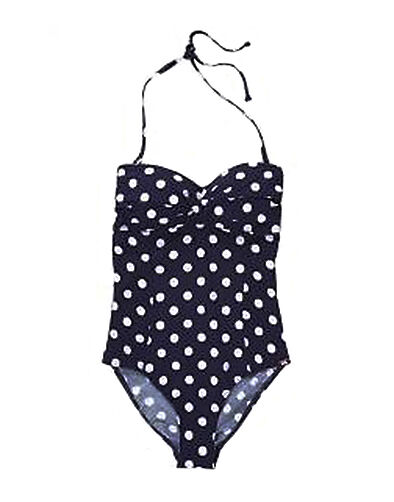 Halter swimming costumes come with straps that fasten at the back of the neck with a tie or clasp closure. Either thick or thin, the straps on a halter one-piece attach at the middle or sides of the front of the costume. Tie halter straps work for women who are top heavy, as they provide adjustable support with the ability to tie the strap as tight or as loose as necessary.
---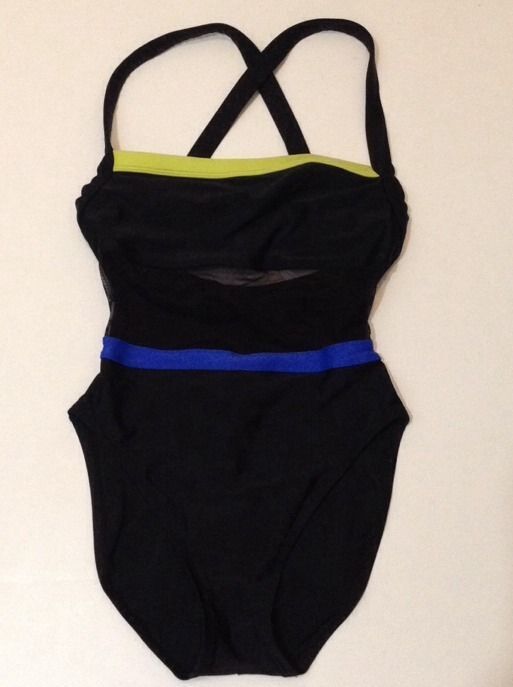 Women like spaghetti straps on a swimming costume because the straps do not produce noticeable tan lines. These thin straps that resemble long, thin pasta are not adjustable to provide additional chest support. However, they do come in fashionable styles many women enjoy and often have beading and other embellishments.
---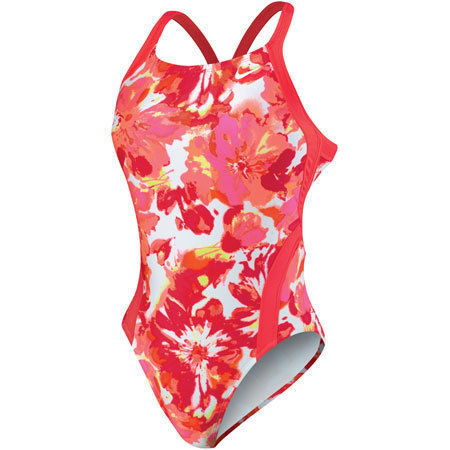 Much thicker than spaghetti straps, tank strap swimming costumes often leave noticeable tan lines, but many women love the comfort and support they provide. Tank strap swimming costumes are the one-piece of choice for many athletes, but also come in fashionable V-neck styles that add allure to their look for women wearing these ensembles for pleasure at the beach or poolside.
---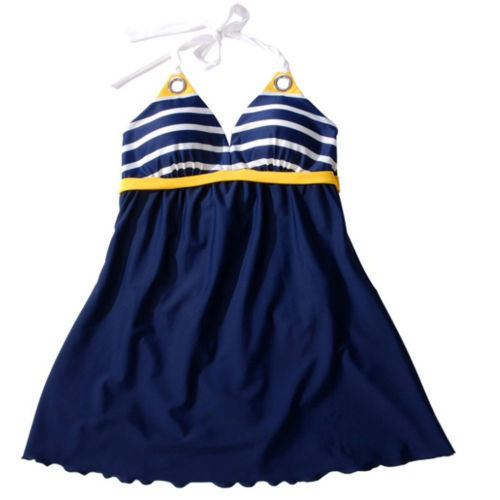 Skirted swimming costumes have come a long way. These one-piece swim outfits may come with a bit of ruffled peplum at the bottom to add a dash of femininity. They may also come with straighter skirts that cover imperfections on the hips and thighs, making a woman feel more comfortable by the water.
---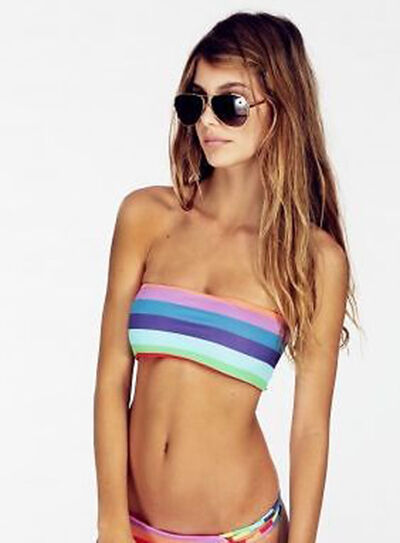 The top of this one-piece swimming costume gives it its style name. The bandeau look lives up to its name by fitting across a woman's chest as a stretchy band would. The bandeau top features layered stretch material often knotted on top to offer a bit of extra style. Bandeau swimming costumes can double as halter, spaghetti strap, or tank strap one-pieces.
---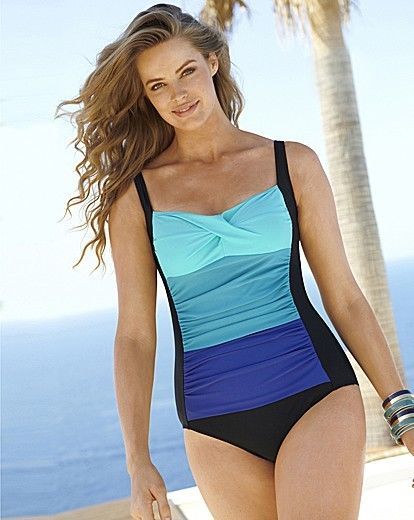 For many women, a swimming costume needs to hide tummy imperfections and create the illusion of a flat middle. Tummy control swimming costumes usually come with a hidden flat panel inside the material that camouflages a woman's tummy, while pushing it in at the same time. Tummy control one-pieces also often have hipster bottoms that hide a woman's hip imperfections as well.
---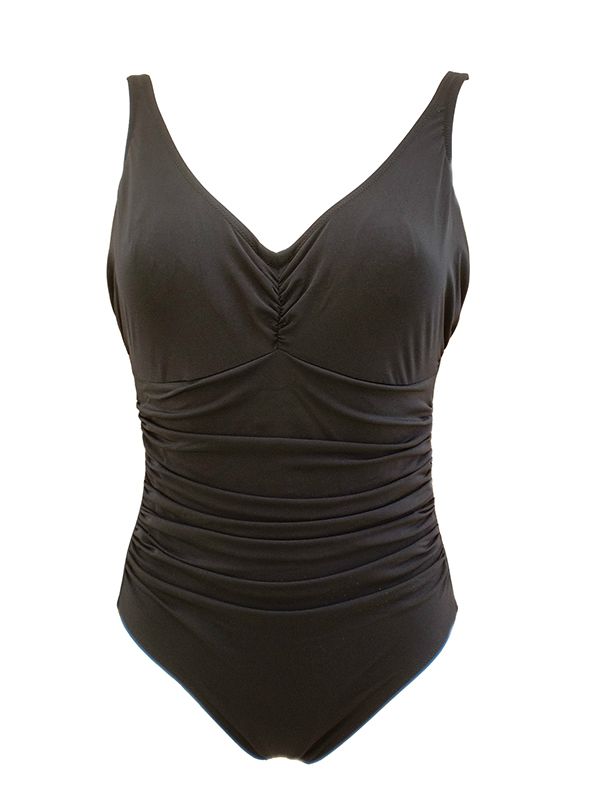 A ruched one-piece swimming costume features layered gathers across the front of the costume, as well as on the side. Ruched swim outfits often double as tummy control one-pieces, as the gathers help camouflage problem areas. Many ruched swimming costumes also come with skirts and have spaghetti or tank straps.
---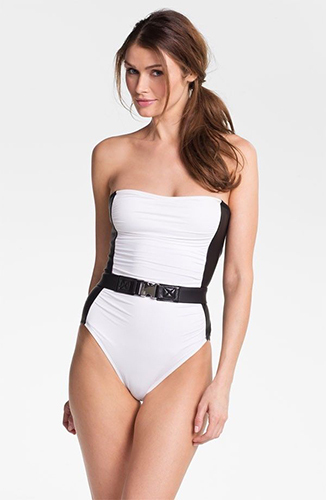 Strapless swimming costumes work best on less top heavy women and often come as halter or spaghetti strap swimming costumes, with removeable straps that add versatility. Bandeau tops that stretch across the chest area or sweetheart necklines that offer a small V in the middle are other fashion styles that enhance the look of strapless swimming costumes.
---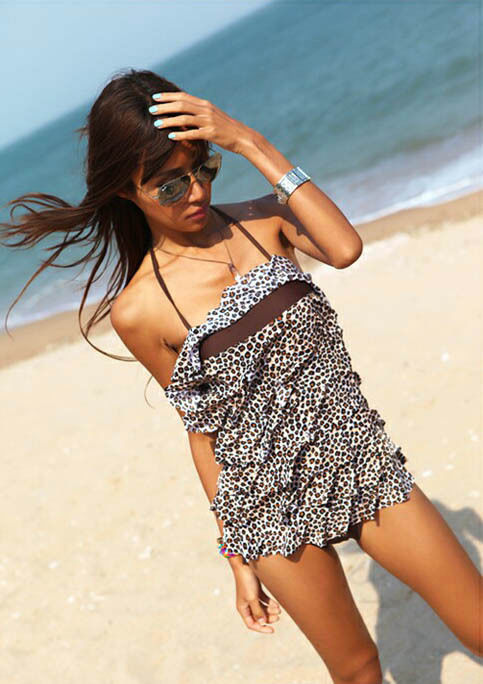 Flirty and feminine, ruffled one-piece swimming costumes hide a woman's flaws while adding a dash of fun style. Ruffles may drape over the entire front of the costume or just over the top or the sides. Ruffled swimming costumes usually come with halter or spaghetti straps.
---
How to Buy One-Piece Swimming Costumes on eBay
Once you know what swimming costume works for your body, finding it on eBay is simple with a quick search. Type what kind of one-piece you need into the Search bar found on any eBay page and watch the results populate. Refine your search by specifying colour and size, and look for trusted sellers with high feedback ratings to buy with confidence. Browsing eBay Deals is as another way of finding the right swimming costume to suit your needs. Search through deals daily, as they are likely to change from day to day. Deals offer reduced pricing for a short time on a variety of fashion items. When you need a swimming costume in a flash, you can one-stop shop with eBay.