Bolster pillows are long, thin pillows with a variety of uses, from supporting your neck, supporting your back, to simply adding decorative soft furnishings to a room. Fabric choice, filling type, and size are among the top considerations when buying a bolster pillow. Understanding your choices ensures you get the best value for money and a pillow that matches your decor.
Bolster Pillow Fabric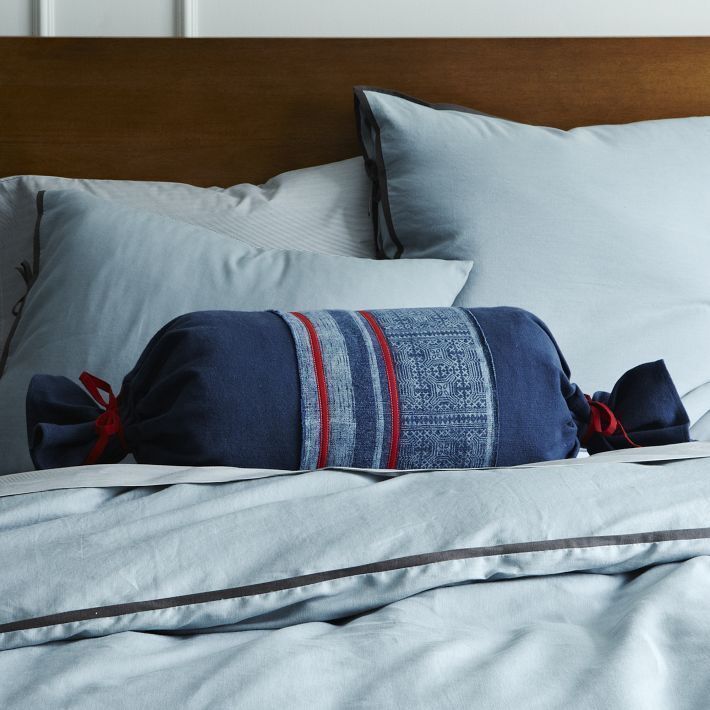 When choosing a bolster pillow, you need to consider the fabric you want and need. Base your choice on your personal preference, as well as how much use your bolster pillows get, and the type of use. For heavy use, you need a hard-wearing fabric. Heavy cotton is a good choice because it is available in a huge range of colours and prints and it is exceptionally hard-wearing. For a highly decorative bolster pillow, opt for a heavy-weight brocade fabric. These shuttle-weave fabrics feature a strong, close weave with lots of decorative work, commonly including silver and gold thread for a rich, opulent look. Other decorative options include velvet, leather, suede and faux fur.
Bolster Pillow Filling
Cotton, down, and synthetic fibre are the most common filling options for bolster pillows, as they provide a dense but malleable fill. Cotton is soft, natural, and quick to dry, and organic cotton fill is ideal for those who practice green living, as it is degradable and does not harm the environment during the growth and production process. Down is a traditional option that provides a soft, luxurious fill. However, down is not suitable for those with allergies, and takes a long time to dry. Synthetic fibre is soft and not as long-lasting as down or cotton as, with extended use, the fibres compress and eventually no longer return to their normal shape. Memory foam is a great option for those who require a high level of support from their bolster pillows, as it adjusts to the shape of your body and alleviates pressure points. For an entirely natural filling for earth-conscious individuals, opt for a filling of buckwheat husks. The structure and constant movement of the husks encourages airflow, keeping you at a comfortable temperature while you sleep.
Bolster Pillow Size

Consider the use of your bolster pillow to establish the size you need. For those who want back support while sitting in a chair, opt for a single bolster pillow. Those sleeping in a single bed or who do not want to share their pillow with their partner should also choose a single model. Double bolster pillows are perfect for providing support right across the bed as you sleep, encouraging good posture, and make the best choice for those who need to bend their pillows around their neck for added support.