Picture frame sets add decorative appeal to every home, and provide you with a way of displaying constant reminders of happy memories and loved ones. You have an exhaustive selection of picture frame sets to choose from. Considering some of the top picture frame sets enables you to choose a frame set that will look fabulous in your home and act as a conversation starter and focal point.
Present Time Photo Family Time Coloured Frame Clock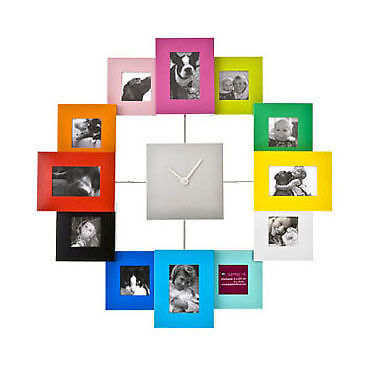 The Present Time photo frame clock is a popular picture frame because of its distinctive appearance and the combination of form and function. It consists of a central aluminium clock, with 12 aluminium frames surrounding it. The whole photo clock measures 40 cm wide, 40 cm high, and 4 cm deep, making sure your photos stand out and that your clock is big enough to see easily from across the room. This bright, colourful photo clock and picture frame makes a great addition to a family home, allowing you to keep your treasured memories in a prominent place around the clock that you and your family will look at several times each day.
Next Cream Heart Photo Screen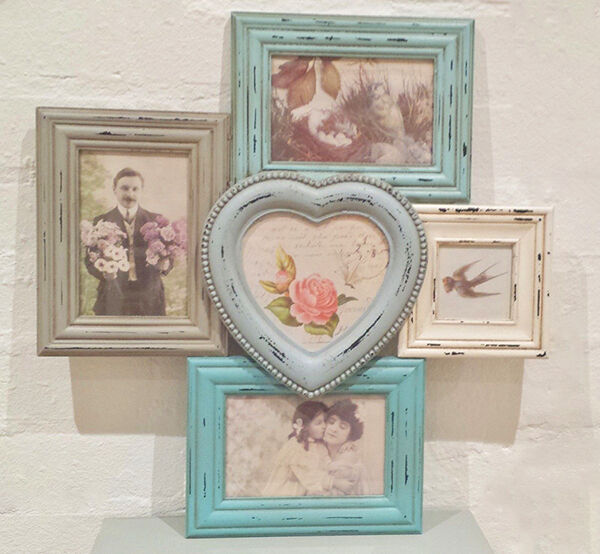 For something different yet stunning, choose the Next cream heart photo screen. It features a tri-folding design, allowing you to easily tuck it away when not in use, as well as aesthetically pleasing heart-shaped cut-outs along the top. It has nine large aperture panels for your family photos. The pale cream colouring makes the Next cream heart photo screen work with almost any pre-existing decor.
Umbra Snap Photo Frames, Multi-Aperture Set of 9
The Umbra Snap multi-aperture picture frame set take up to nine Polaroid style photos. Depending on your preferences, you can hang these picture frames individually or in groups on your wall. If you do not want to go to the trouble of hanging them, simply unfold the support arm on the back of each frame and stand them on your table, bookcase, or another prominent place. The curves of the frames help to add a different aspect to the photos, seeming to almost bring the photos to life. With a durable white plastic construction, this set of photo frames has a robust and durable white plastic construction, making them very easy to clean and maintain. Each frame measures 9 cm by 9 cm.