The traditional Irish Royal Claddagh ring symbolises loyalty, love, and friendship. Before you decide how to customize a ring for yourself or a loved one, learn about the three most popular customisation options. These include adding stones or jewels, opting for an unusual design, and choosing an interesting metal or combination of metals.
Add Jewels to Your Claddagh Ring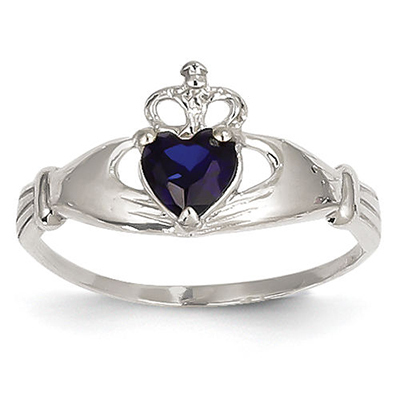 The traditional Claddagh ring design is a simple metal arrangement of hands that symbolize friendship and a heart that represents love, set below a crown that indicates loyalty. Stones or jewels add colour and increase the value of the ring. Opt for a birthstone heart to create a special gift. To make a Claddagh engagement ring even more valuable, add a diamond heart or diamond details. You can use a single solitaire diamond or several pave-set stones. Alternatively, you can ask the jeweller to set small stones into the crown design, or add a row of stones on a separate band below the traditional design. You can also opt for two different coloured marquise-cut stones that form the heart.
Choose an Unusual Claddagh Ring Design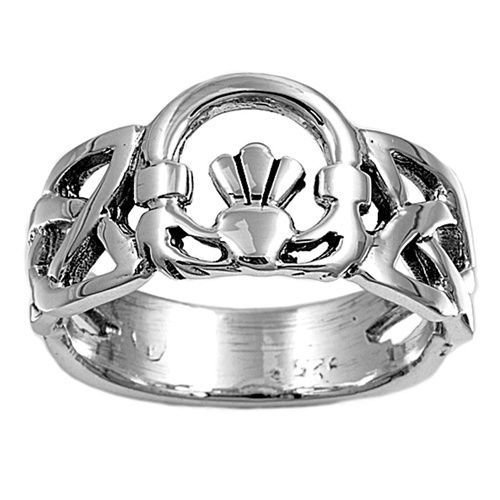 Choosing an unusual or non-traditional Claddagh ring design is an excellent way to ensure that your ring is unique. Claddagh bands come in various widths and feature embossed images of the traditional symbols. These bands offer adequate room for engravings on the inside and make excellent matching wedding bands. Consider two-tone metals that bring the design into relief. Alternatively, opt for an open Claddagh ring with space to add a gem in the future.
Choose an Interesting Claddagh Ring Metal
Claddagh rings come in a variety of metals, from silver to platinum. Purer metals, such as 18 karat gold, tend to be more expensive but softer than alloys that contain less precious metals such as 14 karat gold. If the ring is a Claddagh engagement ring or Claddagh wedding ring, consider a purer metal, such as yellow gold, white gold, or platinum. For added durability and scratch resistance, opt for a titanium Claddagh ring. Combining two or three metals adds detail and character to the ring. If you opt for a Claddagh ring with a stone, pair a diamond, emerald, or sapphire with a white gold setting for an eye-catching ring. A yellow gold band with a white gold setting and details creates the perfect background for a sparkling gem. Remember to consider the wearer's skin tone when choosing the metal. Gold complements warm skin tones, while white metals complement cool skin tones.