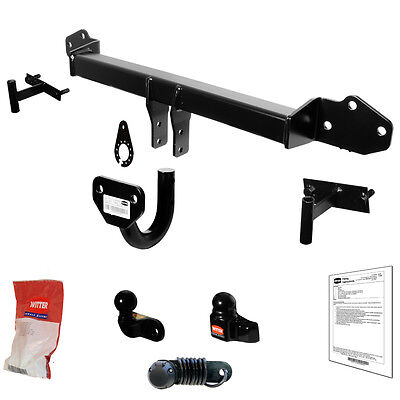 In this guide you will find the answers to some common questions regarding tow bar fitting.
Could I fit my own tow bar?
This depends entirely on your experience and technical ability. Check the tow bar listing to see if bumper removal, drilling, and/or bumper cuts are needed. We can email you a copy of the instructions to have a look at if you contact us.

How long will it take to fit my tow bar?
The time it takes to fit a tow bar varies depending on many different factors such as your vehicle, the type of towbar to be fitted and which type of electrics you are having fitted.

Do fitting instructions come with your tow bars?
Full fitting instructions come with all our tow bars. We also have towbar fitting experts on hand to assist you with any questions you may have.

Do wiring instructions come with your electrics kits?
All of our tow bar electrics kits come with instructions and wiring diagrams. They are also available online.

Is vehicle specific wiring loom information provided?
As each vehicle is different and new vehicles constantly becoming available, we do not offer vehicle specific wiring loom information.

Are your single electric kits genuine vehicle specific wiring kits?
Our single electrics kits supplied as standard are universal electrics kits. Depending on which vehicle you may have, you may need to install a bypass relay also.

Can you supply new bolt kits for tow bars?
This varies between the brand of towbar. Please contact us with your tow bar part number for further information.

Will a UK tow bar fit on an imported vehicle?
This will vary from vehicle to vehicle. Please contact us to check.

I have an motorhome / LPG gas conversion. Will a towbar still fit?
We cannot guarantee compatibility on LPG conversions.

Will an aftermarket tow bar void my vehicle warranty?
No. As long as the tow bar you intend to fit is Type Approved your manufacturers warranty will not be void.

I have a caravan which is fitted with alko stabilisers, do I need to purchase anything extra?
A swan neck or detachable tow ball will be compatible. A flange type tow bar will need an alko towball, which are sold separately.