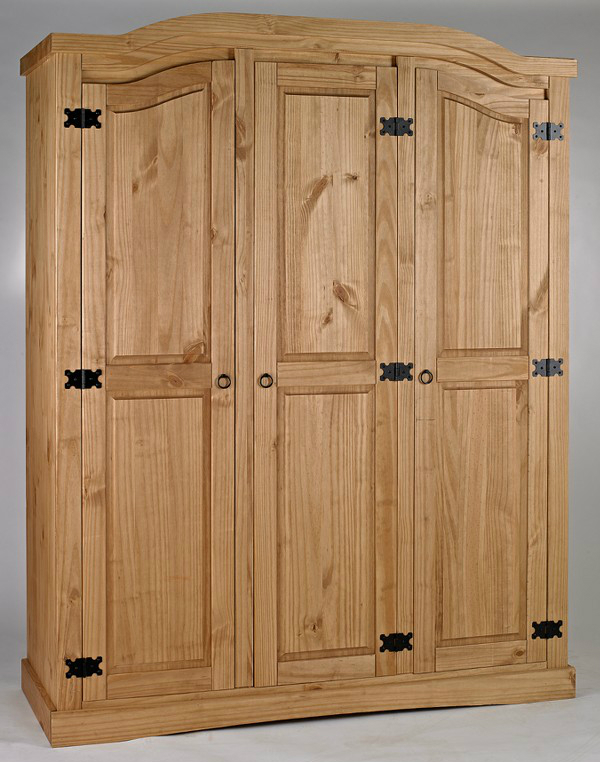 A wardrobe is a piece of furniture that dominates the room it is in. Having been used as statement pieces for hundreds of years, wardrobes are also an important piece of furniture for storage. A wardrobe is unique from an armoire in that it has a more streamlined shape, may have a bar for hanging clothes on the inside, and has a simpler design, without ornate carvings.
A good, solid wardrobe will last the shopper for years to come, so it is important that the shopper purchases a wardrobe that is worthy of the investment. With many options for traditional wardrobes available, it is important for the shopper to have information regarding some of the basic types of traditional, classic wardrobes, as well as about the various woods from which wardrobes can be made, how to place wardrobes in the home, and how to buy the right wardrobe on eBay.
Types of Traditional Wardrobes
A wardrobe's design falls into one of several basic types: double-door wardrobes, three-door wardrobes, wardrobes with drawers, or wardrobes with sliding doors. Each type comprises numerous styles and designs, but these basic types are a good place to start.
Double-Door
Double-door wardrobes are the most common traditional wardrobes, and are also used to house modern entertainment systems. Double-door wardrobes may include shelves on the inside, and almost always have a bar on the inside for hanging clothes. With modern double-door wardrobes, including double-door wardrobes, it is not uncommon to have drawers below the doors on the outside of the wardrobe.
Three-Door
Three-door wardrobes are useful for storage that is a little more organised. Similar to double-door wardrobes, there is typically a bar built inside for hanging clothes, and shelves may be built into it as well. Three-door wardrobes also may include drawers.
Drawers
Included drawers in wardrobes is a relatively modern idea; however, as mentioned above, there are many traditional-style wardrobes that now include drawers. Drawers are a useful commodity to have in a wardrobe, and in fact it is more common for wardrobes to have drawers than to not have them. Often built into the bottom half of the wardrobe, or starting at about knee-level, drawers serve as an organised way of utilising the extra empty space that is often at the bottom of wardrobes that do not include drawers.
Sliding Door
Sliding door wardrobes make for interesting combinations and versatility for the shopper who has a busy lifestyle and wishes to reflect that in his or her furniture. Sliding door wardrobes often take up as much as an entire wall of a room, providing a strong accent that changes the room according to the type of wood from which it is made.
Wood Types
The wardrobe's wood is an important consideration. Wardrobes can be made out of many different types of wood, with each possessing its own colouring and features. There are lighter-coloured woods, such as oak, pine, and cedar, and the more traditional darker woods, such as mahogany, walnut, and some cherry woods. Most wardrobes are constructed of hardwood rather than softwood. These two differ in that hardwoods are derived from leaf-bearing trees, and are stronger and hardier, while softwoods are derived from needle-bearing trees and are more susceptible to scratches and marks, and therefore used more for finer, more intricate pieces of furniture.
When selecting a wardrobe, the shopper must avoid any advertised with 'wood effect finish' or any such term. Unfortunately, many wardrobes are manufactured using cheaper materials, then covered with a pretty veneer. These wardrobes look attractive but are not are durable as traditional wardrobes made entirely out of solid wood. A wardrobe is an investment; thus, it is logical to spend a little extra money on a solid-wood wardrobe, so as to get the most out of the investment.
Oak
Oak is one of the three woods that was most commonly used to build wardrobes before the 1900s, so any wardrobe can have a traditional feel just by virtue of being made out of oak. Variations include white oak, which is greyish brown in colour, and red oak, which is also greyish brown but also contains reddish strains. Both types of oak are open-grained with distinctive streaks. Red oak is generally less expensive than is white oak.
Mahogany
Mahogany wardrobes offer the most "classic" look because of their dark colouring. Dark-coloured wardrobes have long been used to make strong statements in rooms, typically in bedrooms. Like oak, mahogany wood was very commonly used before the 1900s in building wardrobes and other furniture. Its colour varies in shade from medium brown to deep red brown to dark red.
Pine
Pine is a lighter wood that is not quite as durable as other woods listed here. The lighter colouring, with the tones ranging from cream to yellow-brown, allows for pine wardrobes to match almost any decor, and. Pine is a close-grained wood that clearly shows tree ring growth marks, giving surfaces of pine furniture an interesting and distinctive ringed appearance.
Walnut
Like oak and mahogany, walnut is another wood traditionally used to create wardrobes before the 1900s; though somewhat costly, walnut is still in high demand today. The colour of walnut is typically a chocolate brown, with darker brown or even purplish streaks. Types of walnut commonly used for furniture are black walnut and European walnut.
Cherry
Cherry is one of the most valuable of the hardwoods, with its colour ranging from light brown to dark reddish brown. The close-grained quality of cherry means that it does not require a filler for it to remain stable and secure. The unique and attractive grain makes cherry a highly desirable wood choice for furniture. It is also expensive, however, especially since its hardness makes it resistant to work with hand tools.
Cedar
Cedar is a softwood that is usually used in chests and closets. Cedar is close-grained, with a light red colour that has lighter streaks and knots. The distinctive scent of cedar is both pleasant and functional, lending a pleasing aroma to one's clothing while at the same time repelling unwanted insects. Bleach and stains should never be used on cedar.
Traditional Wardrobes in the Home
Wardrobes, especially those made of dark wood, tend to dominate the space in which they are placed. The shopper should consider what kind of wood he or she wants, then look at specific models or wardrobes to be certain that the wood colouring will match the decor of the home. In the past wardrobes were used almost exclusively in bedrooms serving as clothing or linen storage in a time that most houses did not have built-in closets. Today they serve an additional, modern function: storage for television entertainment systems. In this capacity, wardrobes are part of the decor of many a living room or den, enveloping modern electronics in classic furniture from another era.
Placement of a wardrobe is key. To avoid a cluttered or crowded appearance in a room, one should position the wardrobe along a wall with a foot or more of empty space on either side and in front of it. This spacing is also required if the wardrobe is housing an entertainment system, as the doors that cover the television when not in use must have room to open.
How to Buy a Traditional Wardrobe on eBay
eBay offers many wardrobes of many different types, colours, and woods from sellers all over the world, with varying prices to match the shopper's budget. To purchase a traditional wardrobe from eBay, you must first go to the eBay home page. You can begin by typing a query such as 'traditional oak wardrobe', then further narrow the search by material, style, price range, features, colour, condition, and more. If you already know the precise type of wardrobe you want, you can type in a more specific query such as 'oak three-door wardrobe'.
If you are wary of buying from unknown sellers on the Internet, eBay has a system that allows shoppers to know which sellers are trustworthy to buy from. The Top-Rated Seller badge identifies sellers that have consistently been given four- and five-star ratings from previous buyers who have been happy with their product and service. To be a Top-Rated Seller, one must sell at least 100 items a year and a minimum of £750 of merchandise per month.
Conclusion
Wardrobes are a large investment, both figuratively and literally. If made out of solid wood, a wardrobe should last for years and years to come, standing as a vital part of the shopper's home furniture and decoration. Hardwood wardrobes stand up to use in homes with small children and pets and still look magnificent. It is important for would-be wardrobe buyers to know the different kinds of wardrobes available, as well as the varieties of wood that they can be made of and how to place them in the home. On eBay, shoppers can easily find the exact type of traditional wardrobe they want using the handy search menus that help narrow down options. Shoppers can even contact the sellers directly to ask questions about certain items for sale, to insure that they know all the details about the product. With this information and the easy-to-use eBay store, shoppers are sure to find the perfect wardrobe for their home and their lives.