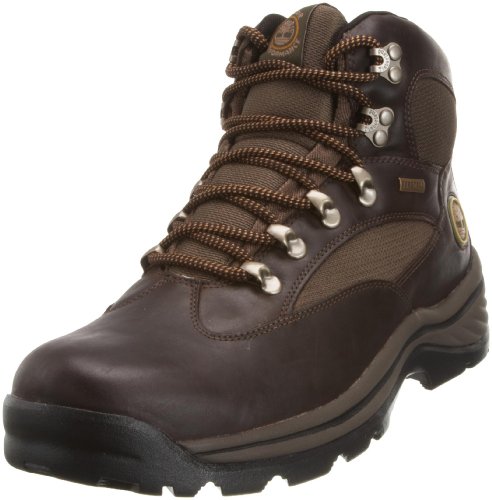 Trail boots typically fall into one of seven subcategories of boots: Trail Running, Trail, Technical Scrambling, Mountaineering, Winter, Water, and Off-Trail. Each of these types of boot is manufactured to support the rigours of trail use, whether for walking or running, on or off the trail, and in all types of conditions, such as in high-water areas and steep terrain. The first thing to establish when choosing trail boots is where the wearer will be using them. Another tip to remember when choosing boots is to ignore the sizing and choose the boot that fits the best. Not all boots have the same sizing. Some may run smaller while others run larger. The wearer may end up choosing a pair of boots in a size larger than the wearer might normally purchase. It is important to take into consideration the type of socks worn inside the boots. For example, typical trail socks are much thicker and may alter how the boots fit.
The Anatomy of the Trail Boot
When buying and treating trail boots, the wearer may encounter what might be bewildering descriptions of various parts of the actual boot. The 'exoskeleton' is what reinforces the foot part of the boot. It adds support to the boot through strategically placed plastic or rubber framing. The 'upper' is the first defence against debris or damage. It is located at the top of the boot. The 'outsole' is the rubber part of the bottom of the boot that has grips to maintain traction on the trail. It also protects the bottom of the foot. The 'midsole' lies between the upper and the outsole and supports the foot and absorbs any type of shock. 'Lugs' provide traction, while the 'tongue gusset' creates a seal that protects against water and other debris that can make its way into the boot. The 'Achilles notch' is also called the cutout ankle collar, and protects the ankle when making long trail descents.
Types of Trail Boots
Trail boots are categorised by their function. It is important when choosing the right trail boot for the wearer that one consider the type of activity being undertaken.
Trail Running
These are low-cut, lightweight trail running shoes, designed with excellent traction and cushioning, and midsole support. These boots provide better support than the average running shoe, so they are quite capable of handling the rigours of either the trail or the road.
Technical Scrambling
These boots are low- to mid-cut lightweight shoes that have sticky soles excellent for gripping. The shoes are narrow and foot hugging, so that the wearer can wear them for forays into scrambling, bouldering, or rock climbing. These shoes are specifically made for this type of activity with especially thin soles to give the wearer a better feel for uneven surfaces. These shoes are not very comfortable for walking or hiking.
Trail
Trail boots are low- or mid-cut boots that are best for hiking on well-maintained trails. They provide adequate support for the foot when toting daypack-sized loads.
Off-Trail
These boots have a higher cut around the ankle and rigid soles that protect the wearer's feet when venturing off the trail. These shoes are fully waterproof and have rubber rands and a cutout ankle collar to assist in protecting high-wear areas, like the heel and toe, and relieve pressure on the ankle during long descents.
Mountaineering
These boots are the stiffest and most protective of the bunch. Geared toward hiking in high altitudes in cold weather, they are lightly insulated to keep the toes warm and have rigid soles for added support.
Winter
Winter boots are trail boots that have been modified for use in winter conditions. These boots are cut high to keep out the snow and ice, insulated for warmth, and waterproof to keep feet and ankles dry.
Water
This boot is designed for particularly wet conditions, such as paddling trips and river crossings. These boots have excellent drainage and are constructed of quick-drying materials.
Trail Boot Heights
There are three different heights to choose from when purchasing trail boots, an important factor to consider, as each type of boot will offer the consumer different types of support and protection.
Low-Cut
The tops of these boots fall below the ankle joint and offer the wearer freedom of movement for comfort and fast striding. The lack of support and protection make these shoes inadequate for carrying heavy loads and hiking off-trail in uneven terrain.
Mid-Cut
This cut of trail boot wraps the ankle supportively and pads the foot and ankle for protection against rocks, roots, and rolling. This cut is higher than the low-cut version, so it provides greater waterproof protection and is more effective at keeping debris out of the boot. This boot does not provide sufficient support to comfortably carry heavy loads for extended periods of time.
High-Cut
High-cut trail boots require a longer period in which to break in the boot before venturing out comfortably for sustained hiking. The cut of this boot provides adequate protection for hiking in all types of elements and provides excellent support for the feet when travelling in serious mountain terrain.
How to Treat Trail Boots
Treating trail boots will lengthen their lifespan. Depending upon the amount of wear they receive, they should be treated at least three times a year. If the trail boots start to look dry and thirsty, or they begin to lighten in color, this is an indication that it is time for the boots to be treated. Most treatments available are for leather trail boots. There are other treatments available for water barrier material and nylon mesh.The wearer should follow the directions carefully. More is not always better when it comes to treating trail boots.Two or three thin coats of treatment are better than one thick coat. Also, the wearer should never warm the boots in the oven prior to treating them. This is a myth that has regrettably proliferated. Putting your boots in a warm oven will irrevocably damage the boots as the rubber and glue degrades and/or melts. Do not use any type of oil, including mink oil, to treat trail boots. This will cause an over-softening of the boot. A dab of mink oil is only recommended if the wearer is trying to soften stiff and unyielding leather.
If the soles of the trail boots begin to peel away from the boot, they can be repaired. Shoe Goo is a great product to use, as are other similar products on the market. If the wearer is out hiking and finds that the sole of the boot is peeling away from the boot, the wearer can secure the flapping sole with some duct tape until able to get home and repair it properly. If the trail boots are Norwegian welted boots and the soles are stitched onto the boot rather than glued, then the wearer will need to find a good cobbler or shoe repairman to fix them.
Never attempt to dry wet leather trail boots near a fire or other direct heat source, as they can shrink by as much as half a size and lead to all kinds of problems, like heel blisters. The boots should be dried slowly, with the insoles and laces removed. Open up the boots as much as possible and insert newspapers or heating packs/heat warmers into the foot of the boot. Do not stuff wet boots into a plastic bag when the hike is completed and it's time to head home, as this creates a breeding ground for mould and mildew.
Trail Boot Materials
Trail boots are made of several types of material, the most common being leather, as well as nylon mesh and waterproof barrier material, such as Gore-tex. For a boot that is lightweight and breathable, split-grain leather and nylon are the best bets. These materials are softer on the feet and easier to break in. They also cost less, if price is a concern. One thing to be aware of with split-grain leather and nylon is that these materials are not as water resistant as other types of materials.
Full-grain leather is what most hikers prefer for longer hikes. This type of leather is more durable, extremely water resistant, and supportive. Full-grain leather boots are recommended for more extensive hiking trips when accompanied by hard terrain and heavier loads. Before hiking in these boots, they first should be treated with one to two thin coats of treatment and broken in by wearing them in advance of the initial hike. If the wearer is interested in a waterproof barrier, such a barrier can be purchased and sown into the boot. The type of performance depends on the barrier, the materials used, and how well the wearer has cared for the boots.
How to Find Trail Boots on eBay
eBay has a large amount of trail boots available for purchase in a wide range of colours, styles, and designs. To begin your search for trail boots, go to the eBay homepage. If you know what type of trail boots you would like to search for, then type that into the search bar. If you know what size of trail boot that you are looking for, then you can select the size under the category of 'Shoes'.
When buying from a seller on eBay, it is important to note the seller's refund and exchange policies before you begin bidding on an item. If you purchase a pair of trail boots and they do not fit, you want a seller that will allow you to return them for a refund or an exchange? If the information is not available on the seller's homepage, then contact the seller to verify the precise details of their policy.
Conclusion
Trail boots encompass seven categories of shoe that span a broad range of functionality. The boots range from trail running shoes to water boots and everything in between. There are three cuts to choose from, depending upon use requirements. To get proper use out of trail boots, they should be given proper care, such as a leather treatment that will restore, condition, and waterproof the trail boots. There are treatments available for other materials, such as nylon mesh and waterproof barriers. Before buying boots, consider the intended conditions of usage. Research the precise sizing for different brands of trail boots to obtain the correct size. It is important to break them in before wearing them out hiking on the trail. eBay is an excellent resource for purchasing trail boots without paying full retail price. Check out all of a seller's policies before purchasing to guarantee a smooth and enjoyable transaction.