Transistors are an essential element in most types of electronics, and whether you are building, prototyping, repairing, or maintaining electronics, you probably need transistors. Transistors switch and amplify electronic signals, and discrete or separate transistors are present in almost every electronic gadget. Knowing what options are available when you purchase transistors enables you to make an informed decision as to which transistors you need.
Transistor Types

With several different types of transistors to choose from, all transistors are either NPN or PNP. The difference between the two is that NPN uses two N-dope semiconductors and one P-dope semiconductor, and PNP is the opposite. NPN transistors are the most common because they are easy to build from silicone, and have higher electron mobility than PNP. You also have to choose between transistor function type, such as switching or amplifying, and although many transistors do both, some are specifically for one or the other. Finally, transistors come in a number of different types of material including silicone, germanium, and other semiconductor materials.
Transistor Ratings
Transistors are rated according to their maximum voltage, which allows you to choose options that suit the voltage for your device. You want transistors that exceed the maximum voltage of the device or the voltage damages the transistors. Collector base and collector emitter have a maximum voltage rating of 50 volts, collector current continuous has a maximum voltage rating of 100 volts, input forward has a maximum voltage rating of 40 volts, and input reverse has a maximum rating of 10 volts. If you are repairing rather than building, consider checking the voltage rating on the device, and if possible, which transistor rating is already in the device.
Buying Transistors in Bulk
You can choose to purchase one or two transistors at a time to make a single repair but you can also buy bulk or mixed transistors for your electronics kit. Many sellers offer lots of 10 to over 100 transistors in a single purchase unit, so you can stock up and not have to worry about buying more later. You can also find an electronics kit with transistors, breakers, regulators, and other electronic components in one lot.
Choosing a Transistor Brand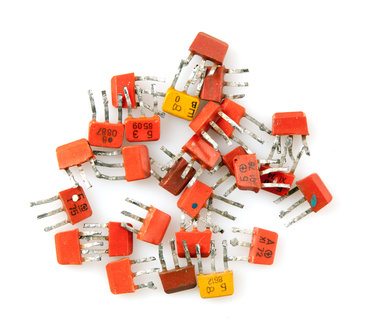 Brand is an important thing to consider when you purchase transistors. While most transistors are interchangeable and work across all or most devices, you may prefer to use a specific brand, or to use the original manufacturer transistors in electronics. For example, while you can purchase unbranded universal transistors, you can also purchase Phillips transistors, Prefix transistors, or whatever other brand you are working with. If you are repairing electronics for other people, then using the OEM brand is a good idea, or if you are building your own electronics, then using a recognisable brand may help with sales.