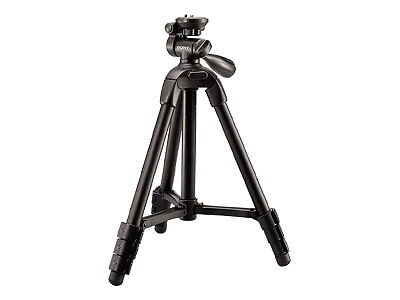 Tripods and monopods are used to provide the photographer or videographer with a stable base from which to shoot photographs or video. This helps avoid the shake and unwanted blur that can occur using cameras by hand. A tripod has three legs that are usually extendable, which allows the person using the tripod to adjust the height of the tripod, depending on their height and the height of the subject or scenery that they are shooting. The camera is attached to the tripod by a rotating head which allows the photographer to move the camera to get the right shot once the camera is mounted on the tripod. A handle is also usually attached to the tripod head, which allows a smooth panning motion when using the camera, and which can be especially useful when filming rather than taking still photographs. A monopod is used for similar purposes, but the main difference is that is has one leg rather than three. It cannot stand alone, therefore, and requires the photographer or videographer to keep a hold of it; however, it does provide a more stable shooting position for the camera than simply holding the camera by hand. There are advantage and disadvantages of tripods versus monopods, depending on the situation and type of photographs or film being taken. There are also many different things to consider when buying a tripod or monopod, such as cost, weight, portability, and material the device is made from. Tripods and monopods can be purchased from high street stores, department stores, and specialist camera shops as well as from eBay.
Tripod
A tripod can be one of the best accessories to buy when purchasing a camera. Whether it is a DSLR camera for photography or a video camera or DSLR to be used for making films or home movies, a tripod will enhance the quality of the end result. Whenever a steady hand is needed to take a shot, a tripod should be used. For photographers, as well as holding a camera, a tripod can instead secure and hold an off camera flash or a lighting unit. Tripods are particularly useful in low light situations or when long exposures are being used in order to provide stability and prevent unwanted blur or shake in the photograph or film.
When buying a tripod, firstly consider where it will be used. If the intention is to take it on hikes in order to take nature photographs for example, a lightweight tripod will be an advantage. Heavier ones can be cumbersome, and the photographer is more likely to try and do without carrying it or using it, which will result in poorer-quality photographs. The lightest tripods are usually made from carbon fibre. They can be about 30 per cent lighter than the equivalent aluminium tripod, which can make a big difference when carrying the tripod, especially alongside other camera equipment. Aluminium tripods are very stable, and this is partly due to their extra weight when compared to carbon fibre tripods. They are, however, still popular and readily available as they can be much cheaper than a carbon fibre tripod.
Tripods have leg-locking mechanisms to enable the user to extend the legs and lock the tripod at a specific height. When buying a tripod, check how easy it is to quickly extend the tripod and lock it into place. If using the tripod for wildlife shots or when it is necessary to capture a scene quickly, then ease of set up is one of the most important things. Otherwise the shot may be lost while the user is taking too long to set up the tripod.
Alongside traditional tripods, other options such as the Joby Gorillapod can be a useful buy. The Gorillapod is a specific type of small, lightweight, plastic tripod, which, instead of extendable legs, has bendable legs. It is suitable to stand on a wall or other surface, or even bend around and fix to a tree or railings in order to get a decent photograph without blur. Many photographers would consider owning a larger, more traditional tripod and a Joby Gorillapod as well.
Monopod
A monopod is a type of camera support, similar to a tripod but with only one leg rather than three. As such, it cannot stand up independently, and the user will need to support the monopod, while the monopod supports the camera. Monopods can extend quickly and are therefore very good for capturing a shot quickly before the subject moves away. They are less stable than tripods but still offer a lot more support and less camera shake than using a camera or video camera just by hand. When buying a monopod, check the height it extends to, how small it will fold up for ease of carrying, how stable and strong it feels, and what material it is made from. As with tripods, monopods can be made from a range of materials, with the most popular being aluminium or carbon fibre. Monopods usually have a ball head which allows the camera to move once mounted on the monopod. Check the movement and fluidity of the head as well as the ability to lock the camera fixed into a position without fear of it moving. Some cheaper monopods with plastic components may have a more flimsy feel. Monopods are vital for taking photographs or film of things such as motor sport or other fast moving sport, or perhaps wildlife. For motor sport shots, the monopod offers the user the ability to quickly pick up the monopod and camera and move to a new location while following the action as well as the ability to pan very easily, which is essential when taking creative shots of motor sport or other action and wanting to convey movement.
For the keen hiker or trekker who is also a keen photographer, the monopod has another advantage. Some monopods are designed as walking poles or sticks which have the camera fixing on top still. Thus, it avoids the need to carry a stick and a monopod and is always at hand.
The table below shows the advantages and disadvantages of tripods compared to monopods.
Tripod


Can stand up alone – allows user to set up tripod and take photographs or film using a remote shutter release
Perfect for night photography or very low light photography when a very long exposure is necessary
Is more stable than a monopod
Reduces camera shake and motion blur


Heavier and more cumbersome and bulky than a monopod
More expensive than a monopod



Monopods


Compact and easy to store and carry
Lighter than a tripod
Cheaper than a tripod
Useful for action sports such as motor sport photographs when quick assembly and easy panning is needed
Some monopods can be used as a walking or hiking stick


Cannot be used hands-free
Has less stability than a tripod
Camera shake and unwanted blur can still occur


Find Tripods and Monopods on eBay
Tripods and monopods can be purchased in camera shops or high street electrical shops as well as on eBay. Buying a tripod or monopod on eBay offers a lot of choice as there are many available, both new and second hand. To look for either a tripod or a monopod on eBay, head to the eBay homepage. Begin by opening the All Categories tab and clicking on the link for Cameras & Photography, followed by clicking the link on the left hand side and then opening the category entitled Tripods & Supports. From there, find the link on the left hand side to Tripods & Monopods. Search available item listings, or refine the search further by using new options on the left side of the page. Different brands can be selected for different types of tripod or monopod, such as table-top tripod, and the search results will reflect just these items if selected. Alternately, try entering specific terms into the search bar at the top of any eBay page.
Conclusion
For any photographer or videographer, some kind of tripod or monopod is a necessity. It is almost impossible to take clear, blur free photographs or film using a hand-held camera in low light conditions or at night. Both tripods and monopods have advantages and disadvantages, and as such, some people may consider buying both a tripod and a monopod in order to use in different situations. One of the main factors to consider when buying either a monopod or tripod is portability and weight. Aluminium tripods and monopods can be heavier than carbon fibre ones, but they are also cheaper. It is important to way up the pros and cons of different brand and types of monopod or tripod before purchasing.