Triumph GT6
This is one of many illustrated classic car guides I've created for the community. I hope you enjoy it and if you would like to find out more about the classic Triumph car art featured in this guide please click here.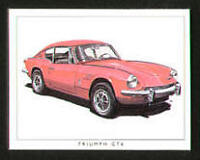 The idea of building a six-cylinder version of the Spitfire came along in 1964. Christened GT 6 and developed with the North American market in mind, the model was launched in 1966. The Mk2 emerged in 1968 and the Mk3 (new body style with cut-off tail) was introduced in late 1970. By this time the GT6 had an all-synchromesh gearbox and a new back axle design with lower-wishbone suspension but these arrived too late as the market had already made up its mind unfavourably about the GT6. Little further effort was devoted to development and production ceased towards the end of 1973.
If you would like to see more guides on Triumph cars please click!
Thank you for reading my guide and I hope you found it interesting!