This is the fourth in a series of reviews that show the silly things that have been listed - and often sold - as Troika on ebay. For a robust guide to buying online look at this link BUYERS GUIDE TO TROIKA ONLINE and don't forget to vote for a guide if you find it helpful.
By all thats Holy I never thought when I started this that I would be on my 4th volume of Troika fakes found on ebay, but they keep on coming, and people keep bidding on them, and keep getting cheated. Many of the sellers of these have been conned themselves, or are victims of a bit of auction fever.
Most of the fakes I identify are blindingly obvious, but they still get through. The following link has a great pictorial reference suite of Troika shapes and signatures. You have to read it carefully because you can't put external links in a ebay guide (so much for the interconnected world). Look at:
www(dot)cornishceramics(dot)com(slash)ptroika-pots(dot)htm
Click on an individual thumbnail and get to see all the pictures held of the item in question. Great Site - really hope it gets updated more often.
Number 6 Update - Here it comes again
Another one of the ghastly lumps seen in 6 below is back on ebay. This time as item 350393421828. Rather hysterically it states - "picked this up at a car boot - can't find a reference to it on the net, so its either very rare or a piece of junk" - well we know the answer to that choice don't we pot-pickers! Frankly the idea that you could type "Troika" and "pottery" into Google and not find anything is just mad bad and sad all in one.
Number 6 - More of the Same - ITS NOT REALLY TROIKA
This is item 120603772309 and it was reported to me with a couple of days to go, then it ended suddenly in a sale for £75. Wow!! thats one sharp dealer nipping in quick to get a bargain . The buyer may they're dead clever but if they were smart they would read guides like this and know to avoid this type of schlock! Sorry no room for the fake signature - it claims to be a Louise Jinks but its more like Jah Jah Binks!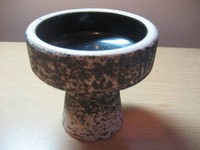 Number 5 - The best argument for compulsory sterilisation - HOW STUPID CAN YOU GET
This item was 270558819811 and ended on the 15 April '10 with 13 bids from no less than 6 different bidders, ending at £22.50. The seller was told by lots of ebayers that it was a fake, and finally accepted this position and included this very clearly in the description - so no fault attached to beswickian.

Personally I think dumbness of this degree should be culled, or at the very least sterilised!.
Number 4 - More Junk, More fools!
More of the same old thing I suppose, any old bit of white earthenware gets a shabby signature, but this one has a hysterically funny description! I quote verbatim.
"I bought this vase in a charity shop hoping that that I could find something about it but I have been unsuccessful (I am not a collector so my knowledge is practically nil). I can't date the vase or find out who made it, let alone a value or even a picture in a book!. "
So I take it that all that research didn't extend to searching ebay for "Troika", or maybe even using Google. Although I can guess why its not pictured in a book! There are four bidders at time of writing - presumably Dumb and Dumber and two stupid pals. Item no 130356324985


Number 3 - An evil Fake
This is the worst of the worst, the seriously wicked - it looks just like a bit of Troika, and at one stage it probably even started its life there. When the pottery closed a large quantity of biscuit fired moulded items (and the moulds)were sold off. These then get the paintbrush treatment and re-appear at 10 times the price in all the colours of the rainbow. This is just too bright on the colours and I think this is one of those items. It doesn't have a signature - but not every piece of Troika was signed.

Buy this for £50 and you might think you got a bargain, but all you bought was the dream! I know of people who have lost thousands of £s on fake troika items like this. I am a great believer of selling studio pots on-line; but I think Troika should be avoided unless you see it first, or buy from a very reputable seller (with a real money back guarantee).
Number 2 - Pirates of the Carribean!
This is a shocker - truly hideous and wrong on so many levels. Not even a fair attempt to fake a signature - but what do you know - somebody still bid on it. It is item 200399858013 ending on the 8th November.


Number 1 - Cornish Stoneware
Its a Cornish pottery table lamp in hand built stoneware. Not made in a Troika mould (its not hollow based), not in Troika material, and with a rather dodgy signature applied to boot - still its quite hard to write on such a rough surface
.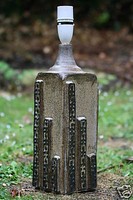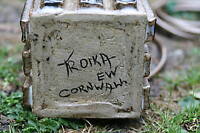 The seller is going to get his money back from a dealer - that'll be an interesting conversation I'm sure. Full marks to the seller (libertyandvictoriauk) though - the listing was ended as soon as he realised it was a fake.