One more set of things passed off as Troika by the dodgy and ignorant. For a more robust guide to the pitfalls of buying Troika online check out the following guide BUYERS GUIDE TO TROIKA ONLINE - and don't forget to vote for any guides you find helpful.
The profits from faking are potentially huge with a dynamic collectors market out there for all things Troika, and the fakers are showing more and more ingenuity in their attempts to con the unwary. The extent of this is so bad that I am now on my second guide to Troika fakes - I ran out of picture space in the original.
Of course I found the attached on ebay - but I do not brand the sellers as the perpetrators of the fraud, - they are just as likely to have been duped by a dodgy auction house. But I do tell them if they are selling a fake - and am pleasantly surprised how many acknowledge the fact or remove their listings.
Number 5 - This lamp is so dodgy I'd check the wiring!
Light does not mean illumination and somebody paid £31 for this - and I expect them to still be in the dark- at least about Troika. Its clearly not Troika, its a joke - and they didn't even show a picture of the base mark. And its broken. Item number 250346252896.
I didn't catch this in time due to Xmas holidays - can't stop them all I suppose
Number 4 - More work from the schoolroom
More childish stuff, this time optimistically priced at £140 (which would be pretty steep for a real one). Item no 270310198960 ends on 9th December. Spot the basket ware lining to the mould and the part glazed base. Another piss-poor signature too.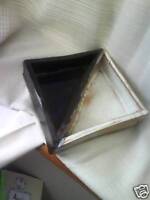 Number 3 - Luminous Vase with childish decoration
I think this one was knocked up in school, and then somebody got really creative - actually one of the best faked marks - but look at that recess where it is positioned. - Not a Troika mould at all. But could you be fooled by this decoration? - somebody is bidding on it! Item number is 180305705817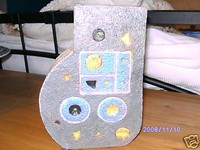 Number 2 - Tremaen Pottery lamp gets an extra mark
Lots of people have spotted this Tremaen lamp as anything but a piece of Troika. Has the faker actually managed to spell it wrong as well? It is item number 320314911181.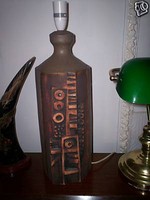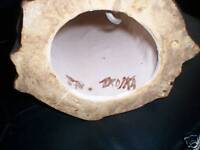 Number 1 - A piece of Hornsea gets the Troika treatment
Item number 260296441061 on ebay is this dish. Originally made by Hornsea pottery it has been selected as a Troika fake because of its cream base on which to add a signature. First of all though the Muramic backstamp has been rubbed off, and the green glazed rim has been rubbed down as well (you can still see the original colour trace). After all that effort the faker has added a really poor (crayon?) mark and forged Alison Bridgen signature. I have added a picture of one I didn't fake earlier so you can see what it originally looked like.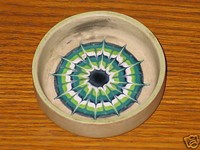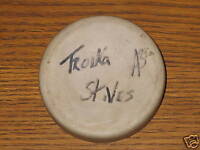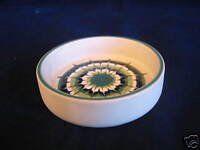 Hooray - this listing was removed by the seller after he was advised of its fakery!