This is the third in a series of guides to some of the silly things that have been listed - and often sold - as Troika on ebay. For a more robust warning of potential pitfalls in buying Troika online check out this guide BUYERS GUIDE TO TROIKA ONLINE and don't forget to vote for any guides you find helpful
There is a picture limit when you write a guide, so this is now Volume 3 of a seemingly endless collection of Troika fakes that I have found being offered on ebay. A minefield for the unwary buyer (and seller too - often they have been fooled in the first place). Hopefully this will help somebody avoid an expensive waste of money and deter the fakers from trying to rip-off slightly over enthusiastic collectors.
NUMBER 5 - A Fosters in Disguise
Seller seems to think this piece of badly photographed Fosters Pottery is priceless Troika (item 260440589857). This has 2 days to go at time of writing and has 5 bidders making 23 bids -for a vast £28 or so. This is not a Troika shape, not a Troika glaze, and not worth much more than 28p. Authoritable attribution to Louise Jinks - but no picture of the underside- rather strange that!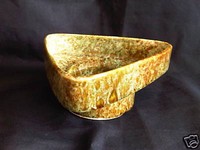 (5 bidders - the recession must be breeding desperation)
NUMBER 4 - A one off!
Now the seller admits that this is a bit unusual, and may not even be Troika - and how right they are. Described as a one-off - probably because the faker thought "No - this won't fool anybody!" The material is wrong - its not their mould, its not their mark, - its all so so wrong - but somebody had bid £16 last time I looked - just give the money to charity, set fire to it, blow it on intravenous Weetabix or whatever - but don't waste it on this!!!!!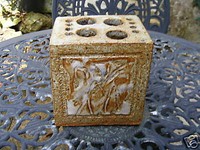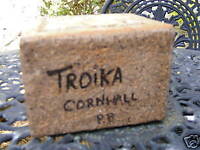 NUMBER 3 - Just Yuk
Just a horrid brown bowl which has nothing to do with Troika - and it sold for £16 - now I know thats not a lot of booze or fags - but at least that wouldn't be a complete waste of money.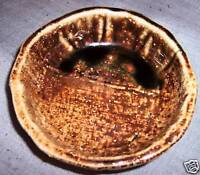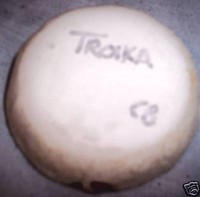 Number 2 - Walk like an Egyptian
Full and generous credit to the seller on this - it was removed from sale shortly after they were advised it was a fake, despite the item having bids on it.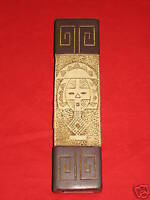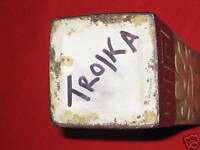 Not really convincing application of the old felt tip pen, but it had bids on it (WHAT were you thinking!!!!)
ITS BACK AGAIN - now item 280383245599- and its got bids on it AGAIN!!!! - somebody must really want this piece of junk - not for artistic reasons I would hazard!
Number 1- Blah - Yuk - Words fail me
I can think of a good name for this but there may be some younger readers out there so its definitely an after the watershed description. The thing is hideous (even more so than Troika!) and really badly faked. The seller withdrew this from sale after being told it was a fake - but gibbered a bit in their message reply - suffice it to say the voodoo doll isn't working yet pal!!