This guide was prompted by a trip round a major antique fair, and finding a number of Troika items for sale that I had very serious reservations about. I don't pretend to be a world expert, but some of these items were clearly fake or not Troika at all. These items must be turning up online- and I'm sure some of the dealers at that fair were victims in this as much as anybody.
So here are some simple steps to think about before you buy Troika on ebay (or anywhere else for that matter.
RULE 1 - KNOW THE SHAPES
Troika made basic moulds in a limited range of shapes. If it says Troika on the bottom but it is not one of those shapes you can be 99.9% certain it is not Troika. A really good detailed guide can be found at: (sorry I have spell this out but thats ebay for you)
www(dot)cornishceramics(dot)com(forward slash)ptroika-pots(dot)html
So things like these - which said Troika on the bottom - really are not.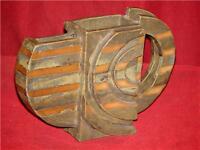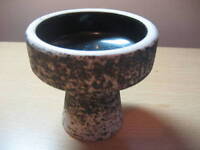 RULE 2 - KNOW THE MATERIAL AND MARKS
The same website has a link to a detailed page of Troika signatures. Look at the base material - the white body is always found on Troika items. So a Troika mark like these below is ALWAYS a fake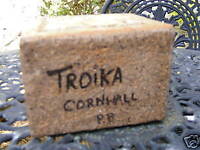 Of course it is always useful to be able to check the marks against this website, but of course the availability of this reference material makes it easy to copy, hence:
RULE 3 - WATCH OUT FOR REPRODUCTIONS
There are large numbers of undecorated Troika pots in circulation. These were bought unfinished when the pottery closed. These can be found on ebay - see examples below: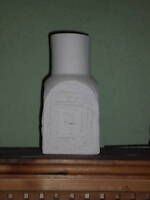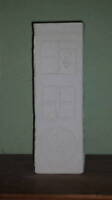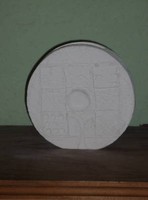 Make no mistake, these items will be bought by the unscrupulous and will turn up on ebay again - brightly decorated and freshly signed. I have also heard that rarer items - including masks, celtic crosses, and hanging baskets are being reproduced in the far East and imported for local sale. They may be using blanks, but I suspect these are using casts from real items.
RULE 4 - INSIST ON RETURNS
If you buy something online and then think it is "iffy" you need some recourse. I know its very difficult to take a picture of a piece of Troika so that the glaze quality shows up well, so I might not expect the ebay picture to tell the full story. On the other hand, if I bought something like one of these (both sold on ebay) I might want to get it checked.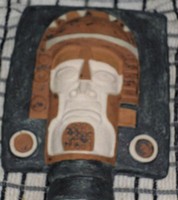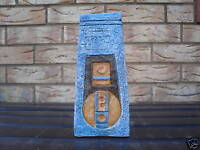 I think the colours are wrong on both, and if a real professional (not your local house clearance auctioneer)confirmed my suspicions I would want to return it - SO CHECK YOUR SELLER ACCEPTS RETURNS. All the serious studio potter sellers I know value their reputations and customers and would not hesitate to make a refund - even if you decided it just wasn't for you. If the seller states NO RETURNS - then avoid that deal.
RULE 5 - KNOW YOUR SELLER
Always check the feedback - all the serious quality sellers I know have 100% feedback ratings - but don't just look at the scores - check the details of the transactions.
If the seller feedback is marked PRIVATE it should set alarm bells ringing. Private feedback is a device used by unscrupulous sellers to hide details of their trades from the wider ebay community. Live feedback shows the buyer name - and allows concerned ebayers to notify an unsuspecting buyer about a suspicious purchase. The following link takes you to another of my guides concerning one particular rogue and dishonest seller - who uses private feedback (no surprise). another dodgy dealer!
The other thing to look at is the nature of past transactions. Any seller who handles more than the very occasional piece of Troika will have pretty broad experience of studio pottery. I know a number of these people, and I know pretty much where they source their stock, and they all handle a fairly wide range of studio items. Because of this I get really puzzled by sellers such as:
resale1234 mrs9945 0208sia tradelot000 under 192 faridghanatsiroos
all of whom seem to sell a strange mix of Troika and silver coins. Now coinage is an area of the market which is particularly prone to fakery (see the many guides by lapidary2 for examples), and very rarely do any of the real studio pottery sellers handle silver coins for example - the material comes from completely different fairs and auctions to studio pots. Oh Yes of course - a lot of the seller feedback is private - especially for the Troika items. In fact there are enough similarities between these identities and the product mix to suggest at least some of the above may be one seller using different identities, and strangely the positive feedback one some of those names is from other names on the list!
I think you have to be very brave to spend large sums of money with sellers who have this type of track record and pattern of activity.
If you come across any other suspicious activity I will be happy to add the details to this guide.
In the meantime, if this has been helpful, and you support my efforts to make ebay a safer and better place to trade, please drop a vote on this guide!