Let's face it, with the rain we've seen recently there's one job we may have to get used to doing more often. I'm talking about cleaning muddy football boots and trainers.
Never fear, the Tyger Paw Boot Cleaner is here to help. Designed by Gabriel John, a lifelong football fan involved in playing, coaching and managing for more than 25 years, the Tyger Paw is the space age solution to cleaning sports footwear. Like many amateur and Sunday League footballers Gabriel cleaned boots with whatever was available after the match – scrubbing brush, keys, biro etc. He knew there should be something better out there, and he set about putting his own creativity to use and came up with the Tyger Paw.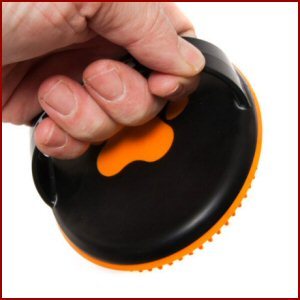 How does the Tyger Paw Boot Cleaner work? It is constructed of ThermoPlastic Elastomer (TPE), a non-abrasive material which is strong, durable and waterproof. The base of the brush is made up of bristles of differing lengths and tensile strengths which quickly and efficiently remove ingrained dirt, grass and mud. The Tyger Paw easily removes mud from in between studs and moulded soles.
There was a time when black boots were all you could get. Now you can buy white boots, blue boots, orange boots, gold boots, titanium boots, personalised boots. . . . .sportswear giants such as Nike and Adidas can provide them. With a top end pair of football boots now costing upwards of £200, many footballers are desperate to prolong the life of their kit and protect their investment.
Whether you're talking about football boots, walking boots, hiking boots, rugby boots, wellington boots, trainers, and even carpets, runners and mats, the Tyger Paw helps to get rid of that mud.
By the way it's also great to remove dried mud from car mats and boot mats, and from horse blankets. It's also a very effective pet hair remover.
To watch a video of the Tyger Paw Boot Cleaner in action
click here
.