SIZING AND FITMENT FOR TYRES
Tyres also come in a variety of sizes and widths to suit all manner of applications. We will mainly focus on car tyres for the basis of this explanation. Nothing too in-depth here, we're just covering the basics. There are a ton of other specialist tyre companies out there that focus solely on tyres and have highly detailed specifics on all things tyre related, so we will just stick to basics.
TYRE WIDTH (SECTION)
One important thing that needs to be covered is tyre width. What are the ranges of tyre widths (sections) can be fitted to certain width alloy wheels? I have included a table to show our recommendations in regards to the range of tyres that can be used. Again this is only to be used as a guide for informational purposes. We use this table as a guide for the current trend of tyre stretching for stanced fitments. So we know how skinny a tyre can be fitted to certain width wheels. As there is a limit to how much stretch you can attempt before you potentially get in trouble with the authorities.

At most we've gone 2 sizes smaller in width. For example, we've regularly fitted 195/45/16's to 16x8" wheels. If you see the table below you'll see the minimum we recommend is a 215mm section tyre on an 8" width wheel. Using tyres 2 sizes smaller than this table shows is entirely at your own risk.

TYRE ASPECT RATIO (PROFILE) (SIDEWALL)
The Tyre Aspect Ratio is measured as a percentage of the tyre section width and determines how thick the sidewall will be. The aspect ratio all depends on what width and diameter of tyre is to be used. When up-stepping to larger diameter alloy wheels its necessary to use lower profile (aspect ratio) tyres to make sure the rolling radius of the wheel and tyre is as close to standard as possible. If the difference is over/under by 2.5% it can affect your speedometer output, and alter the gearing speeds leading to in-efficient fuel consumption.

As a general rule of thumb, for every 10mm added to the tyre width (section), the aspect ratio (sidewall profile) can be reduced by 5%. This is the normal procedure for up-sizing alloy wheel and tyre packages. It helps to keep the overall rolling radius of the newer, larger, alloy wheel and tyre package similar to the rolling radius as standard.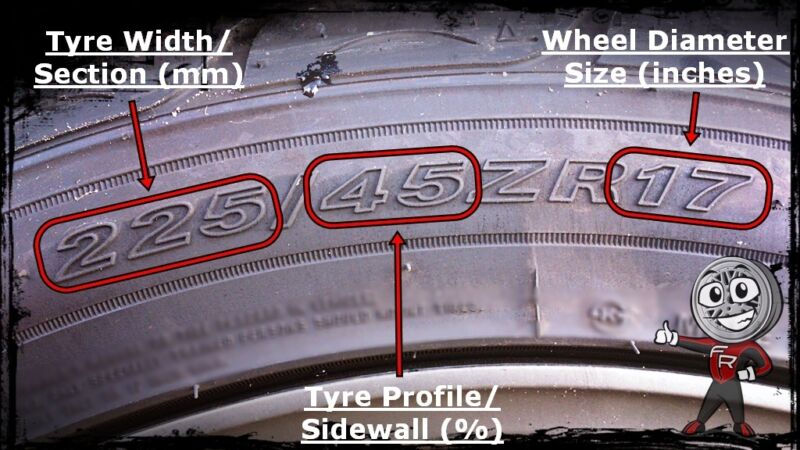 Legal Mumbo Jumbo
Funky Rims make no representations or warranties of any kind, either express or implied, as to the completeness, accuracy, reliability, suitability or availability of this Guide or the information, products or services contained in these pages or their fitness for any purpose whatsoever. Any reliance you place on such information is therefore entirely at your own risk.