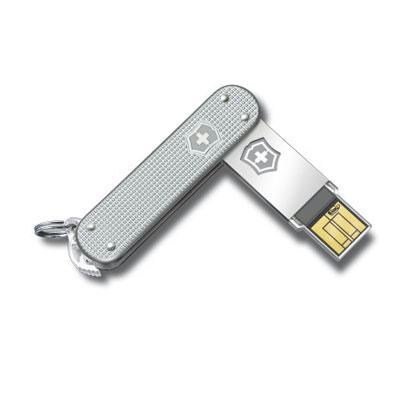 It is a busy Friday afternoon, with the office abuzz with frenetic activity. Co-workers scramble to put together the finishing touches on a business acquisition proposal that includes copious amounts of data gleaned from the company computer network. Just as the time arrives to download the data into the powerpoint presentation, the electricity goes off throughout the building. Instead of panicking that the data has been lost, the team of assiduous workers immediately retrieve the
USB flash drives
that back up all of the company's critical data.
No longer do businesses and individuals ask if they need to purchase backup storage devices.. They only ask where can they find such devices. Consumers can shop for USB flash drives at electronics shops, but their best option is to shop online at eBay. The leading auction site offers the widest variety of USB flash drives from sellers who present the most feature options. First, consumers should receive an overview of USB flash drives before learning about the benefits of the drives, their essential components, and finally, the factors that determine the purchasing decision.
The Importance of a Computer Back-up
Desktop and laptop computers have become an indispensable part of conducting daily business, whether at the office or from home. The electronic data storage devices input customer data, send emails, handle money transfers, and monitor the status of customer accounts, among many other tasks. What if something happens that erases all of the vital information stored within a desktop computer?
Since the advent of contemporary computer technology, computer manufacturers have created backup devices, such as hard drives, floppy disks, and CDs to ensure important data never simply disappears. Businesses and individuals that back up important information can restore that information whenever a fire or electrical surge wipes out integral data. Therefore, the question is not whether back-ups are a must-have for businesses and individuals, but which type of backup should businesses and individuals consider.
USB Flash Drive Overview
USB flash drives, which can also go by the names key, thumb, or jump drives, represent small, portable storage alternatives to floppy disks and hard drives. Manufacturers construct USB flash drives in a number of sizes and with multiple features. The storage devices possess a capacity that ranges between 512 MB and 256 GB.. USB flash drives utilise solid state media, which means there are no internal moving parts. The lack of internal moving parts translates into high durability. USB flash drives implement the USB mass storage standard, which operating systems Linux, Mac OS X, Windows, and Unix support. Manufacturers continue to perform research that upgrades USB flash drives in terms of speed and data storage capacity.
The Advantages of Using USB Flash Drives for Backup
The many advantages of using USB flash drives for backup have prompted most laptop and desktop manufacturers to eschew floppy drives, and in some cases, eliminate compact disc drives. Perhaps the only area where other storage devices have an advantage is in pricing, yet that seems to be changing, as manufacturers simplify production and create economies of scale due to increased demand.
Ease of Use
USB flash drives easily insert into laptop USB ports, and all it takes to remove the drives is to lightly squeeze two fingers together and pull straight out from the port. The small, compact nature of USB flash drives make them easy to store and transport.
Reliability
USB flash drives are the choice of people who need to move massive amounts of data. Some USB flash drives allow more than one million erase or write cycles. Computer data safely transfers to USB flash drives, unlike floppy drives, which can inadvertently erase or compromise important data.
Speed
USB 2.0, the current operating standard, runs much faster than any other type of data backup device in a much smaller space. The pace of recovering data is so quick that some users back up entire hard drives on the small data storage devices.
Buying Factors to Consider
Consumers should first consider brand name and budget constraints when shopping for USB flash drives. Brand name USB flash drives, such as SanDisk or Kingston,, present high performance and reliability. However, brand name USB flash drives typically cost more than generic or off-brand models. Therefore, consumers need to balance their budgets with finding a reputable manufacturer. After answering the budget and brand name questions, the next steps involve the following four factors.
Drive Size
Advanced technology makes it possible for people to share very large files or numerous files. Transferring large files from a PC to a USB flash drive requires a storage capacity of at least 1 GB,, preferably much larger than that.
Drive Speed
If speed is one of the advantages that USB flash drives have over other backup devices, then what is the optimal speed? Purchase a USB flash drive that is USB 2.0 compatible. This high-speed connection creates the fastest data transfer rates.
Security Features
Consumers can find USB flash drives that provide built-in security features that allow them to place a password in the device to protect sensitive data and documents. This security feature requires users to load software into the computer before activating the password. However, the extra trouble is worth the effort, especially for protecting personal financial statements.
Other Features
Other features to consider include a built-in MP3 player. The MP3 player acts as a storage device for both document and MP3 files. However, this feature often triples the cost of a USB flash drive. Some manufacturers include the lanyards and holes that users utilise to connect their USB flash drives to keyrings. Another feature to consider is the USB extension cable, which allows users to back up files from another room.
USB Flash Drive Components
Desktop and laptop computers access flash drives in a similar manner as the devices access information stored on floppy disks and CDs. The EEPROM writing and erasure processes almost mimic the same processes that operated older storage programmes. While consumers can purchase USB flash drives that possess varied features, they must ensure the USB flash under consideration has the following four essential components.
Essential Component

Description

Standard USB plug

Provides interface with host computer

USB mass storage controller

Small microcontroller that possesses a limited amount of ROM and RAM

NAND flash memory chip(s)

Stores data

Also used in digital cameras

Crystal oscillator

Produces the 12 MHz clock signal

Controls device data output
In addition to the four essential USB flash drive components, users also have a number of optional components to consider. Many of the following components enhance USB flash drive components, as well as increase the price of individual units.
Optional Component

Description

Jumper pin

Tests the loading code that manufacturers insert into the microprocessor

LEDs

Indicates data transfers with rapidly pulsing light

Write-protect switch

Enables or disables the writing of data into memory

A recommended component for more advanced computer users

Unpopulated space

Provides more memory space in the form of a second chip

Allows manufacturers to utilise one printed circuit board for more than one memory storage size

USB connector cover

Reduces risk of connector damage

Prevents the entry of dirt and other particles

Transport aid

A hole that attaches to a keyring or lanyard for easy and secure transport
Of the optional USB flash drive components, the most cost-effective component is the transport aid. The component does not cause much of an increase in cost and it saves users money by properly securing USB flash drives to sturdy attachments. The only possible way to lose the USB flash drive is to lose a set of keys.
Buying USB Flash Drives on eBay
Finding a seller who matches your USB flash drive criteria only requires you to write down the criteria, and then input some keywords that represent the criteria into eBay's search engine. If your shopping criteria includes storage capacity, type something like "8 GB USB flash drive&" into the search engine. On the other hand, you may want to type "Transcend USB flash drive&" to target sellers by brand. Once you whittle your seller candidates down, vet each seller by reviewing the customer feedback that eBay places on seller product pages. Look for sellers who have received positive feedback over the past year for selling computer components and parts..
While customer reviews provide you with a strong foundation to make a purchasing decision, eBay also runs a programme that rewards their best sellers. eBay's Top-Rated Sellers have established reputations for offering high-quality products at reasonable prices. eBay places an electronic ribbon icon by each qualified seller's product photograph. Once you find a top-rated USB flash drive seller, check to see if the seller runs an eBay Store where you can purchase other electronics parts and equipment.
Conclusion
For years, computer users had to download data to cumbersome floppy disks and compact discs. They had to organise an area just for their stored data and label each disc as it became full. A recent innovation has changed all of that with capability to store much more data in a storage device that is easy to use and provides convenient transport. USB flash drives not only provide more storage and portability, they transmit data faster than any other type of data storage device. Consumers should know the importance of backing up critical data, but many do not know what to look for in a USB flash drive.
Consumers must consider storage capacity size, especially if they work in an office where large files or myriad files require back-up. They also need to buy USB flash drives that are compatible with USB 2.0 standards to maximise speed. With hackers finding new ways to access information, another factor to consider when shopping for a USB flash drive is the security features, especially password protection. Consumers can consider other features that enhance USB flash drive performance, such as holes and lanyards to secure the USB flash drive to a keyring.