As we stock a wide range of drain tools one of the questions we are constantly being asked is 'what should we buy to help with a blocked drain'.
Click the link to see our range of Drain Tools Bamford Trading Drain Tools
This guide has been written with that question in mind!
Lets assume you would like to fix this unpleasant problem at the lowest cost?
First thing is to understand the nature of the blockage. Many blockages are local to the sink or drain where you discovered it.
Sinks, Baths, Showers and Basins
The most usual problem with sinks is caused by a build up of hair or grease. If other sinks locally are still working fine then this is almost certainly your problem (you lucky thing). If the water is draining slowly you may be lucky and get away with pouring very hot water down the plug. Be careful if you do this. Chemical solutions may also work for this kind of blockage.
If this does not work or the water is not moving you can try a plunger or a blaster which force water down the drain and should take the blockage with it or a wire which can find its way around the u bend.
If these solutions do not work you will have to resort to a plumber or to disassembly of the U bend if you can get to it. Don't forget to have a bucket handy!
When you have fixed the blockage be sure to rinse the sink with hot water to clear any remaining grease.
Toilets
Joy.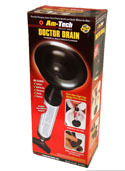 A blocked toilet can be the source of real problems not least health problems and needs to be dealt with quickly. Fortunately they are normally quite easy to clear.
Do you know what caused the blockage? If it was a 'soft' item you may be lucky and get away with a 'Wire Spring''

type unblocker - these are flexible and can go around the bend and are often successful.
Plungers may also work if the blockage is a soft one.

If its a hard blockage close to the toilet its a job for a plumber I'm afraid - you don't want to push it further down the pipe. A plumber will remove the toilet and gain access to the drain.
Outside Drains and Gulleys

Often a blockage affecting the kitchen only will be causd by a blocked gulley. An outside drain normally around 4" square. Simple but dirty job in most cases. Use gloves

and get your hand in there - you will find the gulley blocked with soap or dirt. If water is moving slowly pour lots of hot water down first. A hose pipe with a jet attachment may help clear it too.

If more than one sink or toilet is affected especially if the blockage is house wide then the problem is most likely to be in the drain outside the house. If more than one house is affected it will be a problem in the sewer and the water authority should be involved.

Drain problems usually manifest themselves by a full man hole. There are drain cover keys at Bamford Trading Drain Tools In this case its likely you will need drain rods.

The rods should be used to push the blockage down the drain using the rubber plunger. Remember to always turn the rods clockwise.
We are happy to answer your questions - please see the 'ask seller a question' link on any listing.
We hope this has helped save you worry and money - if it has please vote.