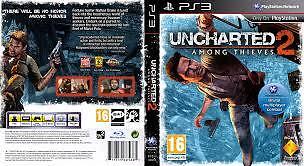 Uncharted 2: Among thieves - PS3
How do you define a blockbuster movie, great action, good screenplay, good characters, though may not be morally correct, basically they act human. So, if thats a blockbuster for you, you would be a fool to not try uncharted. Basically, its a movie that is played out like a game. Every action piece is greater than the last, and when you get to the end, its a defining moment, as you feel like you were the central character in a blockbuster action movie. The gameplay is simple. The game starts as third person shooting game, wherein you can use handguns, cylinders, kicks and punches to brind the enemy down. The atmosphere created is gigantic, somehow lets you relive the great action adventure movies of yesteryears.

It starts typically with a neo-noir movie, in a flashback, there in you find the protagnist being injured severely and in a train crash. It suddenly grasps your attention, as to what happened to him, how did he land up here, and oh, god, why I do have to start with a such a difficult phase, I dont even know what happened to him, how am I to save him and move forward in the game.

Initially with some help from system, you make it to the top, and then flashback starts. The game takes you at the start and tells the story about Marco Polo's ship missing and the fabled story of marbles and longevity.