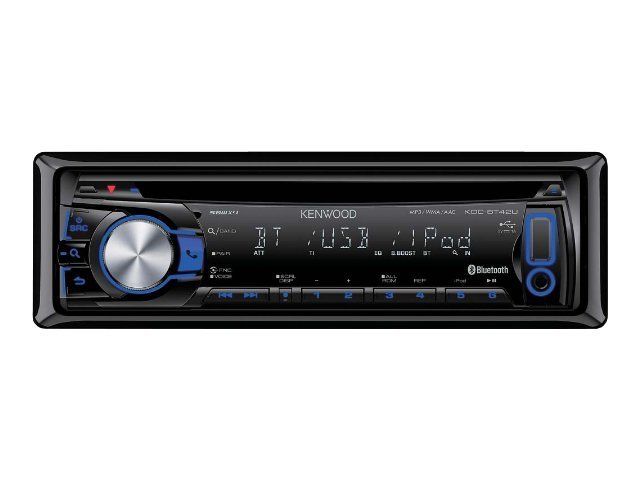 A car stereo system delivers entertainment to motorists and has many more features, which makes it an integral component of a vehicle. Although much fuss is made about the quality of the speakers, the head unit in a car stereo system should have just as much attention. The head unit, also sometimes referred to as the receiver, is the interface that drivers use to see and control the media playback.
Head units have many forms, from the traditional CD player to digital options that interact with external media sources. When trying to understand a car stereo head unit, drivers should start with the basics of car stereos. They should also learn more about how to choose and fit a head unit for their car. Finally, they should look at the individual features offered by the head unit, which can vary widely depending on the quality of the model chosen. When buyers wish to purchase car stereo head units, they should visit eBay, which has a large selection of automotive equipment and electronics.
The Basics of Car Stereos
The first car stereo to be a commercial success was introduced in 1930 by Motorola. It was called the Model 5T71 and supported only AM radio, which was the standard for many years. Additional features, such as FM radio, cassette players, CD players, digital radio, and now iPod and USB connections, became more common as technology improved. A car audio system is made up of three components: head unit, amplifier, and speakers. A power source is also required for the system to function correctly.
Head Unit for Car Stereos
In addition to housing the controls and typically a CD player, the head unit controls the signals sent to the other components and is home to a preamplifier. The preamplifier takes the signals from the radio or other media source, boosts the signal, and reduces interference before sending it to the amplifier.
Amplifier for Car Stereos
In many high-end systems, the amplifier is a separate component. This allows it to be stronger than the amplifiers that can be integrated into head units.
Speakers for Car Stereos
The third component is the speakers, which actually create the audio. Car speakers come in a variety of forms, from full range models that handle all of the sound to specialist speakers that only produce sounds in a particular range, usually low and high.
Power for Car Stereos
One of the most important things to consider when purchasing a car stereo head unit is the power. High-end systems have more power, which allow the speakers to reach higher volumes with less distortion. Power is indicated in two ways: peak power and RMS power. Peak power is the maximum level that a system can reach, but only for short bursts. A more reliable indication of a system's performance is the RMS rating, which indicates the maximum power sustainable for prolonged periods. Buyers should ensure that the speakers and other parts of the system are rated for the same amount of power and match in all respects because mismatches can cause damage to the components.
Sizes of Car Stereo Head Units
Not all car stereo head units can fit all vehicles, so when choosing a new head unit, always check for compatibility. In some cases, buyers may wish to purchase an adaptor kit. Head units are often labelled in DIN sizes: single DIN, double DIN, and 1.5 DIN, also called DIN and a half. The actual dimensions for these measurement units are given in the table below.
| DIN size | Metric Size (mm) | Imperial Size (in) |
| --- | --- | --- |
| | 50 x 180 | 2 x 7 |
| | 100 x 180 | 4 x 7 |
| 1.5 DIN | 75 x 180 | 3 x 7 |
The first number in the measurement is the height, and the second is the width. Vehicles with a double DIN opening can still accommodate single DIN units or 1.5 DIN units with the appropriate mounting kit, but single DIN openings cannot be adapted for larger devices. Buyers should also note that the depth of the head unit can vary, even within the same DIN size.
CD vs. Digital Media Car Stereo Head Units
Although some older vehicle models may be equipped with a cassette player, most modern vehicles have a CD player, and the newest systems may have a digital media receiver. A digital media receiver may have a USB port, SD card reader, an iPod dock, or an auxiliary input to read files from a variety of external media, as well as wireless Bluetooth streaming capabilities. These features can also be found in some CD player models, but a digital media receiver is more useful for the buyer who has already converted to purely digital music.
Key Features of Car Stereo Head Units
Car stereo head units can offer a large range of features, so buyers need to prioritise the most important ones. There are a few key features that all buyers should look for, such as easy-to-use controls and customisable audio options. Other convenient features include MirrorLink or similar technologies, and Bluetooth support.
Easy-to-Use Controls for Car Stereo Head Units
One of the most important factors to consider in a car stereo head unit is the ease of use of the controls. Many head units have stylish designs that look high-tech and even futuristic, but an easy-to-use design that lets the driver find a track easily, change the radio station, and adjust the volume is a better choice. Some head units have touch screens, which give them greater functionality.
Customisable Audio Options for Car Stereo Head Units
Even the most basic head units have an equaliser that allows drivers to adjust the amount of bass and treble to their preferences. Other models may have a setting to adjust mid tones, and the most advanced models may have six or seven settings. Technology such as digital signal processing (DSP) can further enhance the audio quality and minimise distortion from external noise.
MirrorLink or Other Smartphone Interfaces for Car Stereo Head Units
Some car stereo head units may be equipped with MirrorLink or similar technologies, which let drivers connect their smartphones to the head unit. The device then mirrors the content displayed on the phone's screen, allowing it to handle GPS systems, phone calls, and audio streaming. MirrorLink increases safety while driving and uses universal technology such as USB and Virtual Network Computing, so it is readily compatible with a broad array of smartphones.
Bluetooth Support for Car Stereo Head Units
Some car stereo head units have Bluetooth connectivity. Bluetooth links a phone and other device wirelessly to transfer data. This includes answering phone calls to allow safe, hands-free communication, as well as streaming music. However, there may be some limitations to Bluetooth, especially when streaming audio. For example, the car stereo head unit may not be able to display song or artist information.
USB Port for Car Stereo Head Units
Although an auxiliary port works fine for connecting some external media devices, such as MP3 players, a USB port is more convenient because it offers greater compatibility. In addition to connecting MP3 players and smartphones, a USB port allows drivers to load song files directly from a flash drive. The USB port also enables charging of other media devices.
How to Buy Car Stereo Head Units on eBay
The online marketplace, eBay, is a great source for automotive electronics equipment, including car stereo head units. If you are new to the site, take a moment to register for an account. Members can sign into their My eBay accounts directly to gain access to a suite of convenient features. To start browsing for items, you can enter keywords, such as "CD player head unit" in the search box on the home page or any other page on the site. From there you can modify the keywords as needed, or start a new search. You can also filter products by their features to show only the most relevant results.
Tips for Shopping on eBay
In addition to allowing you to filter your results by features of the product, eBay provides a variety of filters to narrow down the search. For example, you can specify a price range. In addition, you can also look for new or used items. If buying a used head unit, then verify that it is in good working order by communicating with the seller using the "Ask a question" link.
With all eBay purchases, you should also take the time to research the seller. Check his or her feedback history to see what other buyers have said about their experiences and how they have rated the seller's performance. For more information about how feedback works, visit the eBay Help Centre.
Conclusion
Head units are the central part of car stereos, housing the controls and displaying information for the driver. They contain preamplifiers that prepare the information to send to the amplifier, and some models may also contain built-in amplifiers that directs sound to the speakers. When choosing a head unit for a car stereo, buyers should pay attention to the power rating to ensure compatibility. Another major factor to consider is the size of the head unit, as buyers can choose from single, double, and 1.5 DIN models. Buyers should consider whether they would prefer a CD player or a digital media receiver.
Finally, key factors to look for in a car stereo head unit are the ease of use and customisable audio options. Buyers may also consider MirrorLink or Bluetooth support to enhance the unit's capabilities by allowing it to interface with other devices. A USB port can charge the device while reading information. Whatever type of car stereo head unit buyers wish to have, they can always visit eBay for a large selection of products and great deals.