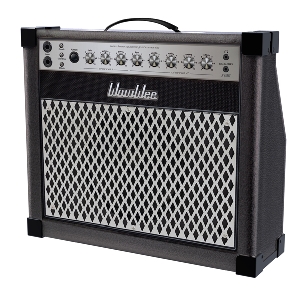 Many singers, musicians, and others who require an amplifier for any reason opt to buy a used one instead of a new one. This makes good financial sense as great bargains can be had from owners wishing to upgrade and willing to sell their current amplifier for a fraction of its original price.
Types of Amplifier
Audio amplifiers are designed to complement and enhance the natural characteristics of their intended input source. Some amplifiers are optimised to amplify vocals, for example, while bass amps have an extended low-frequency response more suited to bass guitars. However, many cheaper amplifiers, and some more expensive varieties too, are simple general-purpose amps capable of providing decent amplification whether the input is a guitar, keyboard, microphone, or other audio equipment.
Power and Quality
Amplifiers come in a wide range of power ratings. Small practice amps capable of delivering around 20 watts of power or less are obviously not going to be in the same power league or price league as a 2000-watt amp used in a concert hall. Power should not be the main consideration, however. Quality is a more important factor. A good-quality amp will have a pleasing tone at all volume levels with minimum distortion present. Most amps are mains-powered, but small, low-power battery-operated amplifiers are also available. These are often used by buskers and other street entertainers with no access to a mains power supply.
Loudspeakers
Many models of amplifier come with integrated loudspeakers housed in a speaker cabinet. Amp and speaker combinations, commonly known as combos, are convenient in several ways. They can be transported as a single, albeit bulky, item, and the speakers are correctly matched electrically, as well as being securely and permanently connected internally, to the amplifier's output. Most amplifiers with built-in speakers also provide an independent output jack socket for connecting to any other speakers. Otherwise, loudspeakers and cabinets are separate purchase items that may or may not be included in any second-hand sale of an amplifier. In the case of purchasing separate speakers, it is important to check that their impedance value matches that of the amplifier's output, and also that they are capable of handling the output power of the amplifier with ease. Their power rating must be greater than the output power of the amplifier; otherwise, at high volume levels, the speakers may be 'blown' and damaged beyond repair.
Optional Features and Effects
Most modern amplifiers come bundled with one or more effects in addition to standard volume and tone controls. More expensive amps may include effects such as reverb, distortion, tremolo, graphic equaliser, chorus, or other effects and controls. These effects can be useful, but as they usually add to the price, they shouldn't be a major consideration. Any desired effects can be purchased separately as effects pedals or stand-alone units placed between the source and the amplifier input. A more important feature is connectivity. Ideally, there should be more than a single input jack socket and, preferably, a headphone output socket in addition to speaker outputs. Headphone output sockets are especially popular among electric guitarists who want to practise their guitar licks at full volume and at any time of day or night without anyone else hearing them.
Safety
Mains-powered amplifiers, like all mains-powered electrical items, need to be safe to use and free from faults that could increase the chances of receiving an electric shock from via any connected hand-held instrument or device connected to them, such as a guitar or a microphone. Mains power can be lethal, so it is always a good idea to have a newly-acquired used amp checked over by an electrical engineer who can quickly carry out safety checks and, if necessary, may also be able to carry out any repairs.
Simple Checks
For anyone buying a used amp locally, it is important to see and hear the amp in operation before buying it. The following is a simple check-list to keep in mind when inspecting a used amp for sale.
| Cheks | Description |
| --- | --- |
| Distortion | Distortion in the right place is a desirable component of many amplifiers, which is why a controllable distortion or overdrive function is often included. Inherent distortion, on the other hand, should be a reason for rejection. |
| Excessive mains hum | Mains hum is a low-frequency tone caused by the amplifier responding to the frequency of the alternating current (AC) mains supply. Amplifiers are designed to eliminate, or at least greatly reduce, this unwanted and annoying effect. Excessive hum should also be a reason for declining to buy as it can be an indication that all is not as it should be electrically. However, it should also be kept in mind that faulty input leads from microphones or instruments can also be responsible for creating mains hum, so it is important to establish whether or not any mains hum is actually caused by the amplifier. |
| Inputs and outputs | All input and output channels should be working properly. These can easily be tested by connecting a microphone or guitar to the input jacks and connecting output channels to speakers and headphones. Not only should the signal pass through unimpeded, but should do so cleanly. Touching the jack plug casing at the input or output jack sockets shouldn't cause any crackling or distortion. Again, however, it must be kept in mind that faulty leads are the most common cause of these effects. It would be unfortunate if an excellent-condition, fault-free used amp at a great price was rejected due to a cheap, faulty guitar lead. |
| Excessive speaker vibration (combo units) | Excessive vibration from the speaker cabinet is an indication that the loudspeaker housing isn't as secure as it should be. Parts may have loosened over time or been damaged. |
| Controls | All control knobs and sliders should be smooth and clean in operation with no undue buzzing or crackling when adjusted. |
The eBay Marketplace for Used Amplifiers
As online-buying continues to offer greater convenience in terms of choice, purchase, and delivery, more people are turning to eBay as a well-known and well-established source of items available for purchase. Used amplifiers are available from many eBay sellers, both privately and commercially.
Finding Used Amplifiers on eBay
Used Amplifiers can be found by entering the term "used amplifiers" into the search box on eBay's homepage or, alternatively, by browsing the various categories under which their owners have placed them. These eBay categories include Pro Audio Equipment, Musical Instruments and Sound & Vision. As online transactions exclude the possibility of seeing and hearing an amplifier before buying it, it is essential to make full use of eBay's various protection policies and buying advice. The simplest of these is to buy from a trustworthy seller. Anyone who buys or sells anything on eBay acquires a reputation, good or bad, that is highly visible to all. If a seller has an excellent reputation acquired over the course of many eBay transactions, then it reassures anyone considering a purchase that this particular seller can be trusted to continue their excellent service. Some may even have been awarded eBay's Top-rated seller status, indicating that they provide a highly-professional service. It also makes sense for anyone in the UK looking to buy an amplifier on eBay to buy via eBay's UK-based site (ebay.co.uk) as the majority of available amps will also be located in the UK. Buying a bulky electrical item such as an amplifier from abroad can add unnecessary complications, time and expense to the transaction.
Conclusion
These days, thanks to advances in electronic circuit and component design, amplifiers tend to be more reliable and live up to their performance specifications for longer. That's good news for anyone looking to buy a used amplifier whether from eBay or elsewhere as a good used amplifier can be expected to perform as well and reliably as it did when it was new.