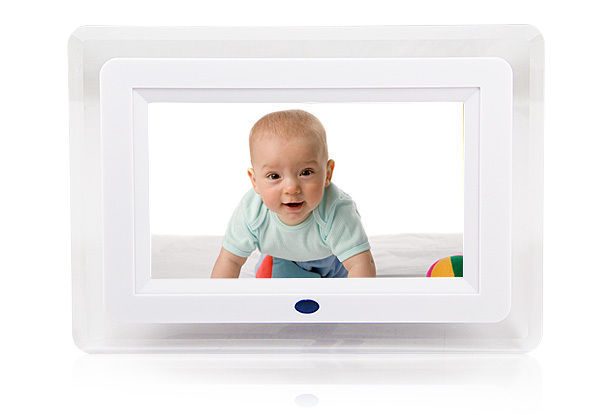 A baby monitor, sometimes referred to as a baby alarm, allows parents to remotely observe their infant. Baby monitors come in two main types, including audio and video. Audio monitors typically cost less, but lack features and are often used simply to hear if an infant is crying. On the other hand, video monitors offer live video feeds to a remote location so parents can actually watch what their infant is doing as well as hear. Some baby monitors are very advanced and can include motion detection, night vision, temperature and air quality measurements.
A used baby monitor can be a great option for new, budget-conscious families. Both basic audio baby monitors and those with more advanced functionality can be found used and often at a heavily discounted price. All baby monitors have the same essential parts, including a microphone and a transmitter. Newer smartphones are also being used in conjunction with apps to function as a baby monitor, however this reportedly has drawbacks. Shoppers should thoroughly research their options and narrowly define their need for the product before making a final purchasing decision.
Types of Baby Monitors
The first decision buyers encounter is the type of baby monitor that best suits their needs. Parents who may be with their infant less or physically farther away may prefer a video baby monitor. On the other hand, parents who are physically present may only need minimal features and an audio baby monitor may suffice.
There are also movement monitors which sound an alarm if there is no movement on the crib surface for more than a certain amount of time. Automobile baby monitors are also available for parents who want to be able to see their child while driving, without having to turn their head and potentially endangering themselves and their child. Finally, smartphones are now being used as baby monitors since they integrate all the necessary hardware.
Video Baby Monitors
Video baby monitors transmit live video feeds to a receiver. The receiver may be a portable screen, a television, a computer, or a smartphone. Video baby monitors are sometimes called "baby cams". Many video baby monitors have a variety of features which include playing lullabies, nightlights, and measuring air quality components, but one feature is especially noteworthy. Much of the time a video baby monitor is being used is during the night. Since the user wants to be able to see the video, night vision needs to be included.
Audio Baby Monitors
Audio baby monitors are mainly used to detect crying and when a baby wakes up. Some audio baby monitors include a walkie talkie, so the parent is able to talk to the infant. Oddly, parents can often hear infants engaging in "crib talk" which is the baby speaking to itself practising language. Some doctors caution against using baby monitors as they may offer a false sense of security. Buyers should remember no matter what type of monitor they ultimately select, infants still require a high degree of attention.
Movement Monitors
As their name implies, movement monitors detect movement within a certain space where the infant is supposed to be. These can indicate when the child wakes up or, if no movement for too long, that something may be wrong. Movement sensors are placed under the infant's crib mattress and remotely transmit a signal back to a receiver placed nearby to the user. Flashing lights or sounds indicate the baby needs some type of attention.
Automobile Monitors
Automobile monitors allow parents to safely observe their infant in the back seat without having to turn their head. Much like a rearview camera, the camera element is positioned to see the baby either on the adjacent headrest or mounted elsewhere in the vehicle. The signal is then transmitted to a small screen placed in the parents normal driving field of view. This ensures the driver does not have to take their eyes of the road to check on a child in the backseat.
Smartphones
Two standard items on all smartphones today also happen to be the two main elements of a baby monitor. Not surprisingly, there are now applications that allow smartphones to function as a baby monitor. They can record audio, video, and since smartphones are equipped with wireless capability, they can transmit the signal to another smartphone or some other source. While this may make sense for two-parent households, it does have some drawbacks.
The biggest drawback of using a smartphone as a baby monitor is that one smartphone must reside in the infant's room positioned in a way where the camera can see the desired field of view. This means the phone's owner is unable to move his or her phone for the entire duration it is in use. Additionally, text messages, phone calls, or emails may make noise if the phone's setting are not set appropriately, which may wake an infant. Finally, many phones do not have night vision hardware, which is an important feature for many people.
Other Features to Consider
There are some other interesting features that may be included with a baby monitor. Heart monitors may make sense for infants who have a condition that requires more intensive monitoring. Temperature, air pollutants, and carbon monoxide detectors may all also be included. Some baby monitors can be used to monitor multiple rooms. Buyers who prefer a video baby monitor should decide whether the prefer colour or black and white. Also, breathing monitors are available for parents who desire the additional peace of mind.
Finally, the talk back feature which allows two way communication between a parent and an infant is common. Some experts agree that allowing a baby to cry without entering the room to comfort it is a positive child-rearing strategy. While this may seem cruel to some, parents who wish to employ this strategy may desire the ability to at least console their infant with words without having to physically enter the room.
Safety
While many parents believe a baby monitor increases child safety, there are also arguments to the contrary. Chief amongst them is that baby monitors increase parental complacency, which can lull parents into paying less attention to an infant than they should be. Also, parents must be mindful to keep the baby monitor cord well away from the infant unless a cordless is purchased. These cords can be hazardous so it is imperative baby monitors with cords are kept a safe distance away from the baby.
Other parents may also be concerned because many baby monitors are now digital. Digital products like cellular phones and computers produce an electromagnetic field and with it, a negligible amount of radiation. Some parents, doctors, and experts believe this radiation could be potentially harmful. This can be mitigated by increasing the distance between the infant and the monitor or using an analogue product. All major baby manufacturers have done extensive testing on this issue and have concluded that the amount of radiation emitted from any digital product is not sufficient to pose any harm or threat to an infant.
How to Buy a Used Baby Monitor on eBay
eBay has a wide selection infant safety products which includes used baby monitors. Shoppers can browse all that eBay has to offer with a general search by entering either "used baby monitor" or "baby monitor" into the search box. Those who search for simply a "baby monitor" can navigate eBay's helpful filters and categories to narrow the search down to used baby monitors. Once this initial search is conducted, shoppers can then narrow their search even further by features that they desire.
Video baby monitors or audio can also be filtered. Features like night vision and talk back can be specifically searched for. The results can be sorted by price, time left in auction, or by method of sale. Anyone looking to purchase a used baby monitor should consider searching eBay first to get a good sense of what is available. eBay is likely to provide the used baby monitor that has all the features a shopper wants with at a price they can afford.
Conclusion
A used baby monitor is a great choice for budget conscious families. A baby monitor is part of the safety system all parents should consider using for their new baby. Parents should be cautious however not to become complacent. Baby monitors come in many different types and are used in various applications. Potential buyers should narrowly define their intended use of the product to guide their purchasing decision.
The many features available on baby monitors may seem overwhelming at first. With a bit of research, the desirable features specific to the individual shopper's needs should become apparent. Those who desire the simplest levels of monitoring should opt for an audio baby monitor, while those shoppers seeking more advanced functionality should more heavily consider video baby monitors. eBay provides many different models and types of baby monitors at a wide range of prices, making it the ideal place for shoppers to make the perfect purchase.