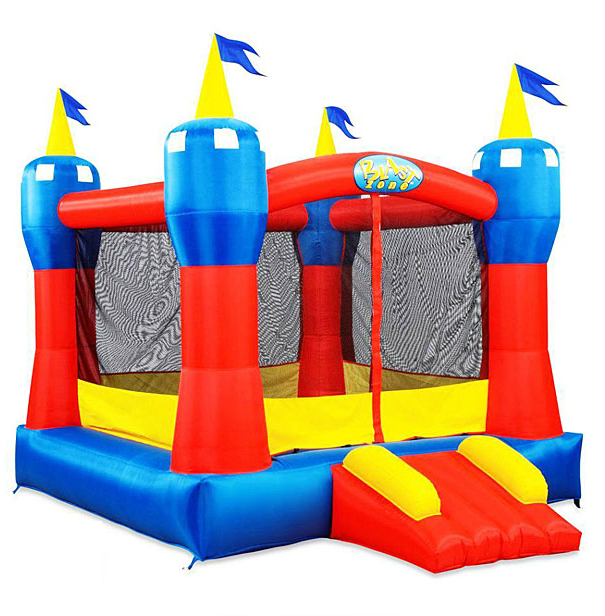 Bouncy castles are popular outdoor toys, and are particularly popular for use with groups. Bouncy castles are often divided into those suitable for commercial and domestic use, with commercial bouncy castles often being larger than similar residential bouncy castles.
Bouncy castles can offer numerous different features, such as climbing areas and ball pools, and are available in a variety of shapes and sizes. It is easy to find a used bouncy castle on eBay.
Bouncy Castle Construction
There are a number of common features that all kinds of bouncy castle share in there construction.
Bouncy castles are made of a thick, strong and durable material such as PVC or nylon, which can withstand both the pressures of inflation, and use.
A key principle of the operation of bouncy castles and other large inflatables is for the inflatable to withstand continuous leakage of air. This allows the structure to withstand bouncing, by allowing air to escape through seams and pores when children bounce on the inflatable.
Due to leakage, bouncy castles require the use of a mechanical fan to continuously circulate air into the structure throughout use. Bouncy castles can easily withstand small punctures, due to the leaking design and continuous circulation provided by the fan.
Cheaper bouncy castles, particularly early home use models, are made of less durable polyester, and made use of a hand pump to inflate. These types do not last as long as others and some countries do not allow this type of bouncy castle to be hired out, only allowing them for private use.
Many countries have safety regulations on the construction of bouncy castles, and any bouncy castle sold will have to meet these requirements. UK regulations, for example, require three fully enclosed or netted inflatable walls with an opening onto a crash mat, to ensure the safety of any children who fall out of the structure.
Bouncy Castle Size
Size is an important consideration to make when purchasing a bouncy castle. A wide range of sizes are available, ranging from those measuring just a few feet across to larger structures reaching over 28 feet.
Before a bouncy castle is purchased, the location that it is to be used in should be considered. The space must be able to fit the fully inflated castle, as well as have space for the fan, crash mats, as well as the users of the bouncy castle. Ample space between the castle and any fences or other obstructions is ideal, as this can avoid damage to the castle and help prolong its useful lifetime.
The number of children that are to be on the castle at any given time is also a key indicator of how large a castle should be. The largest castles can accommodate a larger number of users at once, and can withstand use by older children. Very small castles are also available for small numbers of younger children, and even those that are small enough for babies to play in.
If a larger castle is being considered, it should be remembered that a more powerful fan will be needed to maintain the structure properly, and ensure it is safe to use. For example, a mid-sized castle requires a mechanical output of around two horsepower. Conversely, the very small activity centres designed for babies and toddler may only require the use of a hand pump.
Bouncy Castle Design
Various different designs of bouncy castle are available. These can vary enormously, and range from the traditional castle structure to more unusual themes. Popular alternative designs include themed castles, which can feature bouncy castles shaped like animals such as elephants. More unusual designs can provide inflatable obstacle courses, which can include slides, obstacles which have to be crawled between and other features as well as a bouncing area. The most suitable design depends largely on personal taste, as well as the intended use of the castle. Those that will need to accommodate a large number of children may be best suited to the more traditional designs, which often have a central and large bouncing area, over the unusual construction which may have more limited space.
Bouncy Castle Features
As well as different construction designs, many modern bouncy castles often include addition features, which can add to the experience of using a bouncy castle.
Ball pits are a popular feature, both as part of larger inflatable items or as a standalone inflatable in their own right, though do require the supply of plastic balls to be maintained. Foam pits are a similar feature, though accommodate soft foam shapes rather than plastic balls, making them a good choice for very young children.
Slides are another widely popular feature, and can be found both as part of a larger castle, or as a standalone inflatable. This is a simple feature, requiring no extra maintenance to maintain. These features often incorporate ball pits and similar elements, providing a landing spot for any children using the slide.
Climbing walls are another popular feature, providing a safe area for children to climb upon. Given the cushioned nature of bouncy castles, they are often a very safe place for this kind of activity.
Some modern bouncy castles also incorporate water into their features. These can feature water slides and pools for play, with some even featuring water cannons.
Some bouncy castles may feature a basketball hoop or similar sporting accessories, and include an inflatable ball, allowing these games to be played on the bouncy surface of the castle.
Smaller and mid-sized bouncy castles will often only feature a few of these features at once, while some of the larger activity centres available can accommodate many of these features, at the cost of requiring a heavy duty fan in order to run, and a great deal of space to inflate.
Bouncy Castle Accessories
There are a number of key accessories that are required to successfully and safely inflate and use a bouncy castle. Fans, sometimes called blowers, are required to inflate, and keep inflated, a bouncy castle, due to the leaking design. Fans are available in both petrol and electrically powered form, and are often included with the purchase of a bouncy castle. It is recommended that users pay close attention to the requirements of their bouncy castle, as the power of a fan should be matched to the size of a castle.
Bouncy castle anchors are another important accessory for use with bouncy castles, particularly in areas where wind may pick up and move the castle. These pegs ensure that the castle remains firmly anchored to the ground, protecting against both wind and the bouncing of the children. Many bouncy castles may include anchors, though used castles may not. Crash mats are another necessity for safe use of a bouncy castle. These should be placed around any openings of a castle, to ensure that any children who fall or jump out of the castle are not injured when they land.
Other useful accessories include carry bags, which can provide an easy and convenient way of both transporting and storage bouncy castles. Repair kits are another useful accessory, providing a way to quickly and easily repair any punctures or tears on a castle, helping it to maintain its shape, and ensuring that any punctures do not get any larger through use.
Buying a Used Bouncy Castle on eBay
A wide variety of inflatable items can be found on eBay, including bouncy castles offering a range of styles and features. Bouncy Castles & Inflatables can be found under the Outdoor Toys & Activities section, in the Toys & Games category. Items can be arranged by categories such as price, condition and distance to seller. It is also possible to choose between the Auction and Buy it Now buying options, allowing for flexibility in how a bouncy castle can be purchased.
Important specifications about a bouncy castle, such as size and features, will often be prominently displayed in the item listing, making it easy to quickly see if an item meets any specific requirements. Further information about an item can be found in the item description. When buying a used bouncy castle, it is often a good idea to closely read the given information to ensure that the item meets any requirements. Information about the seller, such as feedback ratings and item reviews, can be found here, ensuring a purchase can be made with confidence. It is also possible here to ask the seller a question regarding the item.
If a specific bouncy castle or accessory is required, it may be easier and more effective to use the search function available at the top of every page. Searches can be made within specific categories, or to return results from the entire site. Further information on getting the most out of the search function is available on the Search Tips page.
Conclusion
A wide variety of different designs of bouncy castle are available, offering a range of features from water slides to ball pits and climbing areas. Bouncy castles are a widely popular outdoor toy; many used bouncy castles are available on eBay.