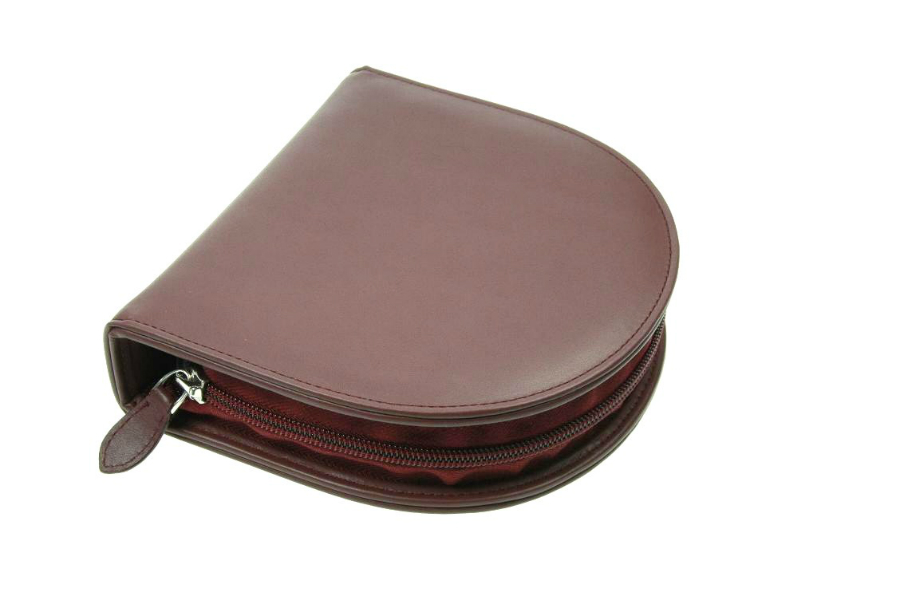 CDs are delicate items that need to be cared for correctly and stored properly when not in use. A CD carry case is an ideal option for the safekeeping of valuable discs. One may choose to buy used carry cases in order to save money. Used CD carry cases come in various sizes, they offer varying degrees of protection, with many of them designed to keep the contents safe and secure. When looking for a used CD carry case, be sure to consider the condition of the case and its price. The asking price should reflect the item's condition. Additionally, the brand name and the aesthetics of a used case may play a role in the purchase decision.
To buy a used CD carry case, a consumer can head to second-hand stores or choose to shop online. The online auction site eBay is a great source, with its selection of used CD carry cases in good condition and offering great value for money.
Why Buy a Used CD Carry Case?
Despite the popularity of using iPods, smartphones, MP3 players, and other mobile devices to store and play music, CDs continue to be popular. CDs are believed to offer superior sound quality, and owning a CD means one can copy it for different uses. By making copies, one can keep the original safe for use if a copy were to become damaged or worn from overuse.
Many users maintain quite a selection of plastic CD cases to hold individual CDs containing their favourite music. Unfortunately, these cases take up quite a lot of room, and they are not sturdy enough for carting around in the car or around the home. For this reason, a CD carry case is a useful item to store CDs in. A CD carry case can hold a number of CDs and keeps them protected from scratches and damage while also saving space. It is far easier to carry around 120 CDs in a portable, handheld carry case than it is to try to transport them in their original jewel cases.
Because some people have chosen to go the way of digitally downloaded music files, they may make their CD collections available in the second-hand market. This offers many opportunities for buyers to find used CD carry cases for sale. Used CD carry cases are ideal for buyers on tight budgets, and those who would rather spend their money on the latest CDs instead of accessories for CDs.
Things to Consider When Buying a Used CD Carry Case
When looking for a used CD carry case, buyers need to consider the size of the case and as well as the level of durability and security the case offers. Buyers should also take into account the condition of the CD case as well as price, among other factors.
Size of CD Carry Case
CD carry cases come in a wide range of sizes. Some cases are small, lightweight, and portable, holding less than 50 CDs.. Slimline and inexpensive, small cases are ideal for carrying in a handbag during a trip to the beach or park. Medium sized CD carry cases hold between 50 and 100 discs. Cases of this size are great for storing CDs in the car, where they can be stowed away in the glovebox, car boot, or under the front passenger seat. Large carry cases can hold in excess of 100 CDs. Large cases may store one CD per page leaf and be more box-shaped, or they may be shaped more like a folder, holding four or six discs to a page.
Protection Offered by a CD Carry Case
CDs can be easily damaged. A scratched CD can cause soundtracks to jump or stop playing completely. To ensure a CD carry case offers enough protection for each disc, each sleeve should ideally cover the entire disc with a plastic or fabric flap. Cases that have clear disc sleeves are recommended, as users can clearly read the title of each disc without having to pull the CD in and out of the sleeve to see what it is.
Many cases are made from tough outer materials that protect the CDs from becoming damaged or broken. Hard plastic, leather or faux leather, heavy canvas, or other sturdy synthetic materials make ideal CD carry cases. For a really strong product, buyers can consider a hard metal case.
Security Offered by a CD Carry Case
To protect a valuable CD collection, it is important to choose a CD carry case that offers some security. Small padlocks, combination locks, and other types of simple security devices are a good way of deterring people who want to help themselves to a CD collection. Although these types of security cases can be more expensive, they offer peace of mind. These CD cases are an ideal option for buyers who want to be able to leave the CD carry case in the car, gym or school locker, or work desk drawer.
Condition of the Used CD Carry Case
A used CD carry case that offers value for money is one that is in good condition. Sleeves should be soft and damage-free. Zipper closures or clasps should work properly. Buying a case that does not close securely is not a good idea, as discs can slip out and get damaged. Brands such as Case Logic and Logitech offer good quality CD carry cases. The used versions of these CD carry cases therefore stay durable and hard-wearing.
Price of a Used CD Carry Case
It is recommended that a buyer has a budget in mind when looking for a used CD carry case. The condition of the case should reflect its asking price. For buyers on a tight budget, a smaller carry case may be more affordable. Buyers with more flexible budgets may consider buying larger CD carry cases that hold 250 or 500 discs. Buying a large case can enable a buyer to store their CDs and DVDs in the same case.
Brands of CD Carry Cases
When purchasing used CD carry cases, being familiar with a brand can make the decision easier. One popular brand is Case Logic. Case Logic carry cases come in a wide range of sizes and materials. The brand offers CD carry cases made from soft nylon fabric wallets that hold up to 50 discs as well as hard plastic cases that can hold over 250 discs. Targus is another commonly found brand, and its carry cases are considered to be of good quality, as they are hard-wearing and therefore can last a long time. For the buyer who wants an attractive case, Targus offers a selection of leather cases of varying sizes and styles.
Materials Used in CD Carry Cases
Used CD carry cases are available in a range of different materials. If they desire durability and protection, buyers are well advised to choose a hard plastic or metal case. Metal cases tend to be more expensive than hard plastic cases, but they are far more durable. They often have lockable clasps for added security.
Fabric cases, made from such materials as canvas, nylon, or acrylic, tend to be lightweight and durable, and offer buyers good value for money. For a top quality used CD carry case, one may also choose a leather case. Although leather cases are expensive, they are comfortable to carry, durable, and attractive in appearance.
Buying a Used CD Carry Case on eBay
With simple search methods, reputable sellers, and secure payment options, many shoppers choose to head to the online auction site, eBay, which offers a wide selection of used CD carry cases for sale. Prospective buyers can take the time to search for used CD carry cases on eBay by entering relevant search terms that take them to the appropriate listings. Taking advantage of eBay's Mobile applications ensures that buyers can be alerted regarding new listings so they do not miss out on great deals.
To find used cases, one may type "used CD carry case&" into the search bar on eBay's home page to see a list of available items for sale. For a more specific search, such as a used black CD carry case or a specific brand, simply enter the desired phrase into the search bar to get a more focussed set of listings.
Before initiating a purchase on eBay, it is important to take the time to verify that the seller maintains a reliable history of delivering the right product within the desired time frame. This can be accomplished by reviewing the seller's information that includes feedback received from other customers.
Conclusion
Many people have large CD collections that hold treasured memories and entertainment. Individuals typically want to keep these collections safe as well as easily accessible. Used CD carry cases enable one to purchase a quality case that meets the needs without having to spend a lot of money on new CD cases. When purchasing CD carry cases, considerations include the number of discs one needs to store as well as how much protection and security a case offers. Appearance is also another consideration that is determined by the materials used to make the CD cases. In order to find a used CD carry case that offers good value for money, buyers should take into account the condition of the case.
The online auction site eBay offers a range of used CD carry cases at competitive prices. Searching for CD carry cases on this website is made easy by its user-friendly search functionalities. Additionally, eBay's other useful features, such as secure payment options and reputable sellers, serve to enhance the buyer's confidence in the purchasing process on the website.