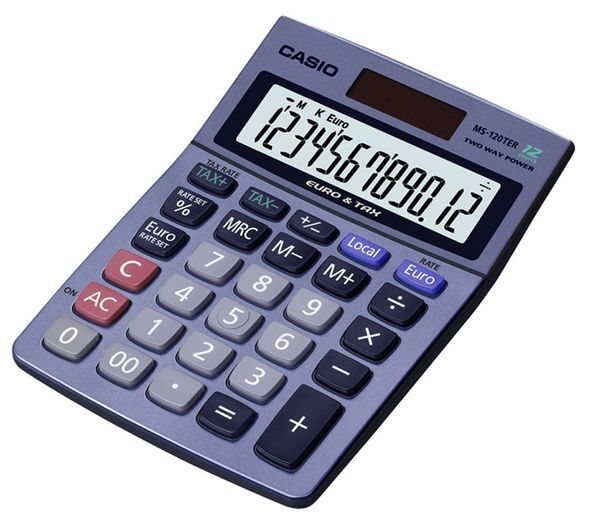 When preparing to buy a used calculator, buyers research to determine a few key factors. First, buyers should decide which type of calculator they need. Calculators come in several different types, including basic, graphing, financial, and scientific. Determining what is needed from the calculator helps minimise the amount of research which needs to be done. In addition, buyers should determine how much they want to spend. Calculators fall into many different price ranges starting at just a few quid.
Buyers should also research the brand they are interested in buying. Some of the most common are Texas Instruments, Casio, Canon, and HP. Prospective buyers should also have an idea of the size calculator they need in terms of capacity. Calculators come in many sizes, from desktop to pocket sized. Once buyers figure out exactly what type of calculator they are looking for, they can browse for it at places like department stores, office supply stores, Internet retailers, and marketplaces such as eBay.
Types of Used Calculators
There are many types of calculators available to buyers. The most popular types are basic, scientific, and graphing. Determining the need for the calculators helps buyers determine which type to purchase. Each of these types of used calculators offer buyers different options and functionality. Usually, the more functions calculators have, the more pricey they are, so buyers should be sure to buy calculators that fit their needs. However, buying advanced calculators which are used helps defray the initial expense.
Basic Used Calculators
Basic used calculators have a single button for each of the digits from 0 through 9. These type of calculators only handle the four general math functions of addition, subtraction, multiplication, and division. Sometimes per cent functions are used with the '%' button. Buyers can use these basic types of calculators for main computing needs. These are made to fit in the pocket and be taken on the go. Due to their simplicity, these calculators are often overlooked by people in need of calculators. Buyers can get basic used calculators fairly cheap.
Used Scientific Calculators
Used scientific calculators are for computing problems in mathematics, engineering, and science. They are usually hand held and used in professional and educational settings. Functions available on scientific calculators vary by manufacturer, but most have similar defining features, including scientific notation, logarithmic functions, exponential functions, trigonometric functions, complex numbers, fractions, programmability, statistics and probability functions, and calculus. These calculators are usually used in high school and sometimes college. Some colleges have replaced scientific calculators with graphing calculators. These calculators are sometimes fairly expensive, so buying used saves buyers a bit of money.
Used Graphing Calculators
Graphing calculators are known for their ability to plot graphs, complete numerous calculations using variables, and solve simultaneous equations. These calculators also have the capability to be programmed. Programming is helpful in engineering and education by allowing users to programme in commonly used equations. Several styles of graphing calculators are available with colour displays and feature interactive and animated drawing of math plots. These improvements enable the devices to be used in high school courses, where they were previously not allowed. Some graphing calculators can be attached to electronic devices, such as pH gauges, electronic thermometers, decibel and light meters, weather instruments, and other sensors.
Brands of Used Calculators
There are several brands of calculators for people to purchase. Buyers may want to stick with a trusted brand, or they may want to branch out to a new brand based on reviews of the products. While there are many available, the major calculator brands are Sharp, Canon, Texas Instruments, Casio, and HP. Buyers can find cheaper versions of some of these calculators in store brands, but with the name brands, they are paying for reliability and functionality.
Used Sharp Calculators
Founded in 1912, Sharp is a Japanese company which designs and manufactures electronic devices. Its first calculators came out in the 1960s, and Sharp's first LCD screen calculators hit the market in 1973. With such a presence in the electronics field, Sharp is among the forerunners in this field. It manufactures calculators in a couple different price levels, depending on the style of calculators. Sharp makes calculators ranging from basic to scientific, so buyers can find the perfect one for them.
Used Casio Calculators
Casio is a multinational Japanese-based manufacturer of electronics, founded in 1946. It released the world's first electric compact calculator in 1957. The company released its first scientific function calculator in 1974 and its first full colour graphing calculator soon after. Casio offers every kind of calculator consumers could need, including basic, graphing, scientific, and financial.
Used Texas Instruments Calculators
Texas Instruments is based in Dallas, Texas, and was founded in 1951. Texas Instruments has consistently been among the top 20 semiconductor producing companies in the world. It is well known for its scientific and graphing calculators, and it is a trusted and ethical brand. The company was named one of the most ethical companies in the world for six years in a row beginning in 2007, according to a study compiled by Ethisphere Institute. While Texas Instruments makes all types of calculators, it is most renowned for its scientific and graphing versions.
Used Canon Calculators
Canon is a Japanese-based multinational manufacturer of electronics which was founded in the 1930s. Canon is best known for its digital cameras and camcorders, but is also a large producer of business-related calculating products. The company produces all styles of calculators, including the pocket, printing, and scientific versions.
Used Hewlett Packard Calculators
Hewlett Packard is an American-based multinational company based in Palo Alto, California. While being known for computer equipment and accessories, it also manufactures calculators. The company makes all types of calculators for consumers to purchase, but the best-selling versions are the scientific and graphing calculators.
Used Calculator Pricing
Some types of calculators are very expensive, such as a graphing or scientific calculators. Buying one of these used saves buyers a bit of money. Buyers should make sure that the calculator they want to purchase comes with some form of guarantee by the seller, stating that it is in good working order with no issues. This ensures the functionality of the used calculator.
| Type | ROM | RAM | Resolution | Symbolic Math | Tests |
| --- | --- | --- | --- | --- | --- |
| TI-83 Plus | 160 KB | 24 KB | 96x64 pixels | No | SAT, ACT, PSAT, AP, IB |
| TI-84 Plus | 480 KB | 24 KB | 96x64 pixels | No | SAT, ACT, PSAT, AP, IB |
| TI-89 Titanium | 2.7 MB | 188 KB | 160x100 pixels | Yes | SAT, PSAT, AP, IB |
| Voyage 200 | 2.7 MB | 188 KB | 240x128 pixels | Yes | N/A |
| HP 50g | 2 MB | 512 KB | 131x80 pixels | Yes | SAT, PSAT, SP |
| ClassPad 330 | 5.4 MB | 500 KB | 160x240 pixels | Yes | N/A |
| HP48 GII | 80 KB | 70 KB | 131x84 pixels | Yes | SAT, PSAT, AP |
| TI-Nspire | 20 MB | 16 MB | 320x240 pixels | Yes | SAT, PSAT, ACT, AP |
Consumers are able to find several types of calculators by many different brands and available at every price point. This enables buyers to find perfect used calculators for their individual needs. Whichever brand of calculator buyers end up purchasing, they should be sure to get a guarantee from the sellers they are working with to ensure functionality.
Buying a Used Calculator on eBay
When you know you want to purchase a used calculator, eBay is a great resource. eBay offers several searching options with the most popular being the main search bar on any eBay web page. Buyers can use the search bar by typing in their query, such as "used calculator" or "used scientific HP calculator", and eBay returns all listings which contain these words. If there are too many calculator options returned, you can filter according to price, seller geography, and condition of the item. Since a used calculator has the potential to be run down, you can ask the seller any specific questions you have which are not answered within the initial post.
Seller Feedback
Once you find the perfect calculator for your needs, be sure to go to seller's page and review his or her feedback from previous buyers. eBay lets you check past feedback left for the seller you are dealing with. Browse through their feedback and ensure there are no negative comments, especially on similar items.
Conclusion
There are several deciding factors to account for when purchasing a used calculator. Buyers should determine what they need the calculator for in order to be able to correctly identify the type of calculator they are going to buy. Some of the types available are basic, printing, business, financial, scientific, and graphing. Each type of calculator has its own set of capabilities and limitations. Calculators are also available in portable, pocket, and desktop sizes. There are several brands available which offer their own sets of pros and cons that buyers should research before making a purchase. Buyers should be sure to pick the calculator which is right for them based on these factors. Once all of these factors are determined, buyers can search on eBay. eBay offers listings from millions of sellers. This gives buyers a wide array of calculators to browse through in order to choose the perfect one for them.