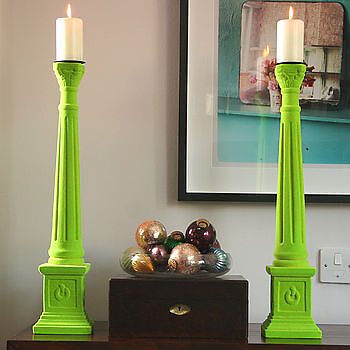 Purchasing used candlesticks is an ideal way to build up a collection or to find something suitable for a particular decor. Candlesticks can be found in second hand shops or antique stores, but few places offer the range of choice that can be found on eBay. All manner of used candlesticks and candelabras are available, leaving age, style, material type, or price to choose by. Candlesticks can look interesting or beautiful just as they are but are best adorned with candles; a candlestick complete with lit candle adds ambience to any occasion.
Types of Used Candlesticks
Candlesticks come in a wide range of shapes and sizes. Some are designed to hold tapered table candles while others are suited to larger pillar candles of all shapes. Whatever shape or size a candlestick is, and however many candles it holds, it will be made from some type of, usually inflammable, material. The majority of candlesticks are made from metal (of varying types), glass or crystal, wood, marble, or a combination of these materials.
Used Metal Candlesticks
Silver, copper, bronze, iron, and pewter are the usual metals used in candlesticks. Due to their durability, metal candlesticks are by far the most prominent type of used candlesticks available. Used metal can be left to develop a natural patina, an option generally preferred by those looking for a shabby, chic look, or polished.
| Material | Description |
| --- | --- |
| Used silver candlesticks | Available in a large range of designs and sizes. Silver never loses its popularity and is suited to almost any decor and room. Anything from antique to contemporary styles can all be found. Usually hall marked. |
| Single silver candlesticks | Found in sterling silver or silver plated. Silver plating is often applied over copper, iron, or brass. Sometimes the underlying metal shows through on older candlesticks giving particular appeal to collectors of shabby chic items. |
| Silver pairs of candlesticks | Even with antique items matching pairs are easily found on eBay. Particularly suited to mantelpieces or anywhere a balanced look is desired. |
| Multi-armed silver candles or candelabras | Most often made for slim tapered candles although larger candlesticks may be found for pillar candles. |
| Used copper candlesticks. Available as singles, pairs, and multi-armed holders. | Used copper candlesticks come in many designs. Older candlesticks may show signs of age, but may also be handmade, adding to their appeal. Some copper candlesticks will be signed by the maker, adding to their value. |
| Used brass candlesticks | Sometimes sellers may be unsure if an item they are selling is brass or bronze. Brass has a more yellow tinge to it than the browner look of bronze. Sometimes brass candlesticks will carry the makers mark, but often they do not. Available in many styles and sizes. Brass has been a popular metal for candlestick making in the East as well as Europe, and some interesting items can often be found. Brass is also often used in combination with other metals, wood, or marble. |
| Used pewter candlesticks | Available in a variety of sizes and styles. |
| Used iron candlesticks | Wrought iron candlesticks often have interesting shapes. Iron is also the most likely metal to be used for large floor standing candlesticks. Sometimes foundry marked. Suitable for a variety of decors and settings. |
Glass and Crystal Used Candlesticks
Even plain glass candlesticks come to life with a lit candle in them, while crystal has a timeless beauty of its own. Glass looks attractive in both chunky and delicate shapes and many styles can be found on eBay. Glass candlesticks add elegance and drama to any decor. A glass or crystal candelabra makes an appropriate centrepiece for wedding tables.
| Material | Description |
| --- | --- |
| Used glass candlesticks | Available in many sizes, designs, and ages. |
| Plain glass candlesticks | Can be found singly or in pairs. Focus is usually on the design or cut of the glass. |
| Coloured glass candlesticks | Suitable for incorporating in complementing coloured decors. Sometimes embellished with metal trim- usually gold. |
| Used crystal candlesticks | Crystal candlesticks from a variety of countries can be found and this is often indicated in the listing. Sellers may also identify the type of crystal, e.g. Waterford or Nachtmann. Short, tall, single, multi-armed, and matching candlesticks can all be found in many styles. |
| Glass or crystal used with other materials | Glass and crystal are often used with metal, either in the candle holding part or as drops. |
Used Wooden Candlesticks
Wood adds a warm feeling to any room. Used wooden candlesticks can be found in many styles and many types of wood. Mahogany, oak, and teak are often used in English candlesticks, while other woods such as ebony or mango are more likely to be found in candlesticks from other countries. Wood type is often, but not always, indicated in eBay listings. All manner of designs and sizes can be found.
| Material | Description |
| --- | --- |
| Hand turned wooden candlesticks | Sometimes engraved with the maker's name. Often available in pairs. |
| Painted wooden candlesticks | Often in white, although many other colours may be found, sometimes with intricate designs. Many pine candlesticks are painted. |
| Polished or varnished wooden candlesticks | Polishing or varnishing is intended to bring out the grain in wood and also to protect it. Candle wax is usually easier to remove from varnished wood. Tip: To remove candle wax from candlesticks place them in the freezer for an hour then pinch off the wax. |
| Wooden candlesticks with other materials | Wood may be used in conjunction with metals for added interest. |
Used Marble Candlesticks
Used marble candlesticks come in a variety of colours and styles. Marble is not used in candlesticks as often as other materials, but attractive solid marble candlesticks can still be found.
| Material | Description |
| --- | --- |
| Solid marble candlesticks | Available in a range of colours and designs. Usually found as single candlesticks or matching pairs. Choose according to taste and decor. Due to their weight, marble candlesticks are usually best suited to being placed in a relatively permanent position. |
| Marble candlesticks with other materials | Marble is often used in designs using brass or bronze. |
Used Candlestick Styles or Periods
Candlestick collectors may be looking for candlesticks from a certain period or simply looking for a style that will match the decor. These styles may be found in any type of material. The condition and age of the candlestick will have an influence on the price, although bargains can always be found.
| Style | Description |
| --- | --- |
| | Over 100 years old. May or may not be described by period. If no hallmark is listed and the period of origin is unknown, use best judgement. Any material may be used, although antique glass candlesticks, particularly when sold as a pair, are not as common. |
| Vintage candlesticks | Not as old as antiques. Many sellers use this term loosely. Sometimes a candlestick production date will be known. The term is often used along with Retro or shabby chic. |
| Retro candlesticks | Reminiscent of a bygone period. Some retro candlesticks may not be used, but rather are a new item made after a particular style. Check whether the candlestick is used or new. |
| Art Deco candlesticks | Usually genuine used candlesticks from the Art Deco era. |
| Art Nouveau candlesticks | Many interesting candlesticks available in this style. |
| Used contemporary candlesticks | Often not as readily available as older styled candlesticks. It might be easiest to search through individual listings for used items. |
Buying a Used Candlestick on eBay
Use the search bar to narrow browsing. This can be useful for those who have a particular type or style of candlestick in mind. The side bar can also be used to narrow down the search by condition, price, locality, and auction or buy it now options. It should be noted that many candlestick listings do not specify whether the item is new or used. In this case, use discretion or use the question option in an individual listing. Some listings will also offer free shipping or reduced local shipping costs. Alternatively, go to the Home Decor category, and narrow your search down from there.
Conclusion
Choosing a used candlestick, candelabra, or matching pairs of candlesticks eventually comes down to a matter of personal taste. Small dish-like candlesticks, tall floor standing models, or elegant candelabras all have their own charm and appeal, and most of the common materials used for candlesticks suit a variety of decors and are at home in any room. Searching through eBay listings is an easy way to start or add to a candlestick collection.