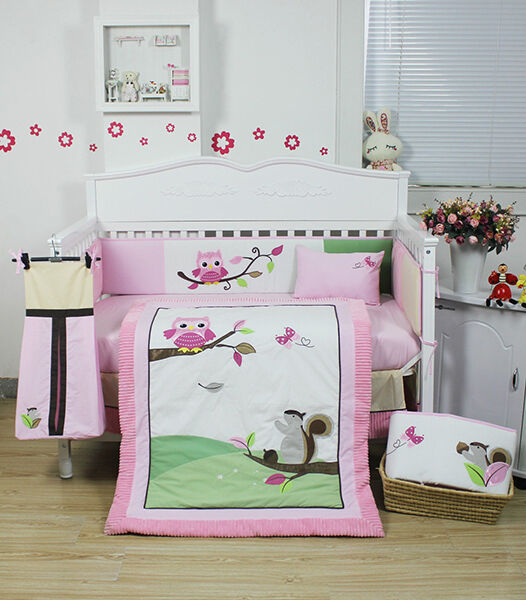 When searching for a baby cot, it is essential that the potential buyer knows just what kind of cot he or she is after. Of course, buying just the right cot is very important, particularly for excited and probably nervous, first-time parents. Considerations should be made as to just what kind of cot fits into the newborn's bedroom. Choices such as traditional or modern, wooden or metal, or any combination in between must be made.
While there are many used cots to choose from, the cot buyer does well to spend quite some time browsing the many cots which are available. A little time spent doing this often reveals the perfect cot for the youngster's room; often at a remarkably good price. eBay has many examples of cots in every category, from lightweight, yet sturdy travel cots suitable for a family holiday or staying with friends or relatives, to the perfect cot for the new youngster's room.
Types of Cots
There are generally two main types of cots available. Those are the types suitable for children's bedrooms or nurseries and those which are suitable for travelling. This latter type are collapsible, and often fold up into packages no larger than medium-sized kits or gym bags. This makes them ideal for folding up and taking on family holidays or stays with friends. These are also suitable for older babies familiar with their nighttime arrangements and surroundings and who feel more comfortable in beds they are used to.
More traditional, often wooden cots, while they may well come apart fairly easily, are not really designed for travelling from one place to another. If the family is looking to go on holiday regularly, then a travel cot may well be the solution.
Traditional Cots
A traditional wooden cot, with vertical wooden bars is still seen as the 'proper' way for a baby to sleep. Not only is it easy to get baby in and out of, but the bars allow the baby to see the rest of the nursery as he or she goes to sleep. This often reassures the baby as 'somewhere familiar' as he or she gently drifts off to sleep. The bars also mean that as the child begins to stand up, they are there as an aid to help with balance.
Some traditional cots are made to swing when given a gentle push. This too helps relax the youngster as he or she closes his or her eyes. Many parents, in the middle of the night when their baby wakes up, are grateful for this feature.
A traditional cot often has sides, which by the unhooking of a catch, enables the cot to drop down. This allows a parent to sit on the floor and look directly at baby, and baby in turn has an unobstructed view of the parent. Again, this is useful for helping the child drift off to sleep. When this happens, the parent gently and very quietly lifts up the side and hooks it into position.
With a wooden cot, the parent has the choice between natural, varnished, waxed, or oiled wood, or a painted finish. Since the advent of strict controls on lead in paints, there is much less chance that the baby can poison itself by chewing on the wood as he or she teethes, but if the buyer is looking at an antique cot, many years old, then it might be worth investigating just when the cot was painted. If the cot is of British origin, then lead in paints was banned in the 1920s. If, however, the cot is from America, the use of lead in paints was not stopped until the 1970s.
Some traditional cots come complete with under-cot storage drawers. These are very useful for storing nappies, wipes, or other paraphernalia useful for bedtime or even in the middle of the night.
Travelling Cots
With the increase in family mobility, and parents wanting to take even young children and babies away with them on holiday, there has been significant growth in the range and variety of travel cots.. These are normally made of modern, synthetic materials, and are designed to collapse down to surprisingly small sizes; ready to be transported conveniently, whether by car, train, or even on an aircraft. Many of these travel cots often come supplied with medium-sized carrying cases that looks very similar to gym or kit bags.
Travel Cot Construction
Modern travel cots are often constructed in the same way as modern tents. They have flexible, but strong, uprights and side pieces with fabric stretched between them. This gives a quite pleasing 'curve' effect which is easy on the eyes, both for baby and for parents. The sides of the travel cots tend to be very fine mesh-type material which is transparent, so baby can easily see out at the new surroundings.
Some travel cot systems actually double up as both a cot for sleeping in and as a playpen for daytime use. These can be particularly useful for families who may have both babies and young toddlers. Other manufacturers have taken the flexible uprights and side pieces design to the extreme, in that when erected, the cots resemble the cockpits of fighter jets, with fine, white mesh instead of plexiglass, whilst when collapsed, take up no more room than gym bags.
Travel Cot Colours
Because they are mainly made from modern, synthetic materials, travelling cots come in a huge array of colours. Many are the traditional pink or blue for girls and boys, but many more are available in either neutral colours or the complete opposite, such as bold and exciting colours. Some manufacturers are producing travel cots with cartoon themes. These range from Disney characters to the latest TV cartoon characters. If baby is familiar with such characters from the television or DVDs, then these can be very soothing and restful for the youngster.
Travel Cot Feet
Some travel cots are built to stand directly on the floor, with no feet. Whilst this may be suitable for hotel rooms and guest bedrooms in friends' houses, these are not good for camping or when the ground underneath is uneven.
Many other travel cots have four stable feet, whilst some have two locking wheels at one end, similar to pram wheels. Close inspection of any photographs available, and the potential buyer should be able to see what kind of feet, if any, the proposed cot has.
Travel Cot Accessories
Extras are often necessary for the buyer. These include everything from baby changing facilities, to travel accessories, mobiles, and even mattresses. If the cot is for the first baby of the family, then these additional items may prove valuable.
Musical Cots
Some manufacturers, keen to embrace modern technology, have even added the feature of the cot being able to 'play the baby to sleep'. These are often nursery rhyme tunes which can gently lull the infant into a restful frame of mind prior to a good night's rest. While these may be helpful, the potential purchaser should be aware that they do need regular battery changes.
How to Buy a Used Cot on eBay
Before you look to buy a used cot on eBay,, it is always wise to know whether the cot is to be solely used in the nursery, or may be used when travelling. You can type " used travel cot " or "used cot" into any eBay page to search for the perfect cot, and then you are taken straight to the right page.
Also of importance are the seller's previous ratings. These are snapshots from previous customers on how they think the seller performed with their particular sales. It might be worth checking over what other customers have said about a particular seller. You should also look for just how many sales the seller has made on eBay.
When you have chosen the perfect cot, it may be a good idea to ask the seller whether he or she can post the cot to you, or whether he or she prefers you to pick it up direct. You can easily do this by clicking the "Ask a Question" link. Sellers are usually more than happy to answer any queries you may have.
Conclusion
Planning and shopping for a baby should be exciting and fun, especially if it is for the first newborn of the family. Whilst the shopper may be overwhelmed by the sheer choice available, with due care and a little thought, the many options can be safely narrowed down somewhat, leaving only a few to choose from. Choosing a used cot which matches a nursery's colours, or even decorating the nursery to match the new cot should be inspiring for the parents. Planning how things may look and feel are all part of the experience of new parenthood.
Whether it is pastel pinks, bold bright blues, or even something in between; whether it is for the nursery or for travelling with, the sheer number of choices of used cots for parents can seem almost overwhelming. Though, by carefully narrowing down the choices into 'likes' and 'dislikes', the task can be made much easier and more enjoyable.