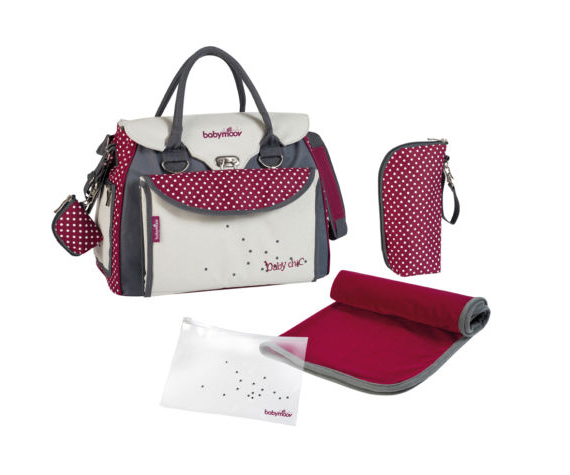 For many mothers, the arrival of a young newborn means that it is time to say goodbye to the days of designer clothing and accessories. Rather than being fashion-forward, new mothers are concerned about dressing functionally and in outfits that can weather the torment and messiness of young babies. However, being a young mum does not mean that fashion sense must go completely out the window. There are many brands that cater to the fashionista mother by providing designer clothes and bags that make the fashion woes of motherhood a non-issue. For instance, designer changing bags are available for mothers who can no longer juggle a cute purse and an organised changing bag for the nappies.
Features like stain-proof fabrics, beautiful designs, and excellently organised pockets are the main advantages of designer changing bags; however, designer bags can be expensive, and the costs of high fashion and children do not always go together. Luckily, used designer changing bags are available every day through helpful websites like eBay and in some resale shops that cater to designer baby items. By searching for a used changing bag, women may find that the bag of their dreams is actually within their reach. There are hundreds of designer bags available, and knowing what to look for is the first step towards finding the perfect bag.
Components of Designer Changing Bags
While there are designer changing bags of various shapes, sizes, colours, and patterns, there are several components that should be looked for when shopping for a changing bag. There are distinct differences between a changing bag and a purse, and it is essential to verify that the selected bag shares aspects of both.
Component

Brief Description

Reusable and washable surface on which to place the baby for changing nappies

Not all used designer nappy bags come with changing mats

It is important to ask the seller if a mat is included

Pockets lined with insulation to maintain the temperature of bottled milk while on the go

Space for Nappies

Incredibly stylish bags may be too small for their most important function: carrying nappies

Make sure the bag is spacious enough for several hours' worth of nappies

Easy Access to Personal Items

Changing bags should not have nappies or other items falling out

Outer pockets or lining pockets for personal effects like keys and phones are essential

Spill-Proof Materials

Cute bags can be ruined by a single case of baby spit-up

Protected leather or a spill-proof material that can be quickly and easily cleaned is important when considering a nappy bag

Discreet Design

Most important feature for designer changing bags

Should look more like a large purse for women or a neutral-coloured messenger bag for men

Organisation

Interior should be spacious with plenty of design elements for organisation of all the items carried for the parent and the baby

Dividers, pouches, and pockets are absolutely crucial
What to Consider When Shopping for Used Designer Changing Bags
Regardless of the changing bag, there are three features that should be considered to be essential when shopping around: style, price, and function. Whether function is more important than style or price varies from person to person, but all three should be considered before making a purchasing decision.
Designer Changing Bag Style
Many mothers mourn the loss of their sense of style after the arrival of children trumps their ability to spend time or money on themselves. This change of lifestyle becomes significantly noticeable when the once incredibly functional and fashion-forward purse is thrown to the side to make way for the new, garish changing bag that screams 'Mummy'. There are several brand names that are considered to be 'designer' in the world of nappy bags: Pink Lining, Il Tutto, and PacaPod, to name a few.
However, one's personal style is the most important factor when shopping for a stylish bag. Designer nappy bags come in different sizes, with as many as 18 pockets, and they sport different colours and patterns. Whether colourful plaid or leopard print is the preferred design, there are styles for everyone. Many designers also offer messenger nappy bags for men who may feel uncomfortable walking around in public with an obvious changing bag.
Designer Changing Bag Price
A very important factor to consider when shopping for designer bags is the price. With the new baby as the central priority in one's finances, a changing bag that can perform well while looking good may feel necessary, but it still needs to fall within a budget limit. After a personalised price range is set, it is easy to find a designer changing bag that meets the set criteria. Certain brands are more expensive than others, so that should be taken into consideration when browsing for a bag. Even better, used changing bags greatly reduce the cost of the accessory without taking away from the quality or the style.
Designer Changing Bag Function
Even if the bag is incredibly cute and affordable, the changing bag ultimately needs to be functional. Otherwise, it is just another cute purse and not really a changing bag. Specific features like how many bottles it can hold, organisers, spill-proof materials, bottle insulation to keep milk hot or cold, and changing mats are all important options that should be prioritised when considering which bag to purchase. Beyond the baby basics, having easy access and space for one's wallet, phone, keys, and other essential items when going out should also be considered. After all, this designer bag should be a purse and a nappy bag all in one.
Maintaining a Used Designer Changing Bag
Because changing bag manufacturers take into consideration the level of messiness and chaos that young parents are exposed to, the designs usually cater to parents who need low-maintenance accessories. Depending on the level of luxury that is chosen for the nappy bag, cleaning the bag may be as simple as using a baby wipe or as complicated as applying a leather cleaner. The level of maintenance desired for the designer changing bag should be considered before purchasing the accessory.
It is also important to check for rips and stains on the liner and to make sure that any insulation for bottles is still intact when shopping for a used designer bag. Used changing bags may have been damaged in their previous lives, so regular inspection and maintenance is necessary to protect the bag and the contents inside. A carefully maintained designer changing bag can then be sold when the babies have outgrown their nappy-wearing days, and more money can be saved in the long run.
Where to Find Used Designer Changing Bags
Designer nappy bags can be found in brick and mortar stores that specialise in baby products and accessories, but these items are typically new. On the other hand, resale shops that specialise in baby items may offer a limited selection of bags. Browsing on the Internet often yields a wider variety of choices, especially when buyers visit huge online sites like eBay.
Shopping for Used Designer Changing Bags on eBay
Browsing for the perfect designer changing bag is made easy on eBay, thanks to its large database of sellers and the wide variety of products that are sold on a daily basis at the click of a mouse. When shopping for the ideal nappy bag, hundreds of options may appear on the screen simply by searching for keywords like ' used designer changing bag' in the eBay search engine. Searches can be run from any page on the site, and the results can be narrowed by selecting various filters or category options. You can also focus the results by adding more specific keywords to the search term.
It is important to research the reputation of sellers on eBay before committing to a purchase, especially when buying used nappy bags or any other used items. While used changing bags are commonly found online, it is still important to trust a seller and the quality of his or her items. Looking at the feedback left by previous customers helps you build confidence about buying from a particular seller.
Conclusion
Having babies can be taxing physically, mentally, and fiscally. The ability for new moms to walk around town with their newborns and maintain some fashionable dignity when it comes to their accessories is important. Thanks to used designer changing bags, new mothers can sport stylish nappy bags that convince their friends and co-workers that they have not lost touch with fashion. A father can even tote a nappy-filled messenger bag and manage to change his little one's messes with discretion.
The problem with designer nappy bags is that they can be pricey, and unaffordable fashion is the last thing that new parents should be thinking about. Fortunately, used designer changing bags are available through baby item resellers and various online presences, including the diverse eBay. One way or the other, designer nappy bags for young parents can be found to fit their budgets and their style needs. With a designer changing bag on her shoulder, every mom can feel young and stylish while strolling downtown with the kids.