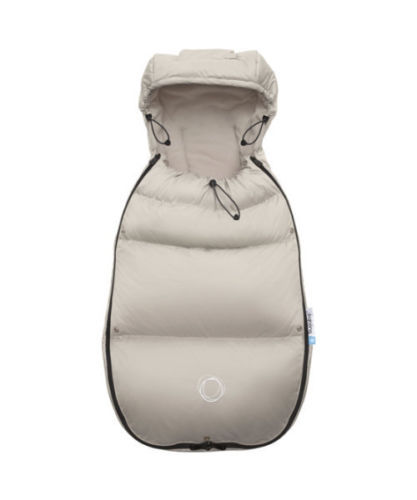 Trying to get back in shape or stay fit in the winter when there is a baby to take care of can seem like an impossible task. Luckily, there are pushchairs that are especially designed for jogging with a baby in tow. The question then becomes what does a parent do when the weather takes a turn for the worse? Baby stores typically sell footmuffs to keep the little ones cosy while their parents go running in the cold or even just run errands in very chilly weather. While it may seem like all footmuffs are created equally, it is important to understand how a footmuff works and the various features that one might want to consider before purchasing a footmuff.
New footmuffs can be fairly expensive for a seasonal accessory that only fits children for a couple of years when they are still babies and small toddlers. Fortunately, gently used footmuffs are frequently resold through websites like eBay or in resale and consignment shops that specialise in baby products. It may even be possible to stumble across a used footmuff in a regular resale shop, at a garage sale, or in a classified ad, but the odds of finding a used footmuff in one of these ways are slim.
How a Footmuff Works
A footmuff looks like a miniature sleeping bag that can either be attached to a pushchair's safety harness or snapped onto a pushchair with an included harness. The footmuff is designed to cover a baby's feet and legs while in the pushchair, and there are several designs for various activities. The standard footmuff is a simple attachment for a standard pushchair, so the baby is kept cosy when he or she is taken on outdoor outings by a parent. Buyers can also find sturdier footmuffs for jogging pushchairs that are designed to protect the baby not only from the elements, but also from the wind chill created from a brisk jog.
Footmuffs can be lined with different materials for variety and for varying levels of effectiveness. Faux fur, wool, fleece, and cotton are some of the lining options for footmuffs, while the outer shell is typically covered in microfleece, polyester, nylon, or some other water-wicking material to keep the baby dry. Insulation and padding make up the stuffing of the footmuff to retain warmth for the baby, and most footmuffs offer a zipper or button feature for easy removal of the baby without having to detach the footmuff itself.
By attaching the footmuff to the pushchair using a safety harness, the baby is cosy and safely secured to the pushchair seat. Both mummy and baby can feel comfortable leaving the home in the colder months if they have a reliable footmuff. While many footmuffs are specifically made for a pushchair, there are also many other styles that can be used on both pushchairs and car seats.
Maintaining a Footmuff
Most footmuffs are easy to clean, as they have removable linings that can be put in the washing machine with cold water and mild detergent. Footmuffs should be hung up to dry and not placed in the drying machine in order to avoid shrinking or damage to the material. The shell exterior can be cleaned with some mild soap or baby shampoo and a microfibre cloth to remove the stains and dirt accumulated from the wear and tear of daily use.
The Benefits of Used Footmuffs
Footmuffs are excellent alternatives to trying to bundle up a baby in layers of clothing. Dressing an infant is hard enough for parents, and it is a hassle to layer the baby in uncomfortable outfits that may cause him or her to cry. If it is too difficult to dress a baby to go outside during the winter months, it is understandably better to stay inside. However, this problem does not have to be an issue with the use of footmuffs. Babies can stay normally dressed and simply be placed inside footmuffs any time the parents wish to take the child outside, whether it is to run errands, visit friends and family, or go for a jog. Some footmuffs make it easy to control the temperature within the footmuff for the baby, and all footmuffs allow at least partial unzipping or unbuttoning of the footmuff cover to control how toasty a baby gets.
While many people may believe that 'new is better', used footmuffs can greatly benefit the family in more ways than one. For instance, the price is likely to be cut in half, so instead of paying high prices for a brand new, high-quality footmuff, parents only have to pay a margin of the original cost for the exact same product. Since it is used, it has been tested and proven in quality, and this is another plus. Most parents who are selling their used footmuffs are re-selling them simply because their children have outgrown the item, not because the product is faulty or defective. Because footmuffs are easy to clean and are only meant to serve as an extra warming layer for already dressed babies, shoppers do not have to worry as much about the cleanliness of a used footmuff. Many used footmuffs are in very good condition, even after several years of gentle use.
Shopping Considerations for Used Footmuffs
There are several factors to consider when shopping around for good used footmuffs. Besides colour, pattern, or comfort for the little one, the level of luxury and features that are provided by a footmuff should be factored into the purchasing decision. Along with the desired features, a budget should also be established for the footmuff. Footmuffs can be as basic or as luxurious as desired, and this affects the final price, even for a used footmuff.
Features
Footmuffs can either be simple covers for babies, or they can be technologically advanced baby equipment with heat control to regulate the temperature for the baby. Different materials can be used to line a footmuff, like wool, faux fur, or cotton. Some footmuffs highlight their hypoallergenic materials, which do not irritate a baby's sensitive skin, while others focus more on the waterproof capabilities of the footmuff in case a pushchair lacks a good canopy or rain cover.
Price
Whichever features are desired, they all affect the price and affordability of the footmuff. Used footmuffs are significantly cheaper than new ones, but a difference in prices is still evident, depending on the features that are included. It is recommended that parents prioritise the features with their budget before shopping for used footmuffs.
Attachment to the Pushchair or Car Seat
Some footmuffs come with a safety harness that attaches directly to the pushchair or car seat, while other footmuffs need the pushchair's harness to be threaded through it before it can be attached. Yet others specify that the child should be harnessed into the pushchair or car seat before the footmuff is attached to the baby. Some footmuffs are able to be used on both a pushchair and a car seat, while others are only made for one of the two accessories.
Finding Used Footmuffs on eBay
Thanks to eBay's large user database and history of satisfied customers, finding the right used footmuff is only a few mouse clicks away. Used footmuffs are sold all the time by parents whose children have outgrown their baby accessories, and these items are often still in very good condition. When on the hunt for used footmuffs that work for a particular pushchair or car seat, a search can be run on eBay using very specific keywords. Alternatively, buyers can stick to general terms like 'used footmuff' to review the largest number of available options.
It is important to research the reputation of sellers on eBay before committing to a purchase, especially when buying used items, including footmuffs. Trusting a seller and the quality of his or her items is key to a satisfying experience. Looking at the feedback left by previous customers adds more confidence to the experience as buyers make purchasing decisions.
Conclusion
Whether a buyer is trying to stay in shape during the winter months with a baby in tow or simply wanting to keep a baby warm the moment the sun disappears behind puffy clouds, footmuffs are excellent alternatives to bundling up a baby in layers of uncomfortable clothing. Used footmuffs keep babies warm in pushchairs and car seats, and they are much more affordable than new footmuffs without sacrificing quality. Footmuffs are easy to clean and maintain, as the lining can be removed and thrown in the washer, and the exterior can be wiped down. However, footmuffs should never go into the dryer. Instead, they should be hung to dry so that the materials do not shrink or get damaged.
Footmuffs offer different sorts of features, from regulating temperature to protecting a baby's skin with hypoallergenic materials. Buyers should verify that the footmuffs they are about to purchase have the features they desire. Besides features, parents should also look at the price and attachment method that the footmuffs have before committing to buying them. While new footmuffs are easy to find in brick and mortar stores, it is recommended to look online for used footmuffs, and eBay has a great selection of footmuffs offered by trustworthy sellers. With a cosy footmuff, a baby can bundle up comfortably for a trip outside in the cold.