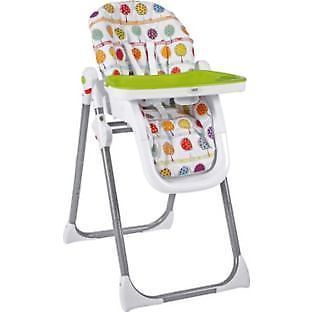 As the child reaches a stage where he or she can eat solid foods, it is high time to buy a high chair. It is more convenient and enjoyable for the parent and the child when the child is comfortably seated in a high chair. But as the child grows older, a high chair becomes less and less useful, and time comes that it is no longer needed in the house. Having this in mind, is it really worth the money to buy a high chair? The answer is still yes. The high chair with a proper seat for baby's comfort and a tray to place the food allows a parent to have both hands free to use in feeding the baby.
The better question would be: Is it worth the money to buy a new high chair when it is only useful for a certain period of a child's life? Parents who answer no to this question would find the option of buying a used high chair appealing. Before making a purchase, buyers should know the benefits of buying a used high chair as well as the different types of high chairs to make the right decision.
Benefits of Buying a Used High Chair
There are a number of advantages when buying a used high chair. The most sought-after benefit is a cheaper price. Parents can buy a used high chair for much cheaper, even at a quarter of a price of a new one. It is even possible to get a better deal if parents know where to look. Parents who enjoy vintage items can scour the internet for an antique or a vintage high chair that would suit their taste. Then the chair would not just be useful furniture but also a part of a vintage collection at home
Parts of a Used High Chair
Whether buying a new or used high chair, it is important to know about the different parts of both the basic and more elaborate types. The parts include the tray, wheels, seat cover, safety harness, seat adjustment, and even add-on toys.
Tray
It is one of the essential parts of a high chair. When checking the tray of a high chair, it is important to know if it is compact enough so a child cannot break it despite kicking or pushing. It also needs to be lightweight so a parent can take it off easily. There are high chairs with a tray that swings to the side to make it easier to sit a child down, while there are high chairs that have a detachable, dishwasher-safe, top tray that can be removed from the main tray after use. More elaborate high chairs have a tray that can be adjusted backward or forward to accommodate children of various sizes or to keep up with a child's growth.
Wheels
A used high chair with wheels is a good choice if a parent needs to transfer the chair regularly. One important consideration when buying a high chair with wheels is a locking mechanism. Parents do not want a high chair that wheels uncontrollably when putting the baby in or taking the tray off. An older sibling might fancy playing with the high chair and wheeling the baby out of sight when the chair does not have wheels, so make sure that the wheels have locks before buying a high chair with this feature.
Seat Cover
Used high chairs usually have a seat cover that can be removed for cleaning. Remember how the seat cover is placed on a chair before removing it for cleaning to know how to place them back. A seat cover with a pattern is better than the one with a solid colour because the former hides tough-to-remove stains more effectively.
Seat covers can be made of cloth or vinyl. The advantage of cloth is that it is more comfortable to sit on, while the advantage of a vinyl is that it is easier to clean and less likely to stain. Although a vinyl can crack or chip after a long period of use.
Safety Harness
A five-point harness is the ultimate safety strap or restraint system for babies in a high chair. This type of harness with two straps located at the shoulder, two at the hips, and one at the crotch all come to connect at a buckle release mechanism. It is very useful in preventing the baby from falling off the high chair or slipping under the tray. Always check that the buckle of the used high chair is sturdy enough to lock all the straps in place. In addition, the straps of the five-point harness should be adjustable to fit a child of any size.
Seat Adjustment
The height of a high chair can be adjusted so it can reach the appropriate level for a dining table or a kitchen top. There are high chairs that can be adjusted up or down eight positions, while others can go as high as a parent wishes it to be, odd as it may seem. When adjusting this type of high chair, a parent can hear as the chair clicks in position. Furthermore there are high chairs that also recline so it can be useful when bottle-feeding the baby.
Types of Used High Chairs
Different types of used high chairs appeal to different taste of the parents. The classic type is the wooden high chair that has a straight frame and a removable tray. Vintage high chairs of this type have carvings as a design. Modern wooden high chairs also have the conveniences of a typical high chair that can be bought these days like a cushioned seat pad or a pull-out tray. Most of the modern high chairs are made in plastic or metal.
Types According to Price
There are three types of high chairs according to price. The price of a used high chair determines its number of features and its level of sophistication.
Basic High Chairs
Basic high chairs usually do not have seat and tray adjustment features. These chairs do not have wheels as well. The upholstery is either made of vinyl or plastic cover, in which the pad can be removed for easy cleaning. Some basic used high chairs have a rack to hold bibs or towels. When buying a basic high chair, steer clear from those with widely spaced legs because they take up extra space and can trip an unwitting person walking by.
Mid-Priced High Chairs
Such types of chairs are made of plastic or steel and complete with adjustable tray that can be removed by one hand and has a dishwasher-safe insert. Mid-priced high chairs can also have a height adjustment feature, a five-point harness instead of a three-point type, and flip-out organiser compartments. These chairs have vinyl pads and seat cushions. The vinyl pads and seat covers are removable for cleaning purposes. The seat cushions are harder to clean. The advantages of a mid-priced high chair over a basic high chair include a sturdier build, more features, and a more sophisticated look.
High-End High Chairs
Odd as it may be, there are high-end high chairs that have fewer features than mid-price models, but the high-end high chairs remain more expensive. These types of chairs have pricier raw materials, and some are made of solid wood. The price that buyers are paying for a high-end high chair not only includes the expensive materials and excellent design but also the status symbol it gives to them. Not all expensive high chairs are of top quality, so it is always wise to check for recommendations from friends or from online communities before splurging money on one of these chairs.
Brands of Used High Chairs
Several brands of used high chairs are available online. Popular brands include:
* Chicco
* Cosatto
* Graco
There are plenty of used high chairs on eBay, and you can buy them from a reasonable or great price. Most of the used high chairs sold on eBay are in excellent condition, and some sellers only put a used high chair for sale because they no longer need it. There are even listings that say that the item for sale has been barely used.
When going over the different used high chairs on eBay, read the product description carefully because most sellers listing second-hand items would describe any damage or flaw of the item. To be perfectly sure, you can send the seller a message to ask for specific concerns. Check the credibility of the person you are dealing with by looking at his or her percentage of positive feedback. It is always better to deal with a seller that agrees to the return policy so that you have an option to return the used high chair when it is not what is expected.
Conclusion
Buying a used high chair is practical. For a chair that would not be used for long, it is wiser to buy a high chair that is previously owned. Used high chairs vary in price. The basic high chairs are cheaper. These high chairs do not have the bells and whistles that other types have. Mid-priced high chairs are usually more durable and sophisticated than basic chairs. High-end high chairs are made of expensive raw materials and have an elegant design that appeal mostly to the parents than the child.
There are different important parts to look for in a high chair. The basic ones are the tray for food, and safety harness for securing the baby in place. Other parts to look for are wheels and seat covers. There are high chairs that have tray and height adjustments; the former to make feeding more comfortable for the baby and more convenient to the parent, and the latter for the convenience of levelling a child to any dining table or kitchen top height. A high chair is important during a certain period in a child's life, but it is not a chair that remains in the house for a long time. Buying a used high chair is certainly the way to go for parents who value spending money wisely.