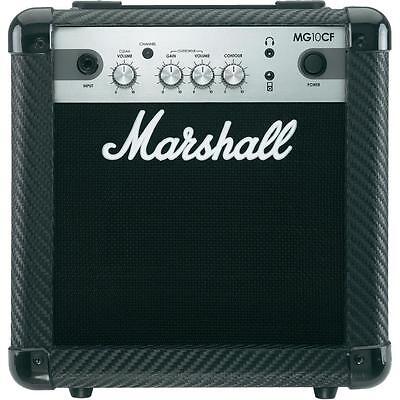 Marshall branded amplifiers are some of the most well-known and respected of all amplifiers on the British market and have been since the company was founded in 1962. Amplifiers are an integral part of making high quality music, and many musicians, particularly guitarists and drummers, rely on amps for transmitting an accurate representation of their sounds to their audience. Marshall amps are considered to be a market leader, and they can be purchased in either new or used condition in the UK.
Reasons to Buy a Used Marshall Amp
There are a number of reasons why musicians may choose to purchase a used Marshall amp rather than a new amplifier. Firstly, unlike many products, in the case of amps it is widely believed that cost directly and accurately links to quality. This means that musicians looking for a truly impressive sound transmission really can't skimp on such an important piece of equipment. However, good quality amplifiers aren't the most inexpensive items, and often musicians are unable to afford an amplifier that they really want and end up settling for second best. Buying a used Marshall amp gives musicians the chance to own a high quality amp for a fraction of the recommended retail price.
Secondly, Marshall are constantly changing their products, and there are a huge range of discontinued products as well as products that were sold as limited edition pieces and were unable on the market for very long. Buying a used Marshall amp rather than a new amp gives musicians a much wider choice. Finally, used amps are often in excellent condition as musicians are tempted by the latest products and quite often upgrade even though their previous equipment was still in good working condition.
Choosing a Used Marshall Amp
There is a much wider range of used Marshall amps available than new amplifiers, so there really is a huge choice. Musicians may look at purchasing discontinued and limited edition products that are no longer available or at buying the higher end amps that can be purchased for a lower cost when the item has been pre-owned.
Discontinued Marshall Amps
Marshall have a reputation for rotating their products on a semi-regular basis and re-releasing previous amps. However, some amplifiers, unfortunately, do end up in the Marshall graveyard, unavailable for purchase. These items can, however, be purchased online in used condition.
| | |
| --- | --- |
| Vintage Modern | This model includes a 50 Watt valve head and a footswitch to alter between two channels : low and high range. While the low range has the classic Marshall crunch, the high range is particularly suited to rock performances. |
| Handwired Series | The handwired series was based on the original vintage Marshall amps but with updated features, including completely handwired circuits, which gives an all-tube sound effect that is highly desired. |
| JCM 2000 Series | This series, with its deep switch, was considered to be Marshall's best contribution to amps at the time. The switch gave a heavy metal tone that was favoured by the likes of Iron Maiden and Thin Lizzie. |
| JCM 900 Series | The JCM 900's are definitely a love them or hate them series. While some more modern guitarists prefer the sound, others criticise the diode clipping for creating an impure tone. Sadly, these models are renowned for being quite unreliable in general. |
| JCM 800 Series | The JCM 800 series was produced in the 1980s and were incredibly popular, more so than the 900 series. They were based on the earlier Master Volume series but with added extras including a footswitch-enabled mode changer. |
| JTM Series | The JTM series was supposed to be Marshall's biggest product, designed to replicate the original sounds of the older, more basic amps. Unfortunately, these models were renowned for overheating problems and were only manufactured for one year in the 1990s. |
| Original Models | Marshall began producing amps in 1962, and the amps of the 60's and 70's are considered to be the original models. They have a very raw and distinctive sound and are popular with musicians such as Eric Clapton and Pete Townshend. |
Limited Edition Marshall Amps
Marshall have manufactured a number of limited edition amps over the years which have become some of the most sought after amps in the world. Getting hold of them in new condition has been notoriously difficult, but there is a much greater chance of locating these items in a used condition.
| | |
| --- | --- |
| Jimi Hendrix Edition | Just 600 sets of this amp, designed to be an accurate recreation of that used by Jimi Hendrix, were produced. These are some of the most sought after amps in the world, with each personally signed by Marshall founder Jim Marshall. |
| 20th Anniversary Series | Produced in 1982 to commemorate 20 years of amp manufacture, this series was based on the JCM 800 series but decked out in a standout white vinyl for the ultimate effect. Only 250 models were produced, making them much sought after. |
| 25th Anniversary Series | These amps were based on the early Master Volume series and were adorned with silver platings in recognition of Marshall's silver anniversary. The amps came in either 50 or 100 Watt versions and were sold new only during 1987. |
| 30th Anniversary Series | These models were designed to be Marshall's best ever amps, with handcrafted 100 Watt heads and solid brass features. The amps had three separate channels and were considered to the most anticipated amps ever. |
| 35th Anniversary Series | Five different models were produced for Marshall's 35th anniversary, with just 250 of each model made. Coated in vinyl, these were beautiful amps but were prone to easy damage due to the vulnerable material. |
| Slash Signature | In the 35 years that Marshall had been running when this model was produced, only Jim Marshall had signed his products. This changed with the Slash signature amps. The 100 Watt head amp was limited to just 3000 units. |
| Zakk Wylde Signature | Based on the JCM 800 series, this amp features the signature of Ozzy Osbourne's former guitarist. Just 600 units were produced, and Wylde played a big role in the external design of the products. |
The 'Best' Marshall Amps
Those that are considered the high flyers in the Marshall amp world often come with high price tags that aren't accessible to many. Purchasing these products in a used condition means musicians don't need to sacrifice quality due to budget.
| | |
| --- | --- |
| JVM Series | The JVM series is considered to incorporate some of the best amps available. The amps are especially versatile and are a good choice for pop and rock sounds. The amps are quite complex and particularly suited to pros. |
| 1959 | The 1959 amp is a spectacular 100 Watt amp that doesn't particularly have any defining features that others do not, but has gained quite the reputation for featuring at the 1969 Woodstock festival with Jimi Hendrix. |
| 1974X | Known for being loud and having a great and unique tone, the model has been re-released over the years with various upgrades and modifications, but in general, all models categorised as a 1974X have unrivalled reviews. |
| Vintage Series | The Vintage series amps are designed to recreate the original sounds and tones of the original models, with the classic and signature Marshall crunch. They're highly sought-after and relatively costly when compared to other products. |
What to Look For in a Used Marshall Amp
If possible, it is important to personally inspect a used Marshall amp before purchasing. In the case of amps, the overall condition externally isn't usually a problem unless buyers specifically want a flawless finish. What is important, however, is how the amp works. When plugged in, potential buyers should give the amp a good smell. Anything that smells warm or burning should raise alarm bells. Although Marshall amps are world leaders, they do suffer from cases of overheating, as do every other amp brand in the UK. Amps that are vulnerable to overheating may be very costly to repair.
Find a Used Marshall Amp on eBay
Used Marshall amps are widely available on eBay through their Musical Instruments store. Take a look at the Pro Audio Equipment section and select Amplifiers. Using the left hand options menu, narrow down the results firstly by the Marshall brand, and secondly by used condition. Potential buyers may also like to look at Marshall amps that have been refurbished. Results can be filtered further based on personal preferences, including location of the item, number of channels, and power Wattage.
Conclusion
Used Marshall amps can be purchased from third party sellers online, specifically through eBay, and are an excellent way for both amateur and professional musicians to save money on what are arguably the best quality amplifiers in the UK. Looking for amps in the used condition also increases the range of Marshall amps available, as there is a greater availability of discontinued and limited edition products no longer available in mainstream music stores.