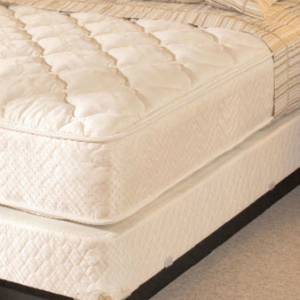 Mattresses come in a variety of sizes: king, queen, full or double, and single or twin. A double mattress is ideal for single users or for couples who are just starting their lives together and need an inexpensive sleep solution. Users who have trouble sleeping may want to look into purchasing a memory foam mattress rather than a regular pillowtop mattress. Memory foam reacts to temperature and conforms to the shape of the user's body, which can greatly enhance night-time comfort.
Since memory foam can be very expensive, some buyers may decide to look for a used memory foam double mattress.. However, as with any used or pre-owned product, there are a number of factors to keep in mind. This guide provides a comparison of mattress sizes and supplies some important information about memory foam mattresses in order to help buyers make an informed decision when looking for a used memory foam double mattress.
Standard Mattress Sizes
Mattress sizes are standardised to make it easier for users to choose the right size for their beds and for the manufacturers of bedding and bed frames to sell their products. In the United Kingdom, mattresses are typically sold in the following sizes.
| Mattress Size | Dimensions (cm) |
| --- | --- |
| Toddler | 70 × 140 cm |
| Small single | 75 × 180 cm |
| Standard single | 90 × 190 cm |
| Standard Double (also called Full) | 135 × 190 cm |
| King | 150 × 200 cm |
| Super King (also called Queen) | 180 × 200 cm |
Buyers should be familiar with these standard sizes and dimensions so that they can be sure they are purchasing the right mattress to fit their bed frame and their needs.
About Memory Foam
In 1966, NASA contracted with a private company for the invention and production of a special kind of mattress for astronauts. The astronauts were suffering from the constant stress of the G-forces in space, and as a result required some kind of relief in order to be able to sleep. The NASA contract resulted in a brand-new substance called visco-elastic polyurethane foam. Because of its tendency to take the shape of any warm body that used it, the material was popularly termed "memory foam". In the succeeding decades, scientists and developers worked to perfect the qualities of memory foam.
Benefits of Memory Foam
Modern memory foam mattresses offer incredible relief and support for those suffering from muscle and joint pain. Memory foam also helps the body's circulatory system to function smoothly through proper alignment and natural warmth. Mattresses made of memory foam can help to soften any painful pressure points, which is especially helpful for people who are ill and must remain in bed. For sleepers without serious pain issues, these types of mattresses can relieve stress and facilitate deep sleep by providing the perfect fit for each user's body.
Safety of Memory Foam
Memory foam is a very safe product to have in the home. It does not contain substances like PBDEDs (polybrominated diphenyl ethers) which can leach into the home environment and cause toxicity, nor does it contain formaldehyde. Its substance and structure make it hypoallergenic, which means that it is free from any materials that could cause an allergic reaction in users. Memory foam is also resistant to insects such as dust mites, which are a common issue with pillowtop mattresses.
Choosing a Used Memory Foam Double Mattress
When selecting a used memory foam mattress, buyers need to keep in mind several important principles. Density and thickness are key, as are firmness and cleanliness. There should be no signs of serious damage from users or from mould or insects. Users should also understand how to care for their mattress once they have purchased it.
Select the Right Density and Thickness
To measure the density of the mattress, manufacturers use the weight of the foam per cubic metre. The density is an important factor in comfort, although new "open-cell" technology allows for less dense memory foam mattresses to be just as comfortable as extremely dense models. Memory foam mattresses need to be dense enough and thick enough to support the user comfortably. Heavier users will need a thicker, denser mattress than lighter users. Therefore, buyers looking for a used memory foam mattress should think about their own body weight as well as the weight of the former owner of the mattress. If the same heavy individual has slept on the same mattress in the same spot for several years, their imprint on the mattress could be permanent. When buying a used mattress, buyers need to ask the seller pertinent questions to elicit the information they need about the age of the mattress and the wear that it has endured.
Choose the Ideal Firmness
Memory foam is by nature soft and malleable when warmed by user's body heat. If users want to adjust the firmness of the mattress, they can typically do so by adding or removing a mattress pad or mattress topper. For a firmer mattress, users can place the fitted mattress topper over the memory foam mattress, creating an extra layer between the sleeper and the memory foam. The mattress pad absorbs some of the body heat, which limits how much the memory foam softens and conforms to the body. The cooler the memory foam is, the firmer it can be.
If users would like a softer mattress, they can take off the mattress topper or pad and simply use a fitted sheet between themselves and the memory foam. The direct contact and body heat render the mattress much softer for a more comfortable, moulded fit around the sleeper. The temperature within the bedroom is also a factor. The warmer the room is, the softer the mattress will be, and vice versa.
Ask About Mould and Mildew Protection
Because of the way memory foam reacts to warmth and to body moisture, memory foam would eventually develop mould or mildew. To prevent this from happening, manufacturers usually treat their memory foam products with a special finish to inhibit the growth of mildew or mould. Buyers who are purchasing a used memory foam mattress should check with the seller to see if the mattress specified any such treatment on the label when they bought it brand-new.
Understand Oxidisation
Memory foam is one of many substances that naturally oxidise when exposed to the air. Over time, the memory foam mattress turns yellow due to this oxidising process. Therefore, buyers who are shopping for a used memory foam mattress should not be dismayed by the yellow colouring of an otherwise perfectly good memory foam mattress. As long as the mattress appears to have retained its thickness and its responsiveness to body heat, it should serve its new owner well.
Look for Damage
Buyers should always ask sellers why they are getting rid of their memory foam mattress. In addition, buyers need to inspect the mattress visually for rips, stains, areas that have been chewed by a pet, or other damage. They should also look for the tiny brown or red spots that are often indicative of a bedbug infestation. If buyers perceive any sign or smell that could result from bugs, mould, or mildew, they should cross that particular mattress off their list of possibilities.
Upgrade Bed Linens if Needed
Sometimes, a brand-new or lightly used memory foam mattress can be thicker than standard pillowtop mattresses. Buyers may also plan to add a mattress topper or mattress pad. In such cases, owners probably need to buy deeper fitted sheets that can accommodate the extra thickness. A fitted sheet about 68 cm deep should work well.
Sanitise if Desired
Buyers who have just purchased a used memory foam double mattress may feel uncomfortable about sleeping on it without giving it a thorough cleaning. Some owners recommend taking the mattress outdoors and spraying it with a solution consisting of one third fabric cleaner and two thirds water. Owners should spray every part of the mattress and let it rest for half an hour. Next, they can use a garden hose to rise the mattress thoroughly. They can bend the mattress in half and press out an extra water, but they should never twist or wring the mattress. After the first rinse, the mattress should be sprayed again, this time with a solution of four parts water and one part white vinegar. Finally, owners should rinse the mattress again, and then stand it against a wall to dry in the air; however, it will likely take days for the mattress to be thoroughly dry and ready for use.
Allow for the Adjustment Period
Some people feel the benefits of their memory foam mattress immediately. Others need a few weeks to fully adjust to their new sleep accommodations. In the case of a used memory foam mattress, it may take a little extra time for the mattress to conform perfectly to its new owner's body shape. This is a normal process and should not discourage users.
Clean as Necessary
Memory foam cannot be put in the washing machine or in the dryer. Instead, owners should spot clean their mattress as necessary using some gentle soap and a damp, soft cloth. The mattress should be allowed to dry in the open air. Once it is completely dry, owners can replace the fitted sheet and other bed linens.
Buying a Used Memory Foam Double Mattress on eBay
If you are looking for a variety of used mattresses, you may want to shop on eBay, a premium online shopping destination for UK customers. Visit eBay's home page and type a term such as "used memory foam double mattress&" into the search bar. Results can typically be filtered by selecting your preferred price range, seller type, or location. You can also save your search if you would like to be notified of new listings for used memory foam mattresses.
In the case of memory foam mattresses, the postage and packing is likely to be quite expensive. You can either find a seller who offers free shipping, or you can enter your postcode and preferred kilometre radius to locate sellers in or near your area. If the seller agrees to an in-person pickup, you will not need to pay for shipping.
As you shop, look for the eBay top-rated seller seal. This seal is placed on the listing pages of sellers who are known for their quick delivery, courteous service, and quality products. These sellers have typically received overwhelmingly positive feedback for previous clients, and many of them offer return policies as well as free postage and packaging, bundled items, or package deals.
Conclusion
A high-quality memory foam mattress moulds itself to the contours of the user's body, creating the ideal resting place free of uncomfortable pressure points and warmed by the natural body heat of the sleeper. Memory foam mattresses can be extremely expensive, priced far out of reach for some buyers. In such cases, a used memory foam mattress can be an excellent alternative.
When shopping for a used memory foam double mattress, buyers need to ensure that the pre-owned mattress they select is the right size for their sleep situation. The mattress should be thick enough to support the new user' weight, and it should be clean and undamaged. Buyers should test the memory foam mattress before purchasing it to ensure that it reacts to heat or cold by becoming softer or more firm. If the mattress meets all the criteria, users can purchase it, take it home, and begin to enjoy the benefits of a more restful night's sleep.