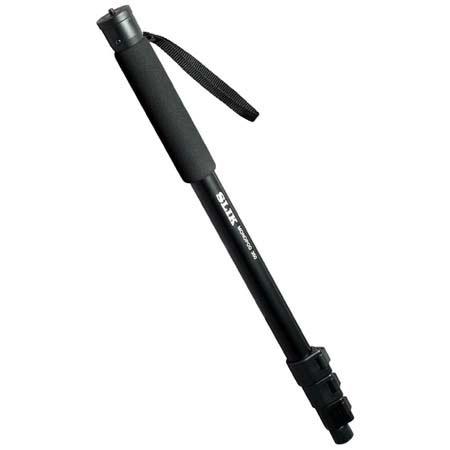 For many amateur and professional photographers, a monopod is an essential part of the overall photography kit, providing a more lightweight and portable alternative to the tripod but still offering many of the same advantages. That is, to support and stabilise the camera to allow not only for great shots to be taken, but also to enable some simple camera trickery, such as panning, which demonstrates speed and motion within a standard, still photograph. Monopods are widely available in both new and used condition, with some used monopods providing excellent quality while offering huge discounts.
Advantages of Buying a Used Monopod
Many photographers looking for a monopod would automatically search for a new product in photography and electronics stores, but a pre-owned monopod purchased through online seller-focused websites is well worth considering. As monopods have just a single supporting leg as opposed to the three legs of the tripod, they have much less working parts that can break or damage and are widely considered to be very durable, sturdy, secure, and long lasting because of this simplicity of design.
Of course, there are special considerations to make when buying a used monopod rather than a new piece of equipment, but assuming the product is free from damage and excessive wear and tear, it should be perfectly usable in most instances for taking professional style photographs. Third party sellers auctioning off their unwanted items often agree to sell for just a fraction of the monopod's original price, so photographers who do explore this second hand avenue could be rewarded with equipment in good working condition for budget prices.
Choosing a Used Monopod
The exact model of used monopod that is ultimately chosen should depend upon a number of factors, some of which need to be taken into account more seriously than when buying a new monopod due to the effects of normal wear and tear. The major aspects to consider are size, material, and head.
Used Monopod Sizes
Although monopods have just a single leg, this leg is divided into a number of sections that individually extend to alter the height of the equipment. There are advantages and disadvantages to both the smaller and larger monopods, with smaller section models being more lightweight, but larger section monopods being more susceptible to damage due to more joints, which is something to consider when buying a used monopod.
| | |
| --- | --- |
| Two Section | Two-section monopods are the most basic on the market, but that is not to say they are necessarily the worst. Extending to approximately 65 inches and contracting to around 30 inches, the folded size is certainly not the smallest, but the simple design allows for a very lightweight product. |
| Three Section | A three-section monopod extends to roughly the same size as a two section monopod, about 65 inches, but contracts to a smaller 25 inches on average. The design is still relatively simple, meaning it's generally quite a lightweight product, suitable for 'on location' photographers needing to physically carry their equipment often. |
| Four Section | Four-section monopods are typically heavier than the more basic models, but they provide a versatility that others do not. Extending to between 60 and 65 inches, the monopod is roughly a similar size, but typically folds to just 20 inches, making it very portable. However, with used monopods, the more sections the greater chance of damage. |
| Five Section | Five-section monopods are the most complex and versatile on the market, but as with four section models, the greater the number of sections, the greater the risk of previous damage. While extended length is generally no different to the smaller section monopods, the folded length is typically just 15 inches, making it the most compact version on the market. |
Used Monopod Materials
Monopods are manufactured from a range of materials that suit different requirements and budgets, but when buying a used monopod, it is worth keeping in mind that some of the less expensive materials are not as long lasting or durable as the more costly, high-quality materials and may not be as good an investment due to age, normal wear and tear, or damage.
| | |
| --- | --- |
| Plastic | Plastic monopods are usually the least expensive due to the budget material. They are often a very lightweight option but do come with some disadvantages. They are not as sturdy as metal, so it is not recommended they double as a hiking pole, and they are more prone to damage, which is something to consider when buying a used monopod. |
| Carbon Fibre | Carbon fibre is more secure and hard wearing than plastic, so it's usually a good choice for photographers looking to buy a used monopod. This material remains lightweight and cost effective, but the extra hard casing of the carbon fibre makes it much more immune to accidental damage. |
| Aluminium | In terms of buying a used monopod, aluminium is perhaps the best material, and certainly one to consider alongside carbon fibre. It is sometimes a little more costly than carbon fibre but is the sturdiest and most reliable of standard monopod materials as the metal is very durable and unlikely to suffer major damage. |
Used Monopod Heads
Monopods can be used either with or without a head. Of course, the fewer parts of a monopod the less likely the risk of damage, so when looking specifically at used monopods, one without a head may be preferable. However, many photographers argue that placing the camera directly onto the monopod limits the equipment's benefits and cite a head as an essential part of the photography kit.
| | |
| --- | --- |
| Headless | When no head is used, the camera is simply mounted onto the top of the monopod. While this reduces the number of parts that can suffer damage, it also limits the angles that the camera can be used in. In order to really get a good angle, the whole monopod would need to be tilted rather than simply the head. |
| Ball Head | The ball head is the most costly head available, because it has a greater angle manipulation and is much more sturdy than the alternatives. Ball heads are capable of holding heavy loads, so are a good choice for those with large lenses. However, be sure to look for any damage on used heads. |
| Pan-Tilt Head | The pan-tilt head is usually less costly than the ball head as angles are more limited. The camera can typically be turned 90 degrees with this type of head without needing to physically move the monopod. As with the ball head, photographers should ideally inspect the used pan-tilt head for damage before purchasing. |
Considerations when Buying a Used Monopod
Although it is not always possible, it is certainly beneficial to try and personally inspect a used monopod before purchasing. Fortunately, even for photography amateurs, it is quite simple to determine whether or not a used monopod is in a usable condition as the design of the equipment is so simple that there really is not much to look out for. What photographers should check is that each of the leg sections extends and contracts without sticking or detaching from the main body, and that the head, if there is one, attaches securely to the monopod leg. Surface wear and tear is normal, although metal can usually withstand this better than plastic can.
Conclusion
A monopod is a lightweight and portable alternative to a traditional tripod and is considered to be an essential part of any photography kit whether amateur or professional. Larger monopods made from high-quality materials can sometimes be quite costly when purchased in new condition, but photographers willing to look into second hand or used items are opening themselves up to big savings, where top models can be bought for budget prices. As long as the leg sections extend and contract effortlessly and there is no damage to the head attachment or the body of the monopod, there is really no reason not to consider a used monopod.