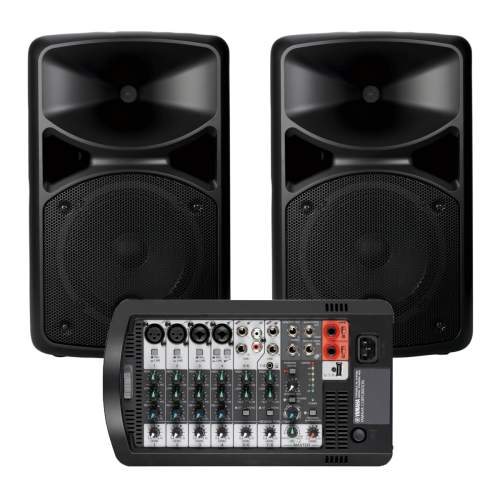 A used portable sound system allows any kind of audio signal to be heard by the human ear, over a wider distance than would normally be possible. Most used portable sound systems that are offered for sale, are made up of a microphone and a loud speaker. However, some may also include a carry case or speaker stands. Portable sound systems are useful for public speakers and performers in all walks of life and they come in a variety of shapes and sizes. The range of different models available means that whether it is for professional purposes, or a more casual requirement, each buyer can be sure of buying a used portable sound system to meet their needs. In order to source the most appropriate used portable sound system, research the brands and set-ups available. Then focus on individual items and sellers, in order to find the right product at the best price.
About Used Portable Sound Systems
There are three main processes that occur within a sound system, and they work in synchronisation with each other. Firstly, the original sound produced is picked up by a microphone, this is called the source. Secondly, this signal is passed through the internal processors. Finally, it is amplified and played through the output device, usually a speaker.
Sound systems have a wide variety of applications. They can broadcast a spoken voice, music, or special effects. Input can be taken from a prerecording or at a live event as it happens. The volume and tone can be tailored to favour a crowd who are in the open air or inside a building. A portable sound system can be lightweight enough to carry around with a user, or it may be a sturdier model, in which case the equipment will need to be set up and dismantled after each use.
The first sound systems were invented in the 1930s. They used technology that was originally developed for work in the entertainment industry. Since this time, the demand for portable equipment that provides a clear reproduction of sound has grown. Manufacturers have responded by supplying a diverse range of effective sound systems to this expanding market. It is possible to save money by choosing a used portable sound system, which, with the correct maintenance, will retain its quality features for many years.
Choosing a Used Portable Sound System
Finding the right sound system will be a matter of personal choice for each buyer, there are many shapes, sizes and specifications available to choose from. However, there are a number of factors which should be weighed up before making a final decision. In order to select the right used portable sound system, a buyer will need to consider the size of a venue, the nature of the audio input and the potential audience.
Where a Used Portable Sound System Can Be Utilised
A portable sound system can be used in many situations where sound needs to be reinforced. The following chart looks at common situations in which a used portable sound system is needed.
| | |
| --- | --- |
| Live Music | Live music may take place in a small venue such as a pub or at a larger open air festival. However, the audience need to hear the performance at an appropriate level, wherever they are. The existing equipment may only cater for recorded music, therefore a portable sound system can be used to maximise the nuances of a live performance. |
| Social Occasions | At fetes, sporting events and lectures, announcers will need to be heard by a number of people. They may be competing with noticeable background noise and communicating across a large area. A portable sound system adds extra power to the spoken voice, in locations where there is no permanent form of public address system. |
| Dramatic Productions | When local productions are presented at village halls or small theatres, ensuring the show can be heard equally well in every area of the audience is vital. Therefore, it is sometimes necessary to use a sound system to project the voices and effects that are taking place on the stage. |
Battery or Mains Powered Used Portable Sound Systems
At some open air events, there may not be a readily available power socket to connect a portable sound system to the mains electricity supply. Therefore, some models include the option of a back up. These are battery powered portable sound systems, which can even be charged during use if they are connected to the mains. These units will work from anywhere between 2 and 10 hours on a fully charged battery. However, this will depend on a number of factors. For example, whether the system is being used to play music, or if it is transmitting spoken announcements will affect the power outage. Although in the short term, a sound system supplied by the mains alone will costs less, the rechargeable battery option will give a user more flexibility in the long run.
The Components of a Used Portable Sound System
Each used portable sound system contains a highly complex arrangement of equipment. However, it is housed within devices which are accessible for all users, not just professionals. Here is a table to show the four basic processes by which the initial source is picked up by a sound system, and then transformed into a far more powerful audio output.
| | |
| --- | --- |
| | A microphone changes sound waves into a signal which is understood by electrical equipment. For portable sound systems microphones can be handheld, connected to a lapel or integrated into a headset, depending on the demands of an occasion. Wireless microphones are also available and these will usually have a range of up to 45 metres. |
| | The signal processor receives information from the microphone and performs a variety of functions including filtering, adjusting and modifying the sound. In this way any echo, interference, or feedback is minimised. Then the result is relayed to the amplifier for reinforcement. |
| | An amplifier is often built-in to a loud speaker. It increases the power behind an audio signal and simultaneously boosts the flow of electricity to the out-put device, the loud speaker. |
| | The loud speaker converts this electronic signal back into sound waves. Speakers come in a range of shapes and sizes, for portable sound systems they are made to be light and easy to manoeuvre. A loud speaker is positioned to be heard clearly, by the maximum number of people in a specific area. |
Buying a Used Portable Sound System on eBay
To purchase a used portable sound system on eBay, start by opening the eBay home page. Then head to the All Categories section; here there is a link to Musical Instruments. Click on this and then select the Pro Audio Equipment tab. From here, choose Speakers and Monitors. Then browse through the selection available, or use the options section highlighted on the left hand side of the page, to further narrow a search. In order to locate a specific item, input a more detailed term into the search field. This is located at the top centre of any eBay page. For instance, to find a used portable sound system with wireless capabilities, enter the phrase 'used wireless portable sound system', into the search box.
Conclusion
A good used portable sound system can make all the difference to an event, creating a polished and a profession appearance. There are a variety of styles and sizes, each designed to function in many different situations. Selecting and buying the most appropriate model will be down to the needs of each customer, and their expectations for the product. To be confident of purchasing the right used portable sound system at a reasonable price, explore the various brands on offer, and then focus on individual items and sellers.