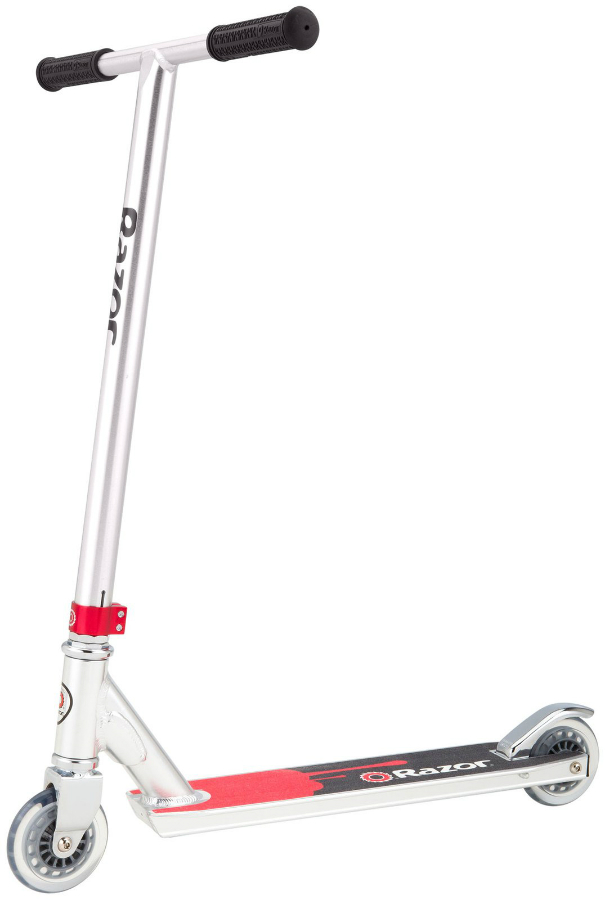 If there is any product that is designed to be robust, it's a push scooter. For people contemplating buying a used push scooter, this is an advantage in some ways, but also a disadvantage. If it has come away from harsh treatment in good shape that could mean it still has a good life ahead. On the other hand, it could be about to fall apart.
This guide will help the buyer to:
recognise the tell-tale signs that distinguish the condition of the scooter
judge how much to pay for it.
find best value.
work out how to approach the seller.
But in order to judge whether the scooter on offer is fit-for-purpose and understand the terminology in the description, it's essential to know the basics about the product category:
Just what are push scooters?
What is its history?
What's the attraction of a push scooter?
What are push scooters worth when new?
What parts is it made from?
What is a push scooter?
A simple scooter consists of a footboard mounted on two wheels at either end and a long steering handle, moved along by resting one foot on the footboard and pushing the other against the ground. As such they have been around for a hundred years or so, but never caught on with the advent of bikes for kids and skate boards. The modern push scooter only hit the streets in 1999.
It was invented by Gino Tsai, president of the J.D. Corporation in Taiwan who was frustrated that his short legs couldn't get him quickly enough around his bicycle factory. Weighing around 6 pounds, the invention was made with aircraft grade aluminium tested to support a 1,100 lb weight without bending. It has a steering handle with short bars, polyurethane wheels on silent bearings and a brake operated by placing the heel against the rear mudguard.
Branded as Razor, this was the template of what today is called a push scooter, also known as a kick scooter or micro scooter. In the year after its launch in Japan it sold half a million units to eager young people who liked the idea that it could be folded and stowed in a backpack.
Razor is still the brand leader, but the market has widened to include products for children from four years upwards. Most are now freestyle scooters capable of performing stunts. Suddenly they are everywhere. As well as being fun, push scooters are environmentally friendly. It's a safe bet for anyone thinking about buying a used scooter, that this isn't a fad that will go away. It's an investment.
How much does a push scooter cost?
To know what is reasonable to pay for used scooter, have an idea of what a new one costs. A quick eBay search should do the trick.
Price start with something like the JD Bug Eco at around £30. JD Bug is the aged 4-plus range from Razor. As with anything, you get what you pay for. Another £15 will buy a superior specification in every element in the form of the JD Bug Original Black (or Pink, or Blue, or Red), the most popular scooter in the UK.
In the mid-range, there are intermediate level freestyle scooters for reliable everyday use with the capability for tricks, for example the Razor Black Label Ultra Pro Lo and the Mod Scooters Lite V2 in red, purple or Blue at around £120.
At the top end of the price scale are stunt scooters like:
the District V4
the Micro Xtreme MX 180
The Grit Scooter Invader Pro, the MADD –MGP Nitro Extreme She Devil.
They can all cost between £200 and £250. They are made to be both light and robust enough to turn aerial somersaults and smack down on the skate park concrete without damage.
Look into the product descriptions, and it's easy to be confused by terms like:
IHC threadless forks
6061 – T6 Aluminium desk
slide-in flex brake etc.
Here is an overview of the component parts of a push scooter and points to watch out for.
A lot of scooters are custom built from parts from different manufacturers. Examining the key points in the component descriptions below will help you reach a judgement on build quality and value.
Push scooter elements
A push scooter is composed of a deck to stand on and push from; handlebar and grips, steering tube or stem, quick release for the steering tube, front fork, headset between the bars and the front fork containing the compression suspension system and secured with a collar clamp, wheels and a rear brake.
Folding scooters have a joint mechanism which allows the front forks and handlebar to be folded against the deck. Freestyle scooters are rigid with no folding mechanism, because the joint could collapse whilst performing stunts. They have cool paint-jobs and clever engineering to enable them to take punishment.
Folding scooters such as JD Bug Pro are for younger beginners. The other brands mentioned are examples, not recommendations, and there are many more available via eBay which buyers should explore.
Paintwork
Imagery, colours, metallic effects and other details of push scooters are keys to their cult status and therefore its acceptability to a young user.
Points to watch for: The colourway should appeal to the gender of its rider and chips avoided as they may lead to corrosion or compromise the structural integrity . Check what's current in the market today in terms of trends.
Decks
The push scooter deck is not just a rest for the non-pushing foot; it is the backbone of the machine. Aluminium with an anodised finish is still the material of choice because of its resilience. Freestyle push scooter decks are either one-piece or two-piece. One-piece styles have the deck and the headset welded together, as with the MADD Gear banana shaped down-tube welded to the deck. The two-piece design has the head tube bolted to the deck, for example the Lucky Evo 2 deck. MADD Gear decks are noted for their durability and the Razor Ultra Pro deck is something of a benchmark. The latest decks from District amongst others have an integrated head tube enabling bearings and caps to slide in for simplicity.
Points to watch for: Scuffs and dents, how much clearance there is between deck and ground; the lower, the better for tricks.
Bars
The original Razor A type folding scooter and JD Bug scooters have adjustable handlebars to suit riders of different heights. The Swiss-made Micro adult foldable scooters have handlebars that are both adjustable and collapsible. The standard design is "T" shaped. Most handlebars are made from 4130 chromoloy or 6160 aluminium for strength. Handlebars for rigid freestyle push scooters are generally speaking between 18" to 24" in height and 14" to 24" wide and can be custom cut. Grips are available to fit separately in a wide range of colours.
Points to watch for: Many manufacturers save on the grips so the rubber cracks before the scooter has finished its working life. You can buy replacements grips.
Forks
The fork takes the impact in scootering, so strength is key. They tend to be made of steel. Strength is often correlated with weight, something to remember when looking at specifications. There are two main types of push scooter fork, the first being threaded. Until recently this was the industry standard, offering a simple method to connect forks with handlebars. There is a growing number of threadless forks. These were created because threads compromise the strength of the fork tube. They offer greater security and feel between forks and handlebars. Fitting threadless forks will require a compression system to hold the bars to the forks and a threadless headset.
Points to watch for: the faintest sign of a crack – it could be a disaster. Forks that work in both directions help with tricks where the front wheel is spun around.
Brake
The brakes often come ready-fitted to decks. The unit is usually made up of the brake itself, a bolt that runs horizontally through the bottom of it and a spring to stop it rattling. Nevertheless they often do rattle. This led to the invention of the flex brake. This is a curved or straight piece of metal which is depressed by the heel to rub on the rear wheel. These are made by Blunt, Phoenix, Razor and others and can be bought and fitted as a separate item.
Points to watch for: A small clearance between wheel and brake can get clogged up.
Wheels
Early push scooter wheels were made of a plastic centre and a urethane outer. The tendency of these to snap led to the development of metal core wheels that are used by today's riders. Newer metal core wheels consist of an aluminium core and durable urethane outer. Wheel bearings tend to wear out. They are interchangeable with skateboard bearings, and come in packs of four.
Point to watch for: The more expensive (when new) scooters use a higher grade compound – quieter ride and less likely to slip when cornering fast.
Headsets
Headsets on freestyle scooters are the same as on BMX bikes. A threaded headset is used for a stock threaded fork only. Threadless headsets are used with a compression system on threadless forks such as SCS (standard compression system) which resembles an oversized clamp but internally works much like a bicycle stem. Variants are the (ICS) inverted compression system and the HIC (hidden compression system). Each requires a specific number of nuts– from two to four. When buying a clamp look for the reference for the appropriate type of compression.
Points to watch for: Clamps often bear the branding of the push scooter, a key source of visual distinction for trend conscious riders.
How to buy used scooters
Buying a used push scooter can be the best way to get good value. Sometimes they are nearly new; sometimes they have never been used. Either way, market forces prevent the seller from asking anywhere near the original price. This provides a great opportunity to buy high-end freestyle, premium brand scooters for less than shops charge for mid-range models of the same make. It is also more sustainable to buy used.
Search extensively for pre-owned scooters on eBay to get to know market price levels. Having made a short list, read through the product descriptions to tell whether the specifications meet your needs. For example: "MADD scooter" is too general. "MADD – MGP Nitro Extreme She Devil" is better.
Look carefully at the photos, check they are of the original product and not just a stock photo from the manufacturer's website. Look for close-ups and tell-tale signs like chips and cracks.
Take note of the care which has gone into the presentation – docking wheels of the scooter between blocks so it's upright and placing it against a plain background, rather than lying on a cluttered living room floor. That could be the sign that care has been taken of the scooter itself. If you are not satisfied with some of the details then do not hesitate to Ask the Seller.
Try to ascertain the reasons for selling. Many scooters sell because their owners want to upgrade. This means that it is possible to get a relatively new scooter in a good condition at a competitive price.
If you get the chance to collect it in person, push on the handlebars to make certain there is no play in the forks or bar. If it's a folding scooter test that the folding mechanism works and is steady when upright.
Conclusion
Push scooters are robust, simple to use and fun. They are easy to store and transport (thanks to the folding handlebar assembly). And there are no batteries. These criteria seem applicable to all popular and enduring children's products and missing from those that end up gathering dust or in the bin. Give a used scooter a new lease of life, and for very little outlay you'll have or give lasting enjoyment.