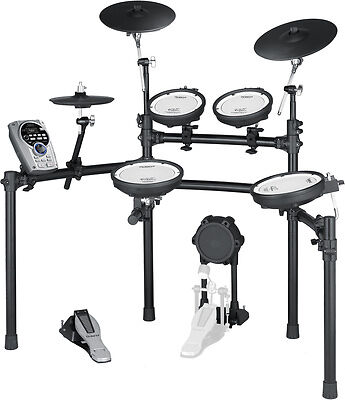 Purchasing a drum kit, even a second-hand model, is an exciting experience for a drummer, be it their very first kit or one of many. However, deciding on a make and model can be quite daunting, particularly if the buyer has little experience in this area, as buying the right equipment is very important.

Roland has a reputation for being an excellent manufacturer of drum kits and has been around in the industry for many years. Some of the sets produced by the company are highly-sought after by both beginners and professionals alike. A good-quality second-hand kit made by Roland can be a good way to learn how to use the drums (if the user is a beginner) or the user wants to see how suitable a Roland drum kit is for them.
Follow the guide below to learn more about Roland drum kits and how to go about making a purchase of a second-hand model.
Why Buy Second Hand?
Even lower-end drum kit models can be expensive when purchased new, so for a beginner drummer who may not be ready to commit to the instrument yet, or for those on a tight budget, buying a good-quality second-hand drum kit can make more financial sense than buying a new one. Usually if a kit is second hand, it will come with other accessories, such as cymbals, a stool, hardware and pedals, that have to be purchased separately if buying new.
When buying second hand, there are certain things that need to be considered that are slightly different to that of a making a new drum kit purchase. Most importantly, the potential buyer needs to know what they are looking for.
What Equipment Comprises a Basic Roland Drum Kit?
Drum kits made by any manufacturer can vary in the types of elements available to them. There are very basic two-piece sets (known as a 'kick and snare' setup), to more expensive eight or nine-piece sets. At a basic level, all drum kits will have a kick and snare drums, and mostly any extra pieces to a drum kit will be toms.
The majority of drummers start with a basic five-piece drum kit, as it comprises of the basic level pieces with a few extras. This gives the user the ability to try a variety of sounds without making the kit too overwhelming. Basic five-piece drum kits do not usually come with cymbals, but usually have a kick drum, snare drum, two rack toms, and a floor tom.
Before Making a Purchase
Wherever possible, the user should try out a drum kit before making a purchase. Any good drummer will spend a lot of time with their kit, so it makes sense to find a drum kit that is suitably comfortable, feels and sounds right, or the user will simply become bored or not be able to play, and the purchase will have been wasted. For beginners who may not know what to look for, always seek the advice of an experienced drummer, who may be able to try out a kit beforehand or give other advice on whether or not an intended purchase is a good investment.
What to Look for When Buying Second Hand
If buying a drum kit second hand (online or in a shop), always pay very close attention to areas of general wear and tear. A well-looked after drum kit by any manufacturer should have no noticeable areas of wear and tear aside from the drum head of each drum in the set. The drum head is the section of the drum that is hit repeatedly by the stick, and is easily replaced at little cost. A potential buyer should not be put off by general wear and tear in this area, as drum heads should be replaced as they age in any case.
Particular attention should be paid to the shells and hardware of the equipment. This does not require an in-depth knowledge of a drum kit, just a keen eye. When examining a second-hand kit (either online or in a shop), pay close attention to the following areas.
Models of Roland Drum Kits to Consider
Look for signs of chipping or denting in the shells. These areas should not be damaged.

The metal hardware areas should not be pitted or rusty.

Look for signs of cracking on cymbals.

Ask where the kit was stored - drum kits should not be kept in cold, damp or dusty environments.
An area that should be undamaged in order to produce a good-quality sound is the bearing edge of the shell. This is the angled section around the entire circumference of the drum shell, which comes into contact with the drum head. It is vital that this area has no damage because when the sticks strike the drum head, any irregularity in the bearing edge will have a negative impact on the sound made. Any chips or dents will have a negative effect. Damaged drum shells can be as expensive to replace as the cost of buying a new drum, so that cost needs to be considered.
Since the majority of buyers looking for second-hand drum kits are beginners, it makes sense to consider the types of models produced by Roland that would be suitable for that group.
Roland makes both acoustic and electronic drums, and both are suitable for beginners, although they each have their own distinct advantages and disadvantages. Electronic drum kits in particular are quite favourable these days as they are quieter, cheaper, and do not take up as much space as a traditional acoustic kit.
Roland electronic drum kits, such as the HD-3 model, are generally quite simple to use and to setup, and have the advantage of being able to be played almost silently, with the use of headphones and silencers. This can be particularly useful if the set is to be played in the home where those around the user could be disturbed. Electronic kits often come with built-in 'sounds', which help the user to mimic the individual sound of certain styles of music, including hard rock, jazz and so on. Most models in the Roland V-drums range are suitable for beginners and can easily be found on the second-hand market. The TD-4K2 and the TD-4KX2 are also good entry-level electronic kits.
As Roland has such a good reputation for fine-quality drumming products, almost any model is suitable for a second-hand purchase, provided it is in good condition as mentioned previously in this article.
Where to Find Used Roland Drum Kits on eBay
In order to find used Roland drum kits on eBay, head first to the homepage. From here, using the links on the left hand side of the page, select All Categories and then select Musical Instruments from the drop-down options. From here, under the category title of Percussion, select Drums. This will then load all the listings on the site in this category. Listings can then be narrowed down into listings of Roland brand drums only. Listings can be further separated according to other attributes, such as type of kit, condition, which part of the kit is being sold and so on.
Alternatively, use the search engine on the homepage to look for listings according to desired keywords for the intended purchase.
Conclusion
Buying a second-hand drum kit can have many advantages over buying a brand-new kit, including being much cheaper and usually coming with more accessories. Roland is one of the big names in the manufacture of drum kits, and finding a second-hand model suitable to use at any skill level (particularly for beginners) can be easy. As always, suitable and sufficient research into the ideal kit should be carried out before any purchase is made, and the kit examined very carefully for signs of any damage that may hinder the quality of the sound. If the right steps are taken, a good-quality kit should be easily found at an affordable price.