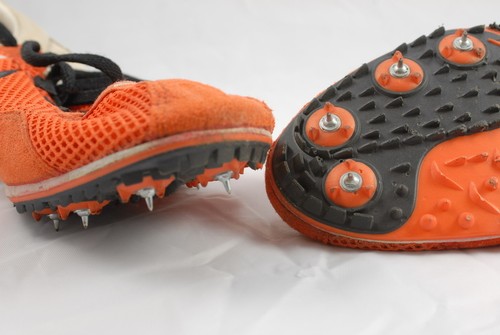 Running spikes are lightweight, close-fitting running shoes with firm rubber or plastic soles that are fitted with spikes. The spikes are screwed into the bottom of the sole and can be made of metal or ceramic. They are used by track athletes to provide extra grip that allows the wearer to run faster. Some running spikes are also designed to ensure that foot placement is as ideal as possible for particular events. Running spikes tend to be lighter than most normal running shoes.
Buying used running spikes is a great way to save money on athletic equipment. Before shopping for used running spikes, learn about the types available and what the wearer needs. An understanding of the different types of spikes simplifies the buying process, and knowing how they should fit means that the buyer can find the right pair the first time round. Finally, learn how to evaluate used running spikes before buying. Used running spikes are available from second-hand sources, such as, charity shops, and online, from sites like eBay.
Types of Running Spikes
There are three basic types of running spikes: cross-country, standard distance, and sprint. Cross-country spikes are designed for uneven natural surfaces, standard distance spikes for track races of distances between 800 and 10,000 metres, and sprint spikes for short distances, such as 100 metres.
Cross-Country Running Spikes
Cross-country spikes are sturdier than their track counterparts, with a better grip for improved traction. They allow the wearer to pierce the soil with each footfall. Cross-country spikes usually have a dense sole, a toe guard to protect wearers from stubbing their toes on rocks and other debris, and water-resistant uppers.
Standard Distance Running Spikes
Standard distance running spikes are lighter than cross-country spikes, but slightly heavier than sprint spikes. They usually to have some cushioning in the heel and relatively flexible soles. Runners who participate in longer distance races should consider running spikes with more cushioning. Standard distance and sprint spikes have lightweight, breathable uppers designed to maximise running efficiency.
Sprint Running Spikes
Sprint spikes are built for speed over short distances. They are usually the lightest, with no padding in the heels. These running spikes tend to be quite stiff, with the spike plate under the toes. Sprint spikes are designed to force the wearer to run on his or her toes. Although they are intended for fast, short distances, some 400 metre athletes wear sprint spikes. This is recommended only for those who finish in at least 52 seconds because the design could cause injuries for slower runners.
Types of Spike
The spikes on running shoes come in various shapes, lengths, and sizes. Finding the perfect type of spike for an individual wearer may involve some trial and error, as running styles and personal preferences differ. The table below lists and describes different types of spike.
Type of Spike

Description

Most common type

Wide base going to a point

Pin or needle

Like a pyramid spike, but with a thinner neck

Pierces tracks well

May stick to tracks

Christmas tree or compression tier

Has ridges going around it

Grips in more than one direction if footstrike is not always the same

Not meant to pierce track

Good for hurdlers

Stud

Blunt end like a football stud

Adequate grip on track

Popular for cross-country running
Running spikes usually come in lengths between 5 and 7 millimetres. Spikes are usually not allowed to be longer than 5 millimetres for indoor tracks and 7 millimetres for outdoor tracks. They can be made of steel, ceramic, or titanium alloy. Ceramic spikes are very light and strong, and are significantly lighter than steel spikes. Rounded spikes decrease the chance of injuries caused by contact with the spikes while running.
Choosing Running Spikes
The type of running spikes chosen should suit the wearer's needs. Some injuries may be aggravated by running with spikes and it is best to consult a trainer or medical professional before attempting to use them. Running spikes are not intended for road races and should not be worn on very hard surfaces. If wearers compete in track and cross-country events, then they should consider investing in hybrid spikes to keep the equipment costs down. Of course, buying used running spikes is an excellent way to save money and may enable the buyer to purchase two separate pairs for different events.
Particular types of running spikes are recommended for certain tracks and courses. For example, cross-country athletes who run on manicured grass should consider the effect that large spikes have on the surface of the grass. If the running surface should not be pierced, then consider buying running spikes with studs rather than sharp pins.
Fitting Running Spikes
Running spikes should not be tight, but they should sit snugly. Socks worn with spikes should be thin and designed for that purpose. Most running spikes are smaller and narrower than traditional running shoes. If buying online it is best to measure the wearer's feet and compare these measurements to the chosen running spikes to ensure that the shoes fit properly.
Evaluating Used Running Spikes
The type of wear on a pair of used running spikes depends on how often the spikes were used and the cushioning requirements of the original owner. Running spikes, like normal running shoes, wear out after 160 to 320 kilometres. While sprint spikes do not have any cushioning, standard distance and cross-country running spikes may show wear in the cushioning. To evaluate used running spikes, press on the cushioned areas to determine whether they are in good condition. Also check the inside lining and inner sole for signs of wear and tear. The stitching along the sole and upper should be in good condition, with no dangling or loose threads. The toe of each shoe should be intact, especially if it is reinforced for added protection, as can be found in many cross-country running spikes.
Buyers should also investigate the spikes for signs of wear. They should be in their original shape, without being blunt or rounded at the tips. If they are removable, ensure that they can be unscrewed by turning them or asking the seller whether they can be removed.
The general condition of the spikes is usually a good indication of their age and whether they were looked after. Scuff marks are inevitable, but rust around the spike plate and spikes, deep abrasions, and cuts or rips are signs that running spikes may not be the bargain that they seem to be. Simply be sensible when buying running spikes and look for obvious signs of wear.
Buying Used Running Spikes on eBay
Finding the right used running spikes on eBay is easy. Simply type a search phrase, for example "used Adidas sprint spikes", into the search field, which is located on every page, to see the listings available from eBay sellers. Choose the desired item features to narrow your search results. For more control over searching, use the advanced search feature.
Conclusion
Buying used running spikes is an excellent way to save money on athletic equipment. Running spikes are used by track and cross-country runners to increase their grip on running surfaces, improve running efficiency, and increase speed. The running spikes used for cross-country, standard distance running, and sprints differ in their construction and design, so it is best to buy running spikes that are suited to the wearer's sporting needs. Running spikes should be lightweight, with adequate cushioning and the right type of sole flexibility.
There are restrictions on the types of spikes that may be used in particular situations. It is always best to confirm the type of spikes required for an event. Certain sporting events may place further restrictions on spike lengths to minimise the risk of injury when runners come into contact with spikes. Ceramic spikes tend to be significantly lighter than steel without losing too much strength. Spikes can usually be replaced, but it is always best to confirm whether this is the case when buying running spikes.
Before buying, check used running spikes for signs of wear and tear that could affect the usability and durability of the shoes. At the very least, the shoes should still have adequate cushioning, the uppers should be in good condition, and the spikes should not be worn. eBay sellers offer a wide selection of running spikes at competitive prices.