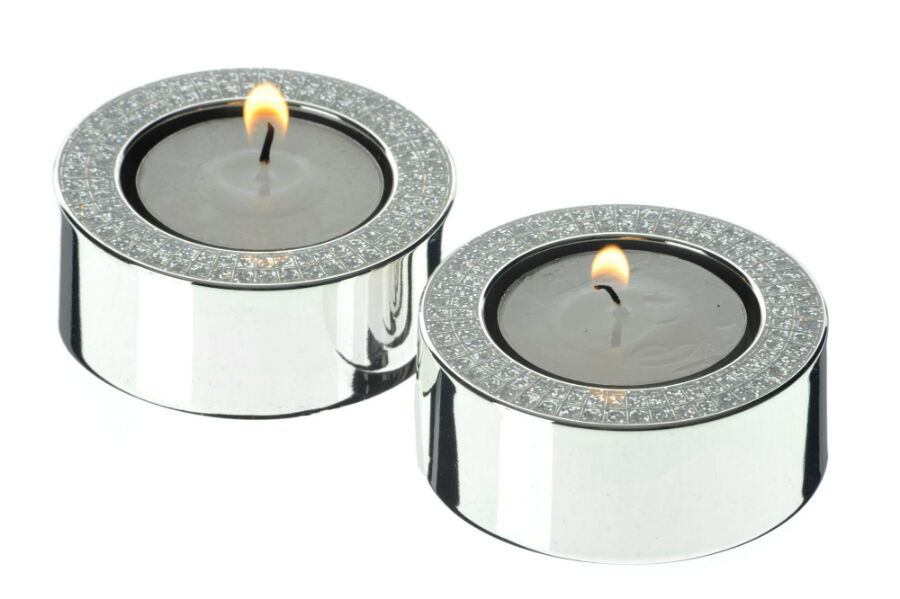 Tea light holders are popular home decor items, used mostly to highlight and embellish the light given off by tea light candles. They are attractive vessels for candles to be placed within or upon, and are commonly used as accent lighting on walls, dining tables or other surfaces where a decorative lighting effect is desired. They are also popular as decorative items at celebrations like wedding banquets, themed outdoor parties, and other entertainment events held at night. Businesses like spas and restaurants also use tea light holders and candles to create a relaxing, intimate and soothing ambience for their customers.
About Used Tea Light Holders
Tea light candles are small, circular candles that burn for a few hours only. Originally used to keep teapots heated, tea light candles are now used primarily for accent lighting. Usually produced in plain aluminium containers, tea light candles are enhanced by decorative holders. Tea light holders (used and new) come in an enormously varied range of decorative designs, shapes, and sizes. This Used Tea Light Holders Buyers Guide provides a brief overview of design styles of tea light holders, and major points to be aware of when looking for used items.
Tea Light Holder Designs
Some of the most popular types of tea light holder designs are described below.
| | |
| --- | --- |
| Clear and coloured glass for tables | Glass tea light holders that stand upon the dining table come in many designs that can match or complement dining settings. Designs include wine goblets, long stemmed wine glasses, and wine bottle shapes. They can be found in clear and crystal glass, or in ornately patterned and coloured glass. There are also candelabra style tea light holders that make fabulous centrepieces, as do stained glass effect holders. |
| Festive and holiday lights | Tea light holders can be found to enhance every festive occasion. Holders can be found in shamrock shapes for St Patrick's Day, or adorned with Father Christmas shapes or the Easter Bunny. Romantically decorated holders with heart and lace motifs are perfect for Valentine's Day. Holders decorated to resemble lighted pumpkins are available for Halloween. It's difficult to find an occasion that a tea light holder has not been created for. |
| Glass bowls with various ornamental decorations | Decorative glass bowls are often used to make centrepieces in which tea light candles can be floated. |
| Lanterns | Lantern styles are a popular design, particularly for use outdoors, where they provide some protection from the wind. Lantern boxes with glass sides and solid metal bases and tops, can be found in many different colours and patterns. Moroccan style lanterns are also well-liked. Ornate metallic elements are contrasted with deep opulent colours and candles in complementary colours make a stunning display. |
Choosing Used Tea Light Holders
Deciding up the right type of used tea light holder depends upon its primary purpose. Is it for a specific festive occasion like a wedding, or for holidays like Halloween? Are they for business purposes, for example to be used in a new spa as decorative and fragrant pieces? Are they for a craftsperson looking for pieces that can be spruced up, personally decorated and resold for a profit?
Features
What to look for in a used item.
| | |
| --- | --- |
| Condition | Check that condition is almost as good and new and nothing more than a quick clean and polish is required to restore the items to good condition. |
| Price | Unless they are valuable antique or vintage pieces, expect to pay less than for new tea light holders. Compare the price of the used items against similar style new items. |
| Bulk Lots | Check whether any bulk lots are available that could radically bring the price down. |
| Bonus items | Are candles included? |
Vintage and Antique Styles
These have been around for a few years but retain their decorative appeal.
| | |
| --- | --- |
| Antique | Without too much difficulty, though it may require a little patience, tea light holders can be found in styles reminiscent of the gothic art period, revivals of classical Greek or Roman motifs, and Victorian, Georgian, and Jacobean times to name just a few. Look for materials such as: Old black wrought iron, Pewter, Brass and copper pieces, and Silver and silver plate. Most antique styles have been reproduced in modern glassware and other decorating materials at one time or another and tea light holders are no exception. |
| Art Deco | Look for tea light holders with bases and surrounds in geometric styles characteristic of Art Deco style. Combinations of chrome, wood, and frosted or etched glass were common. |
| Vintage/ Retro | Vintage and retro styles include post World War 1 up to the 1970s. Styles to look for include: Shabby chic white porcelain with light floral decoration; Designs that feature 1950 or 1960s era pop stars or other motifs representing those periods; Fluorescent colour combinations reminiscent of the 70s. |
Seller refurbished
When looking for used tea light holders, do not neglect to have a look at seller-refurbished items. These used holders have been given a new lease of life with minor repair or redecoration, or are new items crafted from material like refurbished wood. These can represent excellent value for money.
| | |
| --- | --- |
| Tea light holders that have served as window displays | While these may have been regularly used for some time, they often require nothing more than a clean and polish to bring them back to a 'good as new' look. |
| Tea light holders reworked by craftspeople using a variety of materials to redecorate | Crafters love to put a personal touch to plain materials. Plain glass tea light holders can be dressed up with ribbons or vintage lace and crochet to give them a new lease of life. Hand-painted pieces can give homeowners unique and affordable pieces. |
| Materials like driftwood that have been worked to act as holders for tea lights, or other materials that have been salvaged from old houses on demolition | Crafters that love working with natural materials can use materials like driftwood and by cutting, shaping and polishing, create pockets for tea light candleholders. |
Complementary Items
Items that complement the tea light holders and may be worth buying at the same time include the actual tea light candles and votive candles. Votive candles are usually larger and scented, and grouped with the tea light holders, add to the attractive lighting and ambience of the setting.
Votive candles
Use the occasional Jar/Container scented candles or Votive Candle interspersed among the tea light holder to deliver scented fragrances
Finding Used Tea Light Holders on eBay
There are various ways of navigating the eBay website to arrive at the perfect tea light holders.
Menu Paths
By following specific menu paths for item categories, track down a large range of new and used tea light holders. First start at the eBay Home Page and select the Categories link at the top left-hand corner of the screen. Then, find the Home, Furniture & DIY heading and click the More down-arrow. An expanded list appears, from which the heading Home Decor should be selected. On the Home Decor page, click on the Candle & Tea Light Holders heading in the left-hand column. Now select the Tea Light Holders checkbox. Tea light holders can now be sorted by condition including Seller refurbished, Used and For parts or not working subcategories. Another path to follow is the same as above to the Home, Furniture & DIY heading. Instead of selecting Home Decor, select the Metaphysical and New Age heading. Then select the Candles link. To continue, select the Tea Lights and Used checkboxes in the left-had column. Another useful search is to look through the Wholesale and Job Lots category where used tea light holders may be listed.
Search Text Boxes
Try a search using the Search text box at the top of each eBay screen. Enter the term 'used tea light holders' to get a listing. Then filter down the search results by using Categories, Condition, Materials or Styles links in the left-hand columns.
Conclusion
Tea light holders come in an extremely wide range of materials, patterns, shapes and sizes. The same applies to used tea light holders. To find cheaper bulk lots of holders try looking around for lots from businesses closing down or relocating.