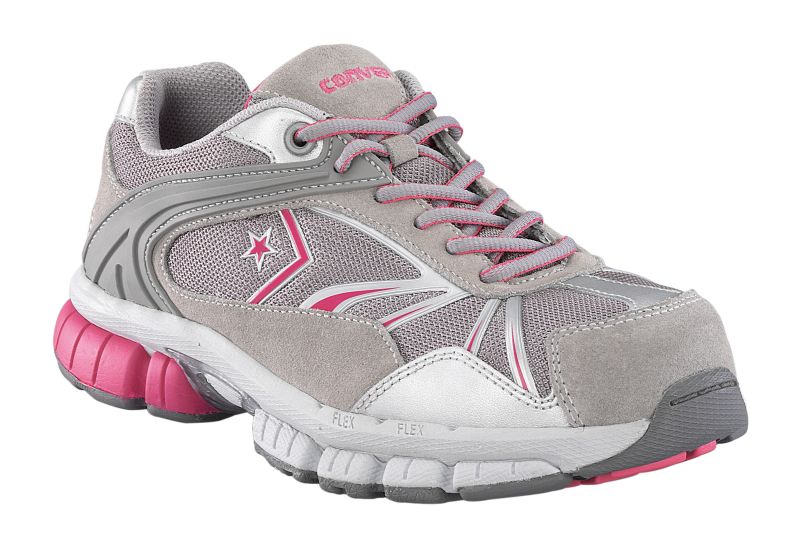 Trainers are worn by everyone: from professional athletes down to the average Joe. Fashion designers have even reinvented trainers with wedges, outrageous lacing patterns, and other bizarre embellishments. Trainers are available in high top, low top, leather, canvas, nylon, and an infinite array of colours and designs. Trainers are often worn by men and women on their morning commute, for running on treadmills in the gym, and the great outdoors. Buying used trainers will take a bit of patience and research, but hard work can pay off. Shoppers should purchase name brand shoes such as Nike or Adidas to ensure they are buying a quality shoe. Additionally, the term "used" spans a large gap in time; used trainers for sale could have been worn for one day or one year. It is up to the customer to determine how used they want their shoes. Men can find used trainers in online classifieds, community message boards, and virtual auctions such as eBay.
About Trainers
Trainers are one of the most popular styles of shoes on the market. Available in a plethora of colours, patterns, shapes, sizes, and styles, there is a pair of trainers for everyone. Most trainers have laces, but some have elastic cinches, and others are slip ons. The top of the shoes are most often made of canvas, nylon mesh, leather, and cotton blends. The top layer is designed to be breathable; leather is typically the most expensive material. Bottom soles are made of rubber, and the type and amount of tread depends on the style of the trainer.
Various styles of trainers give different levels of support. Low top and slip on trainers provide little to no ankle support. If the trainers are purchased for athletic activities, then the buyer should search for sport-specific trainers. There are trainers available for running, hiking, football, and many other sports. Most of these trainers will offer proper ankle protection and arch support, and buying with purpose will help shoppers get the most out of their trainers. Some are special editions that are often worth a lot of money; there are several limited edition Nike Air Jordans that are considered rare and valuable.
Tips for Buying Used Trainers
Shoppers looking for a pair of used trainers can employ a few tricks to ensure they are getting the most for their money. There are many advantages to buying a trusted, name brand. The term "used" is an expansive term; it is important to buy a pair of used trainers that still have some wear left in them. Because trainers mould to the original owner's feet, shoppers should also invest in a new set of insoles for a better fit. If buying online, customers should carefully review the photos of the trainers to determine their condition. Buying rare vintage trainers also has its own set of rules.
Stick to Familiar Brands
When it comes to buying a pair of used shoes, especially online, it is important to buy an authentic name brand. Purchasing trainers made by trusted brands such Nike, Puma, or Vans assures a certain level of quality and specific type fit. Some brands have reputations for running large or small, or wide or narrow. Therefore, customers should buy brands they have bought before. However, if shoppers insist on purchasing a pair of used trainers from a brand they have never owned, they should do some research to find out how true the sizes run. Friends, family, and Internet forums are great resources to get answers to questions.
Choose Slightly Used
There is an element of chance when it comes to buying used trainers. The word "used" comes in a variety of shades; trainers for sale may have been used once, ten, or a hundred times. Even if the seller cannot verify how many times the trainers were worn, general wear should give an indication of the shoes' condition. Trainers free from scuffs, stains, and other damages are worth more than the same shoes in a less desirable condition. If the trainers are purchased for athletic activities, buyers need to check the condition of the tread, and should shy away from trainers with worn away tread. If given the opportunity, try the trainers on before committing to them.
Get New Insoles
Often, used shoes will fit differently the second time around since the original owner has differed shaped feet than the buyer. While there is no way to unmold the inside of the shoe, purchasing a set of replacement insoles will help alleviate the issue. There are several types of insoles to choose from. Most of the foam inserts are sold large so they can fit several shoes sizes. They are cut down to the right size. Gel inserts are usually more expensive and available in more specific sizes. While foam inserts offer both cushioning and arch support, gel inserts offer superior comfort, especially for used trainer buyers.
Check the Photos
If buying a pair of trainers sight unseen, buyers must rely on photos and asking the seller questions about the condition. The seller should have photos available of all angles: both sides, the front, the back, the tread, and even the top. Buyers should look for damage and defects; rips, tears, stains, scuffs, and worn tread lessens the value of the trainers. Shoppers should pay special attention to the toe box. The toes show the most wear, and this place is the most difficult to hide damages, even with shoe polish. If visible, the trainer's midsole is also very telling of the overall condition of the shoe. Bared midsoles are popular with cross-trainers and other athletic shoes. Sandwiched between the insole and outer sole, the midsole's foam condenses the more the shoe is worn.
Buy Rare and Vintage
Some used shoe buyers are looking for a particular pair of trainers that hold a certain level of value, whether nostalgic or monetary. For those looking for trainers with a sentimental value, the condition of the shoe may not be a top priority. People who collect rare trainers value the condition and the original parts. For example, a pair of special edition Nike Dunks are worth more with their original laces and inserts than with replacement pieces. The less used the trainers are, the more they are worth. Blemishes and scuffs depreciate the value of the trainers.
How to Buy Used Trainers on eBay
Buying the right pair of trainers involves knowing the brand, size, and condition you want in the shoe. Once you have an idea of these criteria, you are ready to begin your search on eBay. Type in "used men's trainer" to see eBay's extensive shoe collection. Include keywords such as the company and color to limit the scope of your search. For example, "used trainers Adidas" is a good search, and "used trainers Adidas blue" is even more specific. Additional tips and tricks for optimising results are available on eBay's Search Tips page.
With thousands of used trainers to choose from, eBay allows shoppers to custom sort results by what matters most to them. Super bargain hunters can find the most inexpensive trainers by searching from lowest to highest price. eBay even factors in shipping to make sure customers get the lowest price. Results also can be sorted by highest to lowest price, time left in auction, and distance from seller.
Once you have found a listing for a pair of trainers that fit your preferences and budget, there are a few more pieces of information to gather before making a bid or purchase. When reading the listing in its entirety, it is important to know the condition of the used trainers. If any part of the listing seems unclear, be sure to Ask a Question to the seller. Examine the photos to see if there is any visible wear, rips, stains, or other damage. If you are interested in a pair of rare, used trainers, damage reduces the value of the shoe. Lastly, take a moment to look at the seller's history on eBay to see how past business was conducted. Only buy from sellers with a high approval rating and positive feedback comments. eBay awards sellers with an outstanding record of customer service and satisfaction with eBay's top rated seller status; see if your seller has a top rated seller icon next to their username.
Conclusion
Men can find great deals on gently used trainers, so they should buy quality, name brands. Because there is an infinite combination of shoe lengths and widths, sometimes people end up with new trainers that do not fit well; these slightly used trainers often end up for sale. Trainers are designed to mould to the wearer's feet; therefore, customers interested in used shoes should buy new insoles to make them fit better. If purchasing trainers in a setting where they can be tried on, the shopper should inspect the condition, paying close attention to the midsoles, and try them on; however, if buying sight unseen, men have to rely on photos to inspect the condition, and it is best to stick to familiar brands to best estimate which size will be needed. With a little bit of research and patience, shoppers can find a pair of used trainers on community message boards, consignment shops, and online websites such as eBay.