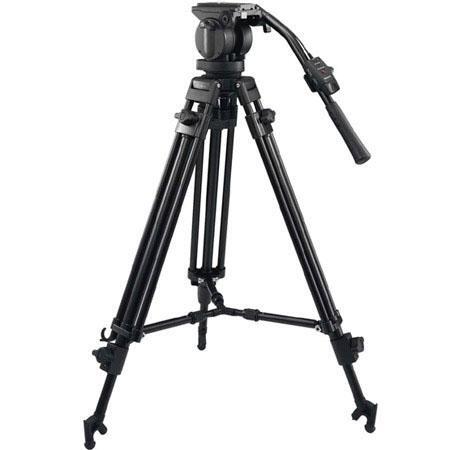 Tripods provide a steady base from which to position a piece of technical apparatus, usually a telescope or camera, and the operator then has both hands free to use the equipment. They are also found in the surveying and firearms industries. A good used tripod will reduce shakiness, which can otherwise lead to a blurred camera shot or substandard video footage. There are many designs, sizes, and specifications of used tripod, but like most accessories for cameras and telescopes, the higher end products are not cheap. However, as a quality instrument will retain its functionality for many years, consumers can buy a used tripod with confidence and save money on the original market price.
About Used Tripods
The basic three-legged frame design of a tripod has been used for many thousands of years, to hold, lift, and position various objects. Having three legs allows the tripod to work effectively on both uneven and smooth surfaces as each leg can be adjusted to compensate for inconsistencies in ground height.
Traditionally tripods were made out of wood and could be awkward to readjust once in place. However, modern used tripods are designed with ease of use and portability in mind. Most have a centre pole which can be extended, it attaches to the legs at one end and the head - which is used to mount the device - at the other. The steadiness and vantage point accuracy that can be achieved help a photographer take the best possible shots in all manner of circumstances.
Choosing a Used Tripod
Selecting the best used tripod will be a matter of personal preference for each photographer; however, there will be a number of factors to bear in mind before making a final decision. These include what the used tripod is made of, the weight, the size, and the price.
Materials from Which a Used Tripod is Produced
The materials used in the construction of each used tripod vary greatly and influence the price of each product. As carbon fibre is both lightweight and robust it can be expensive to buy new, but a used carbon fibre tripod with the same utility can be bought for far less. Here is a table to show common materials from which a used tripod can be made.
| | |
| --- | --- |
| | Carbon fibre used tripods are considered to be a good combination of strength and portability, but are also the most costly. These are a lightweight and hardwearing option, popular with all users. |
| Aluminium | An aluminium used tripod will be sturdy and strong. They are also capable of holding weightier equipment. Aluminium is heavy, though, so if the tripod will be carried around a lot, this may not be the ideal option. |
| Wood | Wooden used tripods can be cumbersome and weighty, but they are prized by some users for their ability to reduce vibrations and shakiness. Nature and scientific photographers especially favour wooden construction materials. |
| Plastic | Plastic is the least costly option, and it tends to be lightweight. However, used tripods made of plastic can be fragile and less likely to withstand regular use. A plastic used tripod may be a good entry level product, for photographers who are testing out the hobby. |
Types of Used Tripod
There are enough types of used tripod to cater for the needs of every photographer. Depending on where the used tripod is set up, how often it will be used, and what effect the photographer wishes to achieve, one of the various designs will be most beneficial. Here is a table to show the four most popular types of used tripod.
| | |
| --- | --- |
| | These small designs can be placed on a table or with two legs against a wall in order to be used. They help achieve a clear shot if the exposure is long or environmental factors are an issue. |
| Portable used tripod | The portable tripod is perfect for wildlife and nature shots, as well as celestial photography. They can be highly flexible and adapted to a variety of terrains, allowing the user to achieve studio quality focus in any location. |
| Medium duty used tripod | Between the smaller used tripods and the largest is the medium duty model. They can bear heavier cameras or film cameras, but tend to weigh more. These are good for photographers who cover events as they can be set up on location at weddings or concerts, for example. |
| Full size used tripod | The heaviest duty used tripod is the full size model. These tend to be kept at one location and are favoured by photographers who work from a studio or from home using a larger camera on a regular basis. |
Used Tripod Heads
A used tripod is generally considered to come in two parts, the body and the head. The different tripod heads with their varied functions are a vital component in the photographic process. Which head is selected, will have an effect on the end result. Therefore, buyers should consider the utility of a head unit when choosing a tripod.
| | |
| --- | --- |
| | Sometimes known just as a ball head, it allows for a seamless and smooth tracking shot to be filmed, with minimal shakiness. Once in position, the camera can be tilted in any direction to achieve the desired image. This type of head is ideal for filming sports or wildlife activity. |
| Gimbal Head | A gimbal head is engineered to balance a camera perfectly at its centre of gravity. A long lens and heavy equipment can occasionally cause a tripod to list or topple; however, the gimbal eradicates this problem. An ideal tool for wildlife or zoom photography where movements can be smoothly followed, even using larger cameras. |
| Panoramic Head | The panoramic head aligns the shots taken by a camera precisely as it moves around a central point. The photographs can then be assembled in an apparently continuous image. This is a good piece of kit for photographers hoping to get a precise cityscape or landscape panorama. |
Camera Plates for a Used Tripod
Camera plates are the point at which the tripod head connects to a photographic device. Most are designed to be a universal fit, so they usually correlate well with existing equipment. If the plate is fixed, it will be left on the tripod at all times. However, quick release plates are connected in part to the camera and are considered to give a photographer more freedom. The camera can be mounted or disconnected from the tripod in a matter of seconds, often using a push-button mechanism. This technology ensures a photographer can be reactive to a given situation and not miss a perfect shot through lack of time.
Used Tripod Care
Tripod legs are regularly adjusted. Over time, particularly if the unit is used outside, they can pick up dirt particles. To ensure this does not affect the manoeuvrability of the leg, unscrew the joint and wipe clean of any grit. If necessary replace any lubricant which has been removed during this process.
Tripod feet should be cleaned regularly to avoid deterioration. Use soap and water to wash off any solid material before wiping with a lint free cloth and storing in a dry place. If they have corroded beyond repair, it may be necessary to buy replacement tripod feet.
Buying a Used Tripod on eBay
In order to save money by buying a used tripod on eBay, begin by heading to the eBay landing page. From here, select the All Categories link and then choose the tab for Cameras & Photography. Next, click on Tripods & Supports, and check the box marked used to locate used tripods. Then browse through the listings, or try using the shaded menu to the left of the page to refine the search. If buyers have a specific item in mind, they can enter a more detailed search query into the box at the top in the centre of any eBay page. For example, in order to find a professional quality used tabletop tripod, enter the term 'used professional quality tabletop tripod' into the query field.
Conclusion
A tripod is an essential item in the kit of every photographer. Using these devices allows the operator to achieve the best quality images regardless of their location or how long the session lasts. As individuals will each require certain results, the course of selecting and buying the right used tripod will be different for every photographer. To be sure of choosing the best used tripod which will provide years of use, research the brands and products. Next, focus on the sellers and items that they have listed. In this way, each buyer can be sure of obtaining the most appropriate used tripod at a reasonable price. With correct use and regular maintenance, a used tripod can provide its new owner with many more years of reliable service.