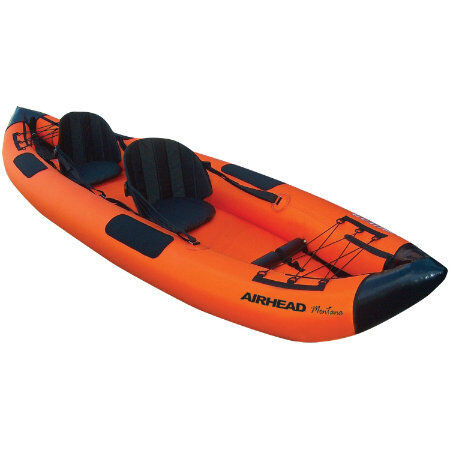 Kayaks are popular among both nature enthusiasts and extreme sport junkies. This versatile boat can be used to get a thrill of a lifetime by catching an ocean wave or coursing down white water rapids. Two-man kayaks, in particular, allow the paddler to share the adventure with someone else. Those who would like to purchase one of their own, however, can find the number of choices overwhelming. Not only are there two-man kayaks for every activity, these kayaks are also quite expensive, especially if they are brand new.
For this reason, many novices turn to purchasing used kayaks instead. Not only does buying used kayaks help keep them within their budget, it also gives them a bigger bang for their buck. Because if the buyer looks hard enough, it is possible to come across gently used two-man kayaks that are being sold for a fraction of the cost by owners who have lost interest in this hobby. Shoppers who are serious about purchasing a used kayak, however, should be aware of the different types, material, and features. Additionally, it is important to take view it from the user's skill level as well. Whether purchased on eBay or a garage sale, they should know how to properly evaluate the secondhand kayak to ensure a good buy.
Overview of the Two-Man Kayak
The two-man kayak is a boat with two cockpits that are behind each other, but facing the same direction. Using a double blade paddle, the kayakers propel themselves across the water. First created by Eskimos, these kayaks were made for hunting. Today, they are used for a wide range of activities like surfing, whitewater rafting, and fishing, among others. While some people prefer going on solo kayak trips, the majority prefer having a companion while out on the water. Additionally, it is also a great way to shadow an expert kayaker in order to learn the tips and techniques of how to paddle.
Two-Man Kayak Types
There are two general types of two-man kayaks: the sit-in and the sit-on-top kayak. Below is a table that illustrates the differences between the two types.
| Kayak Type | Description |
| --- | --- |
| Sit-in Kayak | Cockpit is nearer to the water surface; paddlers must lower themselves inside the cockpit; spray skirt may be attached to protect against water; made for long distance kayaking; typically long and narrow for speed; restricted movement when inside cockpit compared to the sit-on-top kayak |
| Sit-on-Top Kayak | Cockpit is higher than the water surface; paddler sits on a moulded depressed top; normally wide and short for stability; easy to hop on and hop off; constant exposure to the elements; more difficult to manoeuvre than the sit-in kayak |
When choosing between a sit-in kayak or a sit-on-top kayak, the decision often boils down to the paddler's desired activities. Sit-in kayaks, for example, are best for touring and marathons. Sit-on-top kayaks, on the other hand, are best for fishing, diving, and other activities that require the paddler to easily get out of the kayak.
Two-Man Kayak by Skill Level
Aside from activity, purchasing a two-man kayak for family use means taking into consideration the paddler's experience when it comes to kayaks. For experienced paddlers, it becomes a question of the kind of activities that they plan to do with the kayak. People who value the stability of the vessel in order to protect young passengers should consider a sit-on-top instead of a sit-in kayak. Because sit-in kayaks are long and narrow, they have a tendency to overturn, trapping a child under water. This can be dangerous for children and for anyone who does not know how to roll themselves back up.
Two-Man Kayak by Material
Kayaks come in a variety of materials. The following table discusses the advantages and disadvantages of the different materials.
| Material | Description | Advantages | Disadvantages |
| --- | --- | --- | --- |
| Rotomould | Composed of high-density polyethylene | Maintenance-free; budget-friendly; | Kayak body temporarily deforms in warm weather conditions; gouges and scratches cannot be repaired; difficult to accessorise; heavy |
| Kevlar | Made from kevlar fabric, vinylester resin, and fibreglass | Abrasion-resistant; stiff; lighter than fibreglass; strong; easy to carry | Gel coat is brittle; can easily bend and break; typically the most expensive to purchase and repair |
| | Glass-fibre reinforced plastic | Lighter than rotomould; strong; preferred material of most paddlers | Requires careful maintenance; susceptible to cracking; expensive to maintain |
| Airalite | High-impact acrylic on top of ABS | Light; stiff; durable; UV resistant; long life | Expensive; may be difficult to repair |
| | Inflatable synthetic resin | Most affordable; portable; lightweight | Easy to puncture compared to other types; requires an air pump |
When it comes to used kayaks, it is often recommended to purchase one made from fibreglass or airalite to save money while still getting the benefits of the material. Casual kayakers who wish to purchase a kayak for recreational purposes should go for a rotomould or inflatable two-man kayak instead.
Two-Man Kayak Features
There are many features that can be found in two-man kayaks. While these are often not the primary consideration by most kayakers, these are things that many people see as additional benefits. For starters, some kayaks have a footrest and backrest system for ergonomic comfort during long trips. Others have large water-resistant hatches that help in storing more gear. Some kayaks, particularly heavy ones, also have toggles or ridge on the side, which are handles to help the paddler carry the boat. Thigh grips and knee braces are also part of some kayak designs. These are to help the person hold onto the kayak, especially when traversing rough waters. This ensures that paddlers do not accidentally fall from the cockpit, particularly if it is a sit-on-top kayak. Lastly, some kayaks also have a deck bungee, built-in compass, and fishing rod holders, among others.
How to Evaluate a Used Two-Man Kayak
While the concept of purchasing a gently used two-man kayak is appealing to many shoppers, there is a matter of evaluating its condition before it is bought. This ensures that the shopper pay for a little reparation as possible. To begin with, take a close look at the entire surface area of the kayak. Look for scratches and gouges. For brittle material like fibreglass or kevlar, look for breaks or cracks. Second, be wary of foam bulkheads, especially on older kayaks. Compared to fibreglass bulkheads, foam bulkheads eventually leak over time and require replacement.
Next, if the seller describes a rotomould kayak as having some dents, this can be easily remedied by placing it in the hot sun for a minimum of two hours. Heated plastic eventually pops back into place. Sellers who are not aware of this may offer their dented kayak at a good bargain even when it is something that can be readily fixed. Lastly, request the seller to pump air into an inflatable kayak to check if there are holes or cuts. It is best to ask for a money back guarantee for inflatable kayaks, especially if it blows a hole in just a matter of months. When it comes to inflatable kayaks, it may actually be best to purchase it brand new.
Shopping for a Used Two-Man Kayak on eBay
Buyers who wish to take advantage of the Internet to find the best bargains should start with eBay. Simply go to the eBay home page and type keywords such as "used two-man kayak" in the search bar. eBay then shows the search results page for all the related product listings. For those who are not sure of the type of kayak they want, this is the best way to see what is available. Those who already have something specific in mind though may want to add extra keywords and filters to narrow down the results.
The great thing about eBay is the search bar is located on all pages of the website to make it easy for the user. To search for something new, like "used fibreglass two-man kayak", just type it in the search field again. Those who would like to filter through the search results may do so by clicking on various options on the sidebar. Seating, brand, condition, price, and item location are just some of the filter options available on eBay.
If you do not want the hassle of filtering results, you can also do it the other way around using the Advanced Search function. Here, you specify your requirements so eBay returns targeted results immediately. Because kayaks are heavy objects, the last thing you want to do is pay postage. eBay helps the buyer locate sellers that are nearby. You only have to input your postcode and specify the number of miles in terms of radius. This way, you can take a look at the used kayak before purchasing it as well. With all the many ways to search for kayaks, a large number of buyers choose to shop on eBay due to its overall convenience.
Conclusion
Used two-man kayaks are easy to purchase once the shopper is aware of the many different types and options available. There are two general types of kayak: the sit-on-top and the sit-in kayak. Choosing between the two often depends on the experience level of the paddler. As for materials, kayaks can be made of rotomould, kevlar, fibreglass, airalite, and PVC, among others. When it comes to features, kayaks can be equipped with a backrest, footrest, hatches, toggles, ridges, knee braces, thigh grips, deck bungees, rod holders, and many more.
Those who are considering buying a secondhand kayak should look at overall surface area for scratches, cuts, gouges, and dents. This important step ensures that the buyer is not surprised when he or she shells out more money for repairs when purchasing the kayak. When purchasing a used two-man kayak, consider buying it online where one can find a wider selection at better prices than traditional kayak dealers.