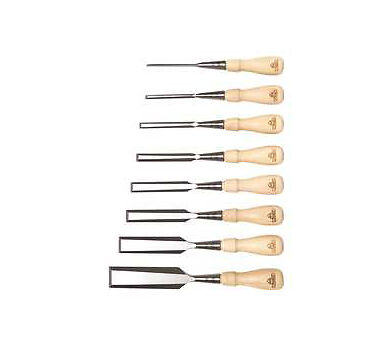 Woodworking encompasses a wide range of building and artistic activities. The use of wood extends far and wide, from the mundane floor joist that everyone walks across countless times every day to highly intricate hand carved sculptures that grace the world's finest museums. Some woods are softer than others, so the tools used to carve them and define their shape must be compatible. Many woodworking tools are inexpensive hand tools, while others are large, complex power tools that use a range of energy sources.
Buying used woodworking tools can be beneficial for those who do their research. Buying a top-of-the-range woodturning lathe may not be wise if it is used for only one project. On the other hand, a cheap mitre saw, no matter how shiny and attractive it appears, is of little value if it does not produce consistent results. The most important aspect of finding good, used woodworking tools is ensuring that the tool is properly matched to the job. Anyone looking for used woodworking tools may find them at car boot sales or in private listings in a local newspaper. Another excellent source for all used woodworking tools is eBay..
History of Early Woodworking Tools
It is widely accepted that woodworking dates back thousands of years, originating with the development of Neanderthal man. While stone and mud were among the first materials that the earliest humans learned to build with, wood became one of the most versatile materials. It is relatively light and abundant. Is also floats, which makes wood a remarkable material. However, deforestation has been a regional issue as far back as 2800 BCE.
The ancient Chinese and Egyptians originally used copper to make woodworking tools, later adding bronze in about 2000 BCE. Typical tools in use at the time were axes, saws, drills, and chisels. The use of mortise and tenon joints, along with dowels and pegs were all common during this period. Veneers first appeared during this time, making use of animal glues and were then finished with varnishes from various sources.
Overview of Used Woodworking Tools
There are many different woodworking tools, all with specific functions. Used woodworking tools are in much shorter supply than new models. An excellent place to find them is an online source that professionals rely on to buy and sell used merchandise. This is also the best way to compare new and used tools to get a firm grasp on the entire market. The items for sale on these sites are generally in good condition, have photographs, and allow the buyer to contact the seller to address any concerns. The table below recommends which woodworking tools to buy used and which should be purchased new.
Woodworking Tool

When to Buy Used

When to Buy New

Cordless drill

Has a brand name

For home use only

For heavy use

On sale

Mitre saw

Has a brand name

Recently manufactured

For commercial use

No used alternatives exist

Vintage hand tools

Nearly always

Seldom available

Table saws

All safety features are in good working condition

No used alternatives exist

Any tool with no or few moving parts

Always

No used alternatives exist
When buying any woodworking tool new or used, it is a good idea to play it safe and stick to name brands with good reputations. This avoids the possibility of not being able to replace a switch or another vital part of the tool later on. Never buy any used tool without some assurance from the seller than it can be repaired if it develops a fault. This is another good reason to look online as there are numerous sellers to choose from who can offer the information that the buyer needs to make an informed purchase.
Prices for Used Woodworking Tools
The only way to get a good idea of how to evaluate whether or not a used woodworking tool is priced fairly is to research a large number of competing sellers. Do not settle for just one or two; try to find at least 10 alternatives for similar products. Avoid the tendency to buy the first used cordless drill that has a low price. Unlike new merchandise, sellers of used products are typically unsure of the price of a woodworking tool, so there may be a variety of prices for similar items. If a used item is not sold, it may be relisted at an alternative price.
Bear in mind that woodworking tools that are mass produced in certain regions of the world are often priced significantly lower than those made in other regions, for example Europe or the United States. This price difference is sometimes the product of lower labour costs and sometimes due to lesser quality steel components. Anyone looking for used tools made mostly of steel, such as chisels and files that are subjected to heavy use should consider this carefully before buying.
Advantages and Disadvantages of Buying Used Woodworking Tools
Experienced DIY enthusiasts are quite comfortable buying either used hand tools or used power tools.. They know what the general concerns are with respect to wear and reliability. Anyone who is new to woodworking is strongly advised to take short course for a number of reasons. Those who expect to work with wood in an artistic fashion need to know different concepts from those who want to build a garden shed. Learning how to work with wood from a professional by either taking a course or joining a club is always a good idea. It is also the best way to determine the right tools to use for each purpose. The table below summarises some of the advantages and disadvantages of buying used woodworking tools:
| Feature | Advantage | Disadvantage |
| --- | --- | --- |
| Price | Nearly always lower, unless not available new | No warranty |
| Condition | Most wear is superficial | Metal fatigue can be difficult to assess |
| Adjustable functionality | Usually preset for optimal use by the previous owner | May need to be reset for a different style of user |
| Missing parts | Typically also available from an online source | Possibly out of production and difficult to find |
| Older release of updated tool | Price is considerably lower than new version | New features may be quite useful |
Any tool, new or used is going to require some practice to use it properly. Often the used version of the woodworking tool has already been set up and is easier for an unfamiliar user than a new tool. It is often the case that many of the newest and shiniest woodworking tools compare poorly to those produced in the past.
Refurbished Woodworking Tools
One of the best solutions to the dilemma of how to get the best of both worlds for new and used tools is with refurbished tools.. Most reconditioned power tools are expected by the manufacturer to perform identically to brand new models. Refurbished tools are typically 25 per cent below the retail price for a brand new item. However, there are exceptions. If a tool is offered as refurbished, but does not include a warranty, it should be priced no differently than any other used tool.
How to Buy Used Woodworking Tools on eBay
Begin your search at the eBay home page for all woodworking tools. Every eBay page provides a search feature to help you to navigate the website. If you wish to find a new block plane,, for instance, simply enter that term into the search field and you are directed to a page with hundreds of results. You can then refine the search based on the manufacturer, condition, and price range. Many buyers read eBay's search tips when first encountering the website to get additional advice on searching effectively.
eBay Discussion Boards and Groups
The discussion boards and groups that eBay provides are perfect for anyone who is just starting with woodworking. There is a very good chance that wherever your interest lies, there is already a group or board set up that can offer a lot of insight and problem solving. It is likely that someone else has already posed the same questions that you have, so these places are may be the best option for finding answers.
Conclusion
Woodworking is a timeless activity suitable for all walks of life. Some people work with wood as a full time profession, some dabble in DIY projects around the house, some engage in woodworking as a hobby, and others find woodworking the best way to express their artistic creativity. Regardless of whether the project is for work or enjoyment, everything goes much more smoothly when the right tool is used for the job. Those who are keen to expand their woodworking tool box are relieved to learn that there is usually an inexpensive solution in the form of a used tool.
One of the best places to search for used woodworking tools is online. eBay offers a wide range of choices at competitive prices. When researching used woodworking tools, look at a range of products to determine a fair price for a good quality item. The convenience of shopping from a home computer or mobile device makes finding used woodworking tools on eBay an easy task.