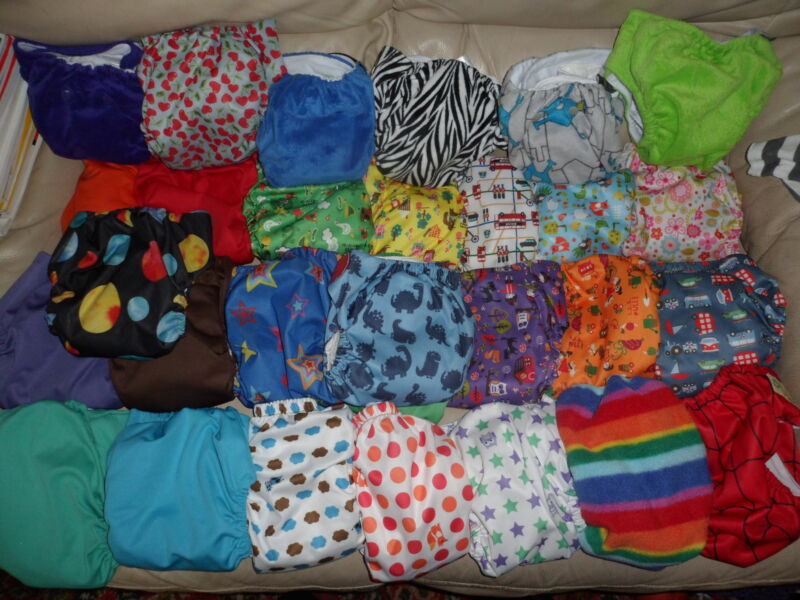 Why cloth nappies?
There are two main reasons - waste and money.

Cloth nappies are reusable so can save up to £500 over the time your child is in nappies. Once you have your nappies, there is very little spending needed again. Savings can be greater if you use your nappies for more than one child.

There is nothing worse than a bin full of stinky nappies. Most Councils now have fortnightly rubbish collections, (and some less frequently) so having dirty nappies around can be unpleasant if they are not wrapped properly.
Pocket nappies
Pocket cloth nappies are my favourite as they are easy to fit and dry.

They consist of an outer wrap which has a pocket in it, into which you stuff inserts.

The benefit of them is that you can put as many or as few inserts in as required to suit your baby.

There are many different types of insert including microfibre, bamboo, charcoal. These have different properties so you can use a combination of any of the above to ensure you get the best absorbency, fit and control.

Pocket nappies come in a huge variety of designs from plain to patterned. It is possible to get slightly addicted!

They are as easy to fit as a disposable, and come with either poppers or velcro tabs. Poppers are good if you have a nappy removing child! But personally I prefer velcro as it's possible to adjust the fit easier.
Washing nappies
It's best to have 2-3 days worth of nappies so you can do a full load every few days rather than frequent small washes.

Get a nappy bucket to store them in. Line your nappies with either fleece or flushable liners. You can then flush any solid waste down the toilet.

Rinse your nappies on a cold wash, then do your normal wash. Do not use fabric conditioner as it reduces the absorbency. Rinse again and dry. Another benefit of pockets is that you can take the inserts out and dry them separately so helps get them dry quicker. Line drying is best but some pockets can be tumble dried on low.
Costs
Pocket nappies can be bought for as little as a couple of ££s. Considering they last 2-3 years or more, that's a pretty good investment. You can spend lots of money on big brands, and collectable nappies, but the cheapie ones work just as well.