Clear unmounted polymer stamps will cling to anything flat and shiny. No glue is required. Acrylic blocks are ideal as they are easy to handle, substantial enough to press the stamp down evenly, and see-through; which makes it easy to see where you are stamping.

The stamp will normally have a clear pvc backing when you receive it. Remove the backing and press the smooth side of the stamp onto the block. Lay the block on a hard surface and gently tap an ink pad all over the stamp until the raised part is evenly covered in ink. Try to avoid blobs of ink on the stamp. Stazon ink is not suitable for polymer stamps, they will become hard.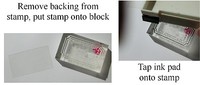 Turn the stamp over and press it onto your paper. You may need to practice a few times to learn how to get an even pressure.

When you have finished stamping, peel the stamp from the block and rinse it under a tap. You can use dishwashing liquid if you want to. Pat the stamp dry with kitchen paper and store out of sunlight. Washing the stamps will also restore the cling if they are becoming dry.
stampingallday.co.uk