Fitting and Using an SD or SDHC memory card in your Wii Console
To expand the memory in your Wii you can use an SD or SDHC (high capacity) memory card. To fit it firstly power off the Wii console and open the SD Card Slot cover on the front of the console and insert the card - as shown below: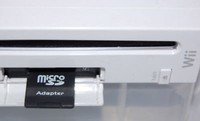 The label should face the game slot as shown.

To use a 4GB SDHC card with you Wii you must have software version 4.0 or higher. You can update your console for free online.


How to determine what Wii Menu version you have
With the Wii console properly connected, power on the console to reach the Wii Channel menu.
Use the Wii Remote to move the cursor over the "Wii" button in the bottom-left corner of the screen and press the A Button.
From the main Wii Menu and System Settings screen, use the Wii Remote to move the cursor over the "Wii Settings" option (wrench), and press the A Button to enter the System Settings.
The Wii menu version number will be displayed in the top-right corner of the screen.

To get the latest Wii System Update
Make sure your Wii console is successfully connected online.
Access the Wii System Settings.
Click on the blue arrow twice to reach the Wii System Settings 3 menu options.
Select "Wii System Update" and press the A Button.
Select "Yes," and read any messaging regarding obtaining the update. If you agree to the messaging, select "I Accept."
The Wii console will now search for the latest Wii System Update.
If an update is available, it will be downloaded and installed automatically.

What can i use the SD card for?
An SD and SDHC memory card can be used to store Wii related information such as game save data, certain data from the Wii Channel applications, and to transfer compatible data (such as digital photos and MP3s/AACs) to the Wii console from other devices. If you have Wii Menu 4.0, you'll get the SD Card Menu which will allow you to launch games and Wii Channels directly from the SD Card Menu.
You can also use your SD card from your digital camera and view your photos on your TV.
You don't have to buy the Wii branded Sandisk memory cards - any good quality memory card will be fine.