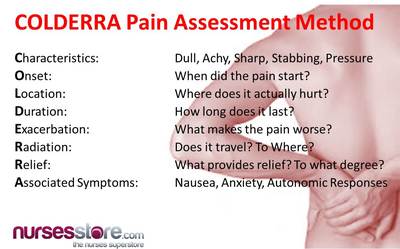 How to Use COLDERRA
When a patient is in pain it can sometimes prove difficult for them to articulate just what they are experiencing, how it starts, how it feels, how intense it is. In order to properly appreciate what the patient is actually reporting then the medical professional, nurse or doctor, must fully understand the pain in order to understand its true cause and thereafter treat the patient accordingly.
This is where the
COLDERRA
method of assessing pain can be of great assistance both to the patient and to the professional helping them to fully comprehend the pain being reported. The method works by requiring the nurse to ask the patient a number of questions about the pain they have presented with so that a number of important facts can be recorded and considered.
As you can see from the accompanying visual the COLDERRA acronym starts by requiring the patient to verbalise the type of pain they have, it then asks when the pain started and moves onto discuss the location of the pain, i.e. where does it actually hurt. The next step is to ascertain how long the pain lasts, or is it constant, what makes the pain worse or more intense and to where does it radiate and spread. The final two questions seek to discover whether anything relieves the pain and to what degree and finally the acronym finishes on associated symptoms and questions whether the patient feels nauseous or anxious when the pain is present.
By following the acronym the nurse or doctor can properly and fully document the patient's pain and by following each step the examiner can ensure no important questions are left unasked and that no avenues of investaigation are overlooked. Using the COLDERRA method to assess pain means that a better and fuller understanding can be reached and this will help greatly in treatment and resolution of the problem.