A guide to using your alphabet and number bag with your class
Alphabet and number teaching resource bags have a wide variety of uses in a pre-school or primary school classroom.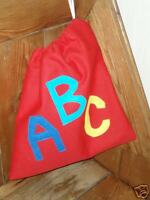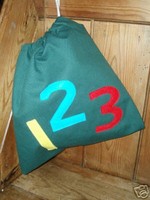 In the Foundation Stage
For children in the foundation stage letters can be put into the bag and children can choose a letter from the bag and identify it. This could be taken a stage further by getting children to feel the letter while it is still in the bag and to use only their sense of touch to identify the letter.
It could be used as a straight forward storage bag for sandpaper letters.
The bag could contain items all beginning with the same letter for children to name and identify the ititial letter sound.
In the Infant class
For older children who are needing extra help, the bag could store letters for an alphabet arc and make their task feel a bit more special and important.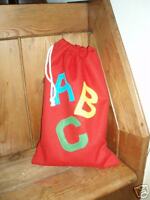 A resource bag gives children something more stimulating to look at and can make routine activities more fun.
Using a Number Bag
Number bags can be used in similar ways- to make activities more interesting and as storage bags for tactile numbers.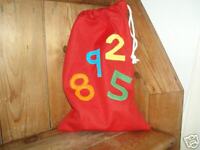 They can also be used for counting activites and for children to identify the number that they pull out of the bag, or identify it by touch alone.
Teaching Bag Design
Alphabet and number bags can be any size and have any combination of numbers and / or letters. Shallower bags aremore useful for smaller children doing feeling work. A bag with numbers on one side and alphabet on the other can be used for both actiivties.
We can tailor a bag to your precise needs.
Please visit our shop:
And look at our full range of teaching resource bags:
And my guide to choosing a Teaching Resource Bag: