This is a guide for anyone confused about Video Senders.

Many people find the idea of a video sender confusing!
What are the benefits and what are the differences between a £40 item and a £160 version?
This guide should help to clarify this and show you a variety of items to help you make the right choice. I'll also include a glossary at the end which hopefully I can continue to add to as I get asked more questions!
Video Guides
DX2000 - http://www.digisender.net/videos.php?video=DX2000 - (DigiSender Plug'n'Go MkII)
DG440 - http://www.digisender.net/videos.php?video=DG440 - (DigiSender X7)
DG400 - http://www.digisender.net/videos.php?video=DG400 - (DigiSender X4)
DG200 - http://www.digisender.net/videos.php?video=DG200 - (DigiSender X2)
DG180 - http://www.digisender.net/videos.php?video=DG180 - (DigiSender XSender)
What are the benefits?


The main benefits of a video sender is the ability to send a picture and Stereo sound from one tv to another in a seperate room wirelessly. Infact, it is the only way that Stereo can be transmitted from one room to another as this cannot be achived using a conventional coax cable.
All Digisender models allow you to change the channel on your source equipment e.g. Freeview box, satellite or DVD which is located in your lounge.
Question:
As an example, "I have a dvd player in the lounge but I want to watch it in my bedroom. I also want the kits to carry on watching the Satellite in the lounge. Is this possible?"
Answer:
Yes.
Lots of people buy for this reason alone. With most of our DigiSenders, you simply pop the DVD into the DVD player, take the DVD remote with you into your bedroom. Then you can press play when you are ready without having to run downstairs and run back up again!
The products & what they do!
This is a selection of some of the products available for sale.
DigiSender Control Zentrum (DG420)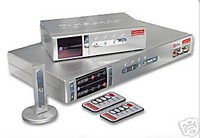 This is a stunning looking
DigiSender called the DigiSender Zentrum
with the most features possible available in the market. It has the ability to transmit your picture and sound just like other video senders but has the added feature of routing all signals from your DVD, satetlite VCR to make
'recording'
between sources easy and without the need to unplug cables. Therefore if you are upstairs, you can
watch other sources
while you have set it to
copy
from your VCR or DVD recorder!
You'll also see that this model has two remote controls, this means that you can lay in bed and causually flick between DVD, Satellite TV, VCR or Cable without interfering with what people are watching in the main lounge.
But one of the most important features are that if you are a
cable customer
, this Digisender has
IRDA enabled
remote relay sytsem. Because cable & NTL Telewest have IRDA enabled remote controls, this is one of 2 systems in the world that has this amazing feature. the other is a Digisender X4 (
DG400
). This means that you can use your remote control in the second room as intended.
This product has the option of
adding
your camcorder, games console etc to the front of the
Zentrum
. As long as it has the option and RCA video left/right audio this will plug into this socket. (
see shop description for images
).
Transmit
up to
4 sources
. Currently this is the most available. You can transmit up to 4 devices using the 4 SCART connections located at the rear of the device.
DigiSender X4 Gold (DG400)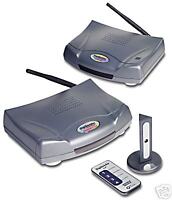 This popular system also has the ability to handle
IRDA remote
control transmitions as described above which is a must for NTL or telewest subscribers. The additional remote supplied allows the user in the second room to switch sources.
Transmit up to 4 sources
. Currently this is the most available. You can transmit up to
4 devices
using the connections supplied located at the rear of the device. (2 digiconnectors + 2 RCA phono inputs).
This system has been popular with
added extras
. For example, if you want to receive a picture in a second bedroom, you can buy an
additional receiver
(
dg40rx
). This will mean a combined set up of a transmitter in the front room, single receiver in bedroom 1 and a second receiver in bedroom 2 is possible. In fact you can use as manay receivers as you like provided they are in range of each other and all are able to receive a picture from the transmitter!
The
DigiEye technology
included also means this video sender has
16
remote extender channels, meaning your neighbour cant change your channels.
A worlds first!
The NEW DigiSender ® PlugnGo™ Video Sender (DX1000)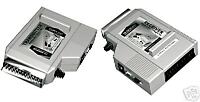 This is the latest addition to the DigiSender range. It is by far
the easiest to install
, hence the name
plug'n'go
and it's the best value for money.
£44.99
- bargain! The small transmitter plugs discreetly into your SCART socket.
It is certainly the easierst to understand because it simply installs in-line with your existing scart cables and transmits whatever is 'flowing' along the cable. It is actually steeling signal that is already travelling on your scart cables without efffecting where the signal was origianlly (and still is) travellling.
This pack contains everything you need to get your satellite channels to another TV in your home - without wiring or clutter!

You still can change the channels, but not IRDA enabled NTL or Telewest boxes. Remember that if you are a cable subscriber you need to buy the DigiSender Zentrum or DigiSender X4 as these are the only two video senders in the world that cater for irDA remote control commands that NTL use on their Pace cable receivers.


"Fantastic Value For Money"
Questions
Do I need a free SCART socket on my source equipment e.g. (Sky box, Freeview box etc)
NO, The DX1000 Has the passthrough technology not only at the transmitter, but at the receiver end also.
This means that you do not need a free SCART socket at the source equipment. However, all the other DigiSenders have this technology at the transmitter end only
Havn't Got a Scart Connector in the back of your TV?
No problem. Product number
MODO1PIS
is an aerial converter which allows you to plug the DigiSender into the aerial socket.
I hope this has cleared the situation about Video Senders for people. This is only a guide for people to use and help them in buying the correct one for their situation. If you have problems, please help me to improve this by emailing me through the ebay shop located above right.

More information on the DigiSender range is available from AEI who manufacture the range at http://www.aei.eu


ver. 1.0.4.SKD