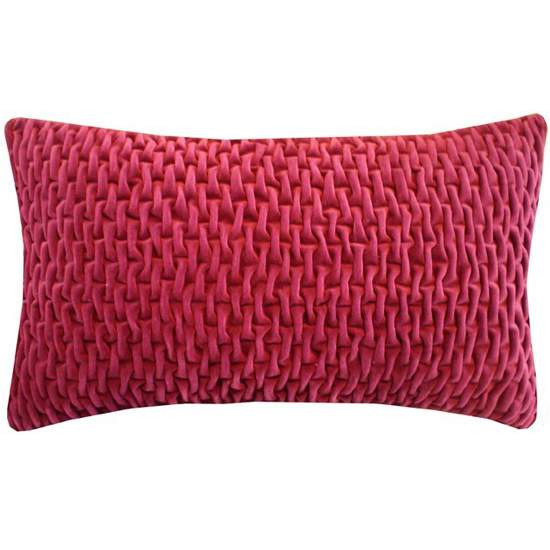 Velvet cushion covers are available for sale in a wide variety of shapes, sizes, colours and patterns to fit with differing decor styles and colour schemes. There are also a number of different types of velvet, each with different qualities and varying appearance. It can be helpful to search through various brands and design options in order to find cushion covers in the correct size, colour and style to fit with a particular room.
About Velvet
Velvet is a soft, tufted fabric with short, dense threads which give it a distinctive look and feel. The raised threads on the fabric make it a thick, warm material with an unusual texture. Originally spun from silk fibres in Ancient Egypt over 4000 years ago, velvet was once very time-consuming and labour-intensive to make because of the complex weaving techniques required. This meant that velvet fabric was generally very expensive, and consequently velvet has historically been associated with royalty, nobility and luxury. Nowadays, with modern automated technology, velvet is much easier to make, meaning it has become far more affordable. It can be woven from cotton, silk, or various man-made fabrics like viscose, nylon and polyester, or mixed with spandex to give it some stretchiness. Most velvet tends to drape very well, and this, combined with its warmth and unique texture, has made it a popular fabric for household accessories as well as clothing.
Types of Velvet
Velvet comes in a variety of types, which are created using different weaving methods, different fabrics, or by treating the velvet in various ways after it has been woven.
| | |
| --- | --- |
| Plain velvet | This type of velvet is usually made from cotton fibre, and can be used for a wide range of purposes. Cotton velvet may be less lustrous and have a rougher texture than velvet made from silk fibres, but it is also less fragile, making it easier to care for and wash. |
| Crushed | Crushed velvet is made by mechanically twisting or pressing the newly woven velvet, which creates random patterns of crushed, flattened threads and gives the velvet a shiny, lustrous look. |
| Devore | This velvet has been treated with a caustic solution to remove the tufted threads in some areas, leaving a sheer fabric - this effect can be used to produce regular patterns such as paisley or floral designs. |
| Embossed | Another method of creating regular patterns on velvet - this type has been heat-stamped with a metal roller to produce the pattern. |
| Hammered | A variant of crushed velvet, this type of velvet has a variegated, randomly-patterned appearance and a lustrous, glossy look. |
Caring For Velvet Covers
Due to its unusual weave pattern and the raised nap of the fabric, velvet is not always suitable for washing machines. Velvet cushion covers may come with specific washing instructions - some cotton velvet fabrics can be safely cleaned in a washing machine without affecting their look or texture, but other types of velvet may be too delicate for machine washing. Small stains on velvet can be removed by spot cleaning with a mild detergent and lukewarm water, using a soft cloth or baby's washcloth to gently rub the fabric until the stain is gone. For all-over cleaning, some velvet can be soaked gently in cool water to remove dust and discolouration. Carefully brushing the velvet once completely dry helps restore the nap of the fabric, leaving it looking as it did before. However, if the velvet is very delicate, or has large and noticeable stains, dry cleaning is usually the best option. This will remove stains and dirt to leave the velvet looking like new.
Buying Cushion Covers
When buying cushion covers, particularly when purchasing online, it's important to know the size and type needed. Cushions come in a huge range of sizes from tiny throw pillows to large bolsters, and may also be different shapes - square, round, rectangular or even novelty cushions in heart or star shapes. Before ordering new covers, check the shape and dimensions of the cushions to ensure the new covers are the correct fit.
Types of Cushion
| | |
| --- | --- |
| Scatter cushions | Also known as throw pillows, accent pillows or throw cushions, these are small cushions designed to be scattered on a sofa, chair or bed to enhance the decor of a room and highlight colour accents, or provide some contrast. The most common size is 16 by 16 or 18 by 18 inches, but scatter cushions may be as small as six inches square. Scatter cushions are most commonly square, but may be round or rectangular. Although usually decorative, they may also be used for back or neck support. |
| Floor cushions | Similar in appearance to scatter cushions, but often larger, these are designed for use on the floor. They may be used to eat from a low table, Japanese-style, or to provide comfortable floor seating, particularly for children who may want to sit or play on the floor. Covers for these cushions are usually made from strong, durable fabric which is easily washed and cared for. |
| Orthopaedic cushions | These are cushions fitted to the shape of the human body, and designed to provide support or correct body positioning in some way. They come in a variety of shapes and sizes depending on their intended purpose, and some types may need custom-made covers. |
| Bolsters | Bolster pillows or cushions are long, narrow, flat or cylindrical pillows often used for back and neck support. They tend to be firm and sturdy to provide solid support, and may be upholstered in a variety of fabrics, from practical washable covers to more delicate designs chosen for appearance as well as practicality. |
Closures Cushion covers also have a range of different closure types, so that the cover can be easily removed for cleaning and replaced.
| | |
| --- | --- |
| Zippers | Many cushion covers come with a zip closure, which is generally concealed and sewn into a seam to avoid snagging clothes or causing discomfort. |
| Button closure | These covers are fastened with buttons, which may be small, unobtrusive and hidden or may be a feature forming part of the cushion's design. |
| Velcro | Velcro makes a quick and easy fastening for cushion covers, and is usually hidden within a seam or small flap. |
| Tie closure | Ties usually form part of the cover's design rather than being hidden. They may be in the same fabric as the cushion, or made from a contrasting fabric in order to stand out. They are usually located along the top or bottom of the cushion cover, and may be short, designed to be tied into a small knot, or long enough to tie into decorative bows. |
| Overlap closure | This type of closure is very common on square or rectangular pillows or cushions. An opening is made in the back of the cushion cover, using two overlapping pieces of fabric, one of which is tucked beneath the other so that the cushion interior is fully covered. This is another very simple and quick closure, but one disadvantage is that the cushions will only look their best when facing forward with the overlap hidden. |
Find Velvet Cushion Covers on eBay
To find and purchase velvet cushion covers on eBay, first go to the eBay homepage, and then select the link for Homes and Gardens from the All Categories tab. From there, select Home Decor, and then click on the Cushions link. Finally, open the Materials tab on the left-hand side of the page and select Velvet from the available choices. Browse velvet cushion covers directly from this page, or narrow down the search further by using the navigation bar on the left-hand side of the page to select options, such as size, colour, style and condition. Alternatively, enter more specific keywords into the search bar at the top of the page, such as 'devore' or 'bolster &', in order to find a particular type of velvet or style of cushion cover.
Conclusion
If well cared for, good-quality velvet cushion covers can be extremely durable and offer comfort and warmth as well as an attractive appearance. Research brands and designers and search through various options for the ideal type and design of cover, and to find the lowest prices available for high-quality products.