Use your PS2 joypads, racing wheels, dancemats and other controllers to control games on your PC.
Simply plug your PS2 controllers into the adapter (supports 2 controllers), plug the adapter into your computer and enjoy all the ease and comfort of your consoles gaming peripherals while playing PC games.
The PS2 Controller to PC Adapter Cable supports all button configurations as well as Shock Force Feedback.
Connection to the PC is via a USB connector.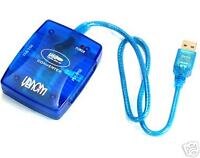 A great little device - if you already have a PS2 with control pads and wish to use a similar device on your PC you can! No need to buy other game controllers. Also works with steering wheels and dance mats although functionality will depend on the PC game software.
Adaptor case shows PSOne compatible but the instructions and item description only mention PS2 controllers. I would therefore assume that only PS2 pads are compatible.
Find venom PS2 to USB PC adaptor for sale on eBay
Unfortunately, although popular, this item has been discontinued by Venom.